What are Audible Originals? As the largest audiobook seller and producer, Audible is the most popular audiobook platform for users. Audible Originals allows users to choose two of six Audible Original audiobooks instead of their monthly credits. They're exclusive Audible content written and produced by Audible's leading audiobook maker.
Original content includes audiobooks and podcasts in all genres from fiction to non-fiction. Most importantly, this Audible Original content is never sold to other third-party vendors. And you can't find or buy them anywhere else on the Internet. Read on to learn how to download Audible Originals and the best Audible Original content.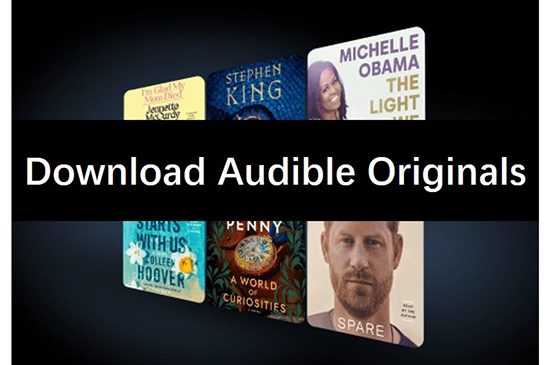 Part 1. How to Download Audible Originals with the Audible App
If you subscribe to Audible Premium Plus, you can get 2 Audible Original books every month. You can pick 2 original audiobooks you like from the 6 choices for you. Plus, you can access all audiobooks, podcasts, and other content from the Audible catalog. If you want to download your desired Audible Original titles, the most direct way is to use the Audible app.
Step 1. Open Audible and then sign in to your Amazon account.
Step 2. Tap on the 'Originals' tab and then you can select two audiobooks you like.
Step 3. Click on the cover of the audiobook to start downloading it.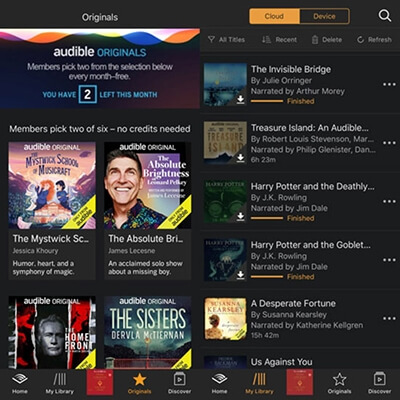 Step 4. Once downloaded, you can click on the book cover again to listen to Audible offline.
Part 2. How to Save Audible Originals with the Audible Website
You can also go to Audible's website to download Audible Originals. Here is how to do it.
Step 1. Visit Audible Originals website with your browser.
Step 2. Choose the audiobook you want to download.
Step 3. Click on the 'Try for $0.00' button and log in to your Audible account.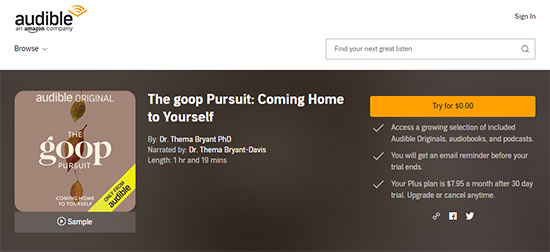 Step 4. Follow the on-screen instruction and complete the purchase.
Step 5. Then navigate to the Audible website and click 'Library' at the top.
Step 6. Select the Audible Original audiobooks from your library and click on 'Download' on the right of them.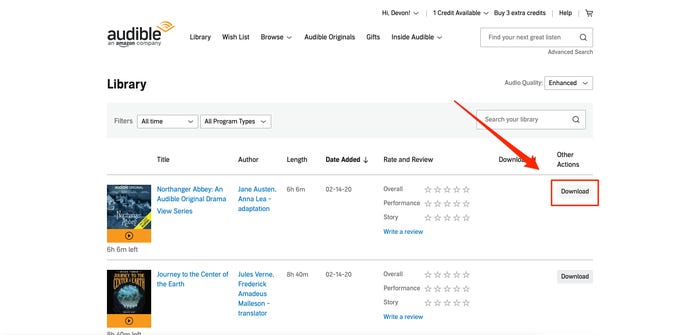 Part 2. How to Convert Audible Originals for Playing Anywhere
The above two methods can only listen to Audible Originals through the Audible app. Even if you download Audible audiobooks, it doesn't allow you to listen to them on other platforms. So, if you want to enjoy Audible Originals on any device and any platform, go ahead.
DRmare Audio Converter allows you to remove limitations and convert Audible AA/AAX to MP3 and more popular formats. It will preserve 100% lossless sound quality and all information tags such as title, artist, etc. That way, you can enjoy original Audible Original content on any device you want.
With it, you can convert Audible Originals up to 30X faster. After downloading, it will save your audiobook on your local drive. You can listen to Audible Originals even after your subscription expires.
DRmare Audio Converter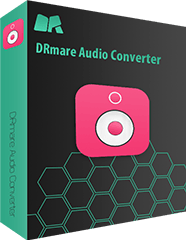 Convert Audible to MP3, FLAC, AAC, WAV, etc.
Download Audible Originals and play them anywhere
Preserve the original audio quality and all ID3 tags at a 30X speed
How to Download Audible Originals for Listening Everywhere
Step 1

Load Audible Original books to DRmare program

There are two ways you can add Audible Original audiobooks to the DRmare Audio Converter. You can click on the first 'add music' button at the bottom left to load Audible books from your iTunes library. Alternatively, you can click on the second 'add files' button to add the folder that contains your Audible books.
Step 2

Reset output parameters of Audible Originals

Hit the 'Audio' button at the bottom right to set the output audio parameters. Pick the output format from the MP3, M4A, AAC, FLAC, WAV, and M4B. You can also change the channel, codec, bit rate and sample rate by yourself. Furthermore, you can press on the 'Converted' option to reset the folder for output Audible Original books. Once done, click on the 'OK' button.

In addition, you can split the Audible books by chapters, by time, or others. Simply click on the ' Edit' button on the added audio files. Then choose 'Split by chapters' to get the Audible Original audiobooks with different parts you set.
Step 3

Convert and download Audible Original audiobooks

Hit on the big 'Convert' icon on the right of the bottom, and it will convert Audible Original books at a 30X speed. The converted Audible audiobooks can be located in the 'Output' folder. You can also click on the 'Converted' icon at the bottom right to find them. Now you have got the popular audio files of Audible Original content. You can transfer them to any platform and any device for offline playback.
Part 4. Top 6 Best Audible Originals Audiobooks
What are the best Audible Originals? Here is a list of the 6 best of Audible Originals in 2023.
1. Upgrade Soul by Ezra Clayton Daniels
This is an audio series based on the graphic novel by Ezra Claytan Daniels. Protagonists Molly and Hank create a new regenerative gene therapy. They believe the therapy will allow them to live longer and wiser. However, their experiments went awry and they became clones of themselves. Though severely disfigured, they grew wiser and physically stronger. It's a real moral battle then.
2. Finding Tamika by Erica Alexander
Tamika Huston is a 24-year-old missing black woman from Spartanburg, South Carolina. She disappeared in 2004, and activist Erica Alexander was determined to find her. Tamika has become a rallying cry for other missing black women in America, seeking to hold accountable the system that ignores missing black girls and women.
3. The Dispatcher by John Scalzi
The current three-book series follows Tony's daunting job of overcoming pitfalls and constantly being drawn into shadowy affairs. Dispatchers help patients and accident victims by killing them. In this way, when a person dies, he will not die again.
4. Sweet Talk by Calabasto
This will be a must-listen for anyone who likes romantic comedies! This audiobook has excellent audiobook production with duet narration and small sound effects. Very funny, cute, and delightful. The two protagonists start talking after a casual text message. They chat first, then call. This is a very romantic way to get to know each other!
5. Space: 1969 by Bill Oakley
It's been a wild ride! In 1969, humans built a moon base, where Nancy worked as a nurse, Kennedy was serving his third term as president, and Richard Nixon was the narrator. They all take this job very, very seriously.
6. Crimes of Passion by Jack Harburn
It's a super fun romance, narrated absolutely brilliantly by two narrators, Kevin Free and Ron Butler! Both Emery and Calvin are successful true crime podcasts. Calvin was losing sponsors, so he agreed to work with Emery for a few episodes. Although both want to maintain their rivalry, they cannot resist their attraction.
Part 5. FAQs about Audible Originals
Q1: What Are Audible Originals?
A: Audible Originals is a program for Audible members. They are exclusive audio productions created by famous storytellers. They are only available from Audible.
Q2: How Do Audible Originals Work?
A: Audible Originals offers Audible members two free exclusive Originals audiobooks every month. They don't cost any credits and they will be renewed every month.
Q3: How Many Audible Originals Are There?
A: Audible members can get two free Audible Originals every month. If you are an Audible member, you can select two Audible Originals books from six choices.
Q4: How Can I Download Audible Originals Free?
A: Actually, Audible Originals are free to Audible members. But you need to pay for an Audible membership to get Audible Original books. So, there is no way to download Audible Originals free. By the way, you can convert Audible Originals with the DRmare Audio Converter. In such a way, you are allowed to listen to exclusive Audible Originals on any device you want.
Q5: What Is the Difference between Audiobooks and Audible Originals?
A: Audible Originals are exclusive audiobooks created by Audible. They can only be purchased from Audible. But you can buy any audiobook from any platform. Plus, the listening time of Audible Originals is one to four hours. It's much shorter than most audiobooks.