"My audiobooks downloaded from Audible.com and iTunes all have the accurate chapters marketers. I can jump to the right part of the audiobook anytime with the official players. However, after converting them to MP3 to play on my iPod when I am doing exercise, I found all of the chapters are missing. Each time I have to start from the beginning. Why this happens? Is there a way to add chapters to the MP3 audiobooks?"
Audible and iTunes are the top 2 best and largest audiobook providers. Both can offer us great listening experience on the supported players such as iTunes player, QuickTime, Audible Manager.The problem is that the audiobooks are in the particular DRM protected format AA, AAX, M4B, making it impossible to transfer the audiobooks to other devices such as MP3 players or car stereo for playback when we are on the commute between home and office or doing sport outside. That is why we'd like to convert them to other more popular format of files. To fix this kind of pain, here I will offer explore a way to convert your Audible audiobooks as well as keep the chapter markers.
View also: Convert Audible AA/AAX to MP3

Part 1. Why the Chapter Markers Miss from the Converted Audiobooks
Chapters are really important if your audioboks are large because it could end up costing you a large amount of time to return to the last playback progress every time. Generally, there are 3 reasons which may cause the chapters lost.
Audiobook Converter. If you use a lossy software which requires to encode your audio files, it is not doubt that the chapter info will be damaged or lost during the transcoding process.
Audio Format. As we know, the common audio formats which are supported to store chapters are M4A, M4B. If you choose a different music format such as WMA, FLAC, MP3, WAV etc. , some of the tag info will miss.
Audiobook Player. Not all the players are compatible with audiobook chapter tag markers. So play make sure you have a compatible player or device such as Windows Media Player, Winamp, VLC, Apple's iPod Touch, iPhone and iPad.
View also: Split Audiobooks by Chapters
Part 2. Best Lossless Converter for Any Audiobooks
Given the factors mentioned above, we will need a lossless converter to convert Audible/iTunes audiobooks to M4A/M4B losslessly to keep the chapters. So what is the best software and how to pick up one? Usually the technology to remove DRM and convert audio files is to use recording or decryption technology. As I know, most free streaming audio recorder online all use the traditional recording method. Its short-coming is that the quality will be greatly affected. The commercial audio converter from Tunefab, TunesKit, Ondesoft etc. all use the decryption method which guarantee high output quality.
If you have no idea about these programs, I'd suggest you search them from Google online and try them out for free. Among them, the first one I'd like to recommend is DRmare DRM Audiobook Converter for Mac/Windows. It adopts the technology to decrypt DRM audiobooks, capture the audio data directly and save them to new formats of files. Since there is no transcoding process, the original quality, chapter markers and the ID 3 and meta data info like title, album cover, artist, year will be kept.
View also: Top 5 Audible AA/AAX Converters
Top DRM Audiobook Converter to Save Chapters from iTunes/Audible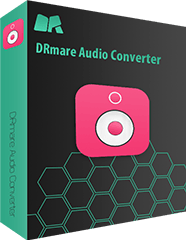 Easy to use and beautiful screen, you can find out how to use it at first glance
Get rid of DRM protection from Audible/iTunes audiobooks at 30X converting speed
Convert audiobooks AA/AAX/M4A/M4B to new formats of files MP3, M4A, M4B, WAV
The converted files can be played on any mobile devices, portable MP3 players
Part 3. Convert DRM Audiobooks Losslessly with Original Chapter Markers
This is probably the easiest software I have ever used before. For iTunes M4B audiobooks, you just need to authorize them on iTunes and add them to DRmare software to start the converting process. For Audible audiobooks, it is even more easier. You don't need to input the account name or password either. Please follow the steps:
Step 1

Import audiobook files to DRmare

You can drag and drop the AA/AAX/M4B audiobooks to DRmare conversion window or you can click the two "Add Files" button from the bottom left to add the files from your computer folder or iTunes library.
Step 2

Choose output format as "M4A" or "M4B"

The two formats which support to retain the chapters of Audible/iTunes audiobooks are M4A or M4B, so please make sure you select the right format. M4A and M4B are almost the same with the supported AAC codec except M4A supports another ALAC codec too. Besides changing the format, you can click the "editing" icon to adjust the pitch, volume, speed, meta data. You can preview the audiobook during editing. This makes it superior compared to any rivals in the market.
Step 3

Convert DRM audiobooks with chapters kept

After that, you can click "Convert" button, DRmare software will start to convert your audiobooks to M4A or M4B without any delay. With the batch converting feature, no matter how many files you have, you can put them on the converting queue and let the software to do the converting job for you. And you can focus on something else during the process.
Part 4. Summary
Finally you will get all the M4A and M4B audiobook files with complete chapters and original quality. You can transfer them to your MP3 players, portable speakers, headphones, car infotainment system for playback. Also, you don't need to worry about any playback issue and you can select and jump to the chapter you want anytime freely. One thing you need to note is that MP3 format doesn't contain any chapter marketers, so please don't choose "MP3" during converting. In case you do want the MP3 files, you may refer to the instruction to split Audible audiobooks into chapters.
What do you think about this tutorial? Do you know any other better solutions? Please do not hesitate to let's know your thoughts in the comments below.