As one of the most popular online audiobook services, Audible provides the largest library in the world for us to access any kind of audiobooks easily. Besides, with different subscription plans, we can get better experience and save more when buying multiple audiobooks from Audible. However, considering Audible's subscription packages are rather expensive while all downloaded Audible audiobooks can only be played on authorized apps or devices, it's necessary to look for some cheaper or free alternatives. If you are in such a need, simply look at these top 8 best Audible alternatives with well-stocked libraries and cheaper subscriptions.
View also: Top 10 Best Apple Music Alternatives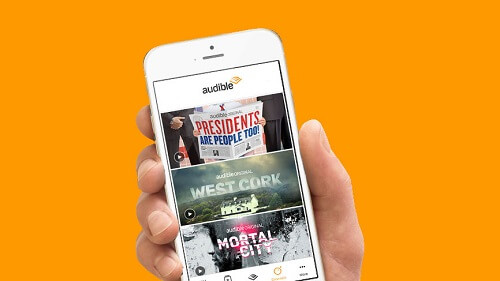 Part 1. Top List of 8 Best Audible Alternatives
No 1. Audiobooks.com
As an audiobook service from Canada, Audiobooks.com is very similar to Audible in many aspects. For example, it requires $15 per month sign up fee like Audible. However, better than Audible, the monthly subscription of Audiobooks.com will give you a free audiobook each month, while Audible only credits you one free book after you successfully signed it up for the first time. In addition, you can buy extra book credits at any time on Audiobooks.com and get any other audio books that you want for reduced prices. The inferior part of this service compared to Audible is its smaller library which contains 100,000 titles while Audible has 200,000 audiobooks for sale.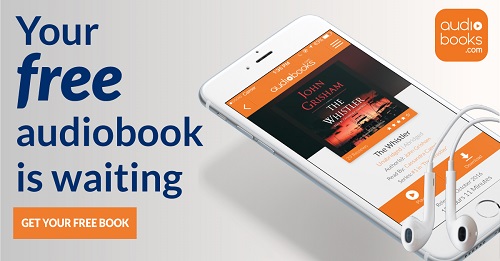 Pros:
* Get additional free audiobooks per month
* Buy any audiobook at lower price
Cons:
* Cover less audiobooks than Audible
No 2. Audiobooks Now
Another strong competitor to Audible is Audiobooks Now. Although it only has around 85,000 titles in library, it offers a much cheaper Club pricing plan at $4.99 only, which gives you 50% off your first audiobook each month and 35-40% off everything else. Besides, unlike Audible which provides audiobooks with DRM protection, some of the books sold on Audiobooks Now are DRM-free and can be read on any device like iOS and Android or web browsers. Best of all, it features a collection of free titles as well.
Pros:
* Much lower membership for $4.99 only
* Offer up to 50% off discount for audiobooks
* Not all audiobooks are protected by DRM
Cons:
* Provide smaller audiobook library than Audible
No 3. Downpour
The most remarkable advantage of Downpour over Audible is its rental service that lets people rent any audiobook with up to 70% off discount on retail price. The rental period can be varied from 30 to 60 days depending on different audiobooks, making it an ideal way for people who don't repeat their audiobook after they done listening once. To sign up the membership of Downpour, you should pay $12.99 per month, less expensive than Audible. And jus like Audiobooks.com, it also gives you a free audiobook each month once you subscribed. You don't need to worry about the playback of the audiobooks downloaded from Downpour as they are all DRM-free and can be played on any device and player as you like.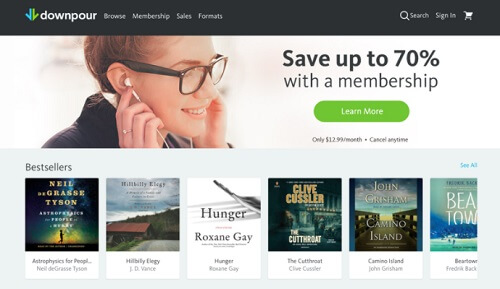 Pros:
* Less expensive subscription fee
* Offer rental service at much lower price
* Audiobooks are not protected by DRM
Cons:
N/A
No 4. OverDrive
If you are looking for a free alternative to Audible, then OverDrive is definitely the highly recommended option. As a free media provider, it lets you rent audiobooks, e-books or other music from local library and enjoy them on your desktop computer or mobile devices, like Windows, OS X, Android, iOS, Nook, Chrome, Kindle, etc. with a valid student ID or library card. Once the rental expires, the books will be unaccessible on your device. However, if your local library lacks the books you want to rent, you'll be limited to the selection.
Pros:
* Totally free to rent audiobooks
* Support a wide range of platforms
Cons:
* Limited in book selection
No 5. Google Play Audiobooks
Starting from January 2018, audiobooks are available on Google Play Store in 45 countries and in nine languages. To celebrate the launch, Google offers customers the deep discounts up to 50% off for their first audiobook purchase. Unlike Audible and other audiobook sellers, Google also lets you buy audiobooks even without a subscription. The most fantastic feature of Google audiobooks is the integration with Google Assistant, letting you read the book at anytime you want via voice commands so that you can listen to the audiobook at 2x speed or set the sleep mode, and so on. Audiobooks downloaded from Google Play are able to be played on any device including iOS, Android and others.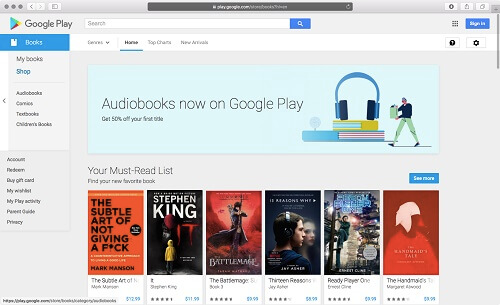 Pros:
* 50% off discount for any customer
* One-off purchase without a subscription
* Manage and listen to audiobooks with Google Assistant
Cons:
* Number of titles is not clear yet
View also: Top 5 Audible Audiobook Converters
No 6. Barnes and Noble
As a well-known traditional booksellers in the world, Barnes & Noble now provides audiobooks as well. It generally offers up to 40% off for audiobook bestsellers, much cheaper than Audible. This bookstore comes with a collection of over 60,000 titles available on all major platforms. Like Google Play, it doesn't require monthly subscription fee. You only pay for what you read. If you care more about the user experience, B&N is a great choice as the store UI is smooth and clean, easily to operate for anyone.
Pros:
* 40% discount on bestsellers
* No monthly subscription plan
* User-friendly experience
Cons:
* Price of some individual audiobooks is higher than Audible
No 7. Playster
Although Playster costs you twice as much as Audible for its subscription fee at $24.95 each month, it's still one of the best alternatives to Audible as the monthly membership will allow you enjoy all the audiobooks, e-books, songs, movies, TV shows and games in Playster Library freely. That's to say, there's no limit to the number of audiobooks or other media content you can download from Playster once you pay on the monthly basis. If you only want to listen to audiobooks, it will set you back by $14.99 per month which is the same as Audible. The downside of this service is that it provides a much smaller audiobook collection when compared to Audible or other stores mentioned above.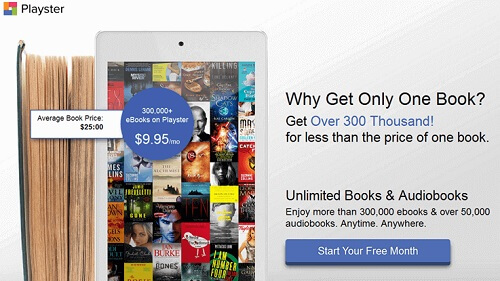 Pros:
* Provide unlimited playback of all medias in store
Cons:
* Limited in audiobook collection
No 8. Kobo
Kobo, also known as Rakuten Kobo, is a Japanese e-commerce company now (which is formerly a Canadian book company). Instead of selling audiobooks, it actually sells a similar product called "e-books" which you can read on specially designed applications by Kobo for Android, Apple, BlackBerry 10, Win 8, and Kobo desktop for Win/Mac. Or you can buy its own eReader to play the books. As for now, there are 5 million books in Kobo library for your selection and it offers $5 account credit for free registration.
Pros:
* A large number of books for your selection
Cons:
* Books can only be read on special applications or devices
Part 2. Remove DRM from Audible Audiobooks? It's Easy!
Provided that Audible's audiobooks are not protected by DRM, most customers might always stick with Audible for its largest book collection and great user experience. If after comparing those Audible alternatives, you are still not sure whether you should give up Audible, then the best solution is find a way to remove DRM protection from your Audible audio books permanently so that you can listen to them on as many devices as you want. Fortunately, there are many such kind of third-party software could get it done. Among them, one of the best solution is DRmare Audio Converter. Available for both Windows and Mac OS, it's able to help you completely unlock DRM limit from Audible audiobooks and convert the files from protected AA or AAX to MP3, WAV, FLAC or others without damaging the original audio quality. You can also split the audiobook by chapters or averagely. For more details, you can read the DRmare Audio Converter user guide or download the free trial version as below to test it by yourself.