"I am an avid user of audiobooks. Before I buy Bose SoundTouch, I want to know if it works well to play iTunes and Audible audiobooks on SoundTouch. If not, it would be of no use to me. " - Question from Bose community.
Like Sonos, Bose SoundTouch is also a high-end wireless speaker. With it, you can stream many kinds of music files online or offline. The most popular compatible apps are Spotify, Pandora, Deezer, Amazon Music, iHeart Radio and so on with highest quality. The SoundTouch app and preset buttons make it fast, simple to control your audio files. In addition, you can set up Amazon Echo Dot to access to your songs on SoundTouch speaker.
Audible app is not built-in SoundTouch, but don't worry, the answer to the question mentioned is "Yes". Now I will show you the top 2 ways on how to play Audible audiobooks on Bose SoundTouch.
View also: How to Play iTunes Audiobooks on Amazon Echo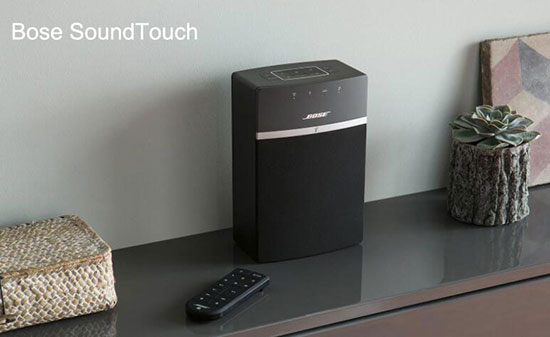 Part 1. Stream Audible Audiobooks to Bose SoundTouch via Bluetooth
As a wireless speaker, you can not only connect it to your Wifi network but also connect it with any Bluetooth compatible devices such as iPhone, Galaxy S9, Kindle Fire tablet, computer and much more.
And it is not difficult to use Bluetooth on Bose SoundTouch for Audible at all. Just pair your Bluetooth device which is playing the Audible audiobook with the SoundTouch, the audiobook playback will switch to the Bose SoundTouch speakers.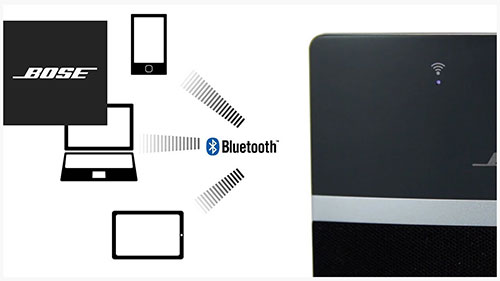 Step 1. Install Bose SoundTouch app. If it is your first time to use SoundTouch, it will ask you to initialize the settings. Just follow the screen wizard.
Step 2. Install the Audible app. You can download it for mobile devices or computers with Bluetooth. After that, you can download and authorize Audible DRM audiobooks to play.
Step 3. Turn on Bluetooth on both devices. On SoundTouch, click "Settings" > "Speaker Settings" > Choose "Bluetooth" > Click "Pair". Similarly, you can go to the settings of your other Bluetooth device to turn on the feature.
Step 4. Pair the devices. Usually your phone/tablet/computer will search the SoundTouch automatically. It takes 1~2 minutes. When both deices are paired, the Audible audiobooks will start to play from your SoundTouch.
Part 2. Is There a Way to Play DRM Audiobooks on Bose SoundTouch Directly
The method above to stream audiobooks on SoundTouch is easy, but it is still not perfect. That is because sometimes we don't have a Bluetooth compatible equipment. So is there another way to play Audible books on SoundTouch directly just like other standard music files?
Yes, though Audible AA/AAX files are combined with DRM protection, you can use DRmare DRM Audiobook Converter for Mac/Windows to help you unlock the files. Compared to any other similar tools, DRmare software come with highest performance. Thanks to its 30X faster speed and lossless quality, you don't need to worry about getting bunch of your audiobooks converted quickly.
DRmare Audible Converter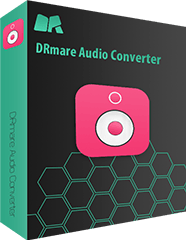 Easy to use, convert Audible audiobooks without the need of iTunes authorization
Disable DRM copy protection from AA, AAX, M4B, M4P files and so on
Split Audible files into chapters, adjust playback speed and archive output files
Lifetime free update, solve any technical problems whenever they happens
To make the Audible audiobooks files compatible with Bose SoundTouch, you need to remove the DRM protection. Please just follow the steps below.
Step 1

Add AA/AAX audiobooks

If you have already downloaded audiobooks to your computer, you just need to click the "Add Files" button from the bottom left to browse the files. Or you can drag & drop to import the files directly.
Step 2

Customize output files

Different devices have different audio file support list. For Bose SoundTouch, it supports MP3, AAC, FLAC, WMA, Apple Lossless and so on. Here I'd highly recommend you to select MP3 format. Also, since audiobooks are usually long. To make it easier for playing them, you can also split Audible files by chapters or time.
Step 3

Convert Audible audiobooks for SoundTouch

No matter how many files you import, you just need to click "Convert" button from the bottom right. DRmare software will process them according to your settings quickly.
Part 3. Play Copyright Free Audio Files on SoundTouch
Congratulations, you are ready to transfer the converted Audible audiobook files to SoundTouch for playback without Bluetooth. It is pretty easy too. But if you are the first time to use SoundTouch wireless speaker, please follow this tips to sync audio files to SoundTouch: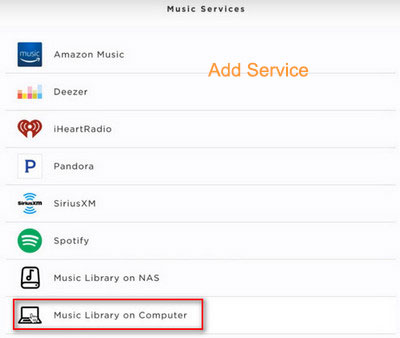 Step 1. Import your converted audioobooks to iTunes/Windows on your local computer or NAS drive.
Step 2. Launch SoundTouch app which you have installed to your device before.
Step 3. Click the hamberger menu > Choose "Add Service" > please choose the option where you want to import music from such as "Music Library on Computer" or "Music Library on NAS". Note: Please make sure the option to share music files from iTunes/Windows Media Player are turned on, else the files won't show up.
Step 4. Type a name for the music folder on your SoundTouch and click "Add Music Library". It takes a few minutes to sync depends on your network speed.
That is it. By transferring DRM free audiobooks, you don't need to use any extra phone, tablet or computer. And you don't need to set up Bluetooth connection any more. That is much more convenient. Do you think so? If you have any questions, please feel free to leave your comments below.