Audible audiobook is great. But sometimes you may still encounter some audiobooks that you don't really like just because of the narrator or whatsoever.
Well, you don't need to worry about that now. The Audible return policy allows you to return Audible audiobooks you are not 100% satisfied in an easy way. Here we will explain that in details.
View also: How to Gift An Audible Audiobook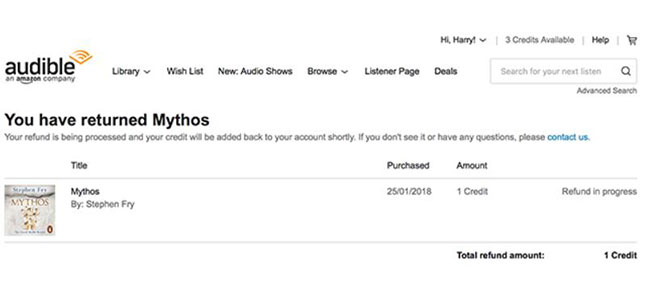 Part 1. What Is Audible Return Policy
Audible Return Policy is also known as great listen experience guarantee. Under this policy, users can try out different audiobooks and return/exchange the ones they don't want. It is pretty liberal but there are still a few requirements need to meet.
1. The audiobooks you want to return must be purchased within 365 days.
2. You have to have a live Audible membership to return audiobooks.
After applying for a refund, you will receive the refund in the same way you paid for the audiobooks. If you pay with a credit, the credit will return to your account immediately. You can use it for buying a new one. If you pay with credit card or debit card, it takes a few days for the money to return from bank.
This is also a great Audible insider tips to save money. If you have purchased an audiobook at a high price before, you can return the book and then buy it again at the promotion price.
Part 2. Steps to Return an Audible Audiobook
To return an Audible audiobook, you can head to the Audible desktop or mobile website. Currently there is no options to do that in the mobile apps.
Return An Audible Book Using The Desktop Website
Step 1. Login Audible website with your account name and password.
Step 2. Hover the Mouse over your name on the upper right of the screen, you will see a dropdownlist.
Step 3. Select "Account Details" menu > "Purchase History", you will see a list of books you have purchased before.
Step 4. Find the book you'd like to return and click "Return" button beside it.
Step 5. Select a return reason and click "Return" to confirm.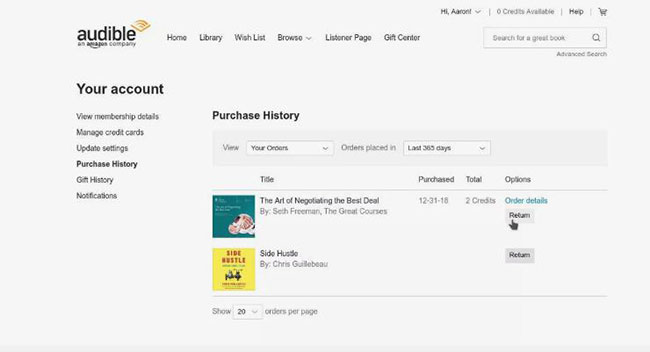 Return Your Audiobook with the Audible Mobile Website
If you are using an iPhone or Android phone, it is much easier to use the mobile website. The instruction is more or less the same.
Step 1. Login the Audible website from your mobile phone.
Step 2. Click the "Menu" in the upper-left corner > click "My Account" > click "purchase history".
Step 3. Tap one of the audiobooks you want to return and click "Return" menu.
Step 4. Select a refund reason and click "Return" to confirm.
Note: Not all audiobooks are eligible for return. If you see the menu "Online Return Unavailable", you will have to contact Audible Customer Service to help you issue the refund manually.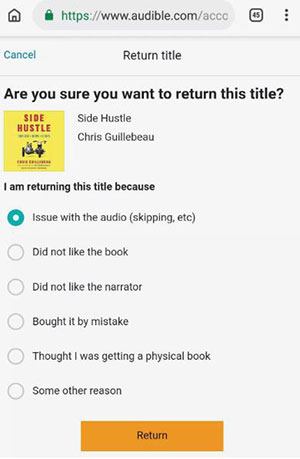 Part 3. Still Keep Audible Audiobooks After Returning
After returning your audiobook, you won't be able to download it again. So what if you want to try it again in another time? Do you have to buy it again?
Usually there is no way to keep Audible audiobooks after returning. This is because the Audible AA/AAX files are combined with DRM protection. With this protection, it is impossible to copy and distribute the audiobooks to other players for playback.
To avoid such problems, you can use the third-party DRmare Audiobook Converter for Windows/Mac to help you transform Audible files to MP3. You can not only keep your books forever, but also listen to them with more players.
DRmare Audible Audiobook Converter
It is not difficult to use the software at all. After downloading the AA/AAX files on your computer, you can import them to DRmare software main screen by dragging and dropping. Then you can select new parameters for the software and click "Convert".
That is it. Pretty easy, right? Finally I want to mention that DRmare software is only for personal use, so don't try to convert the Audible files for selling or making money etc.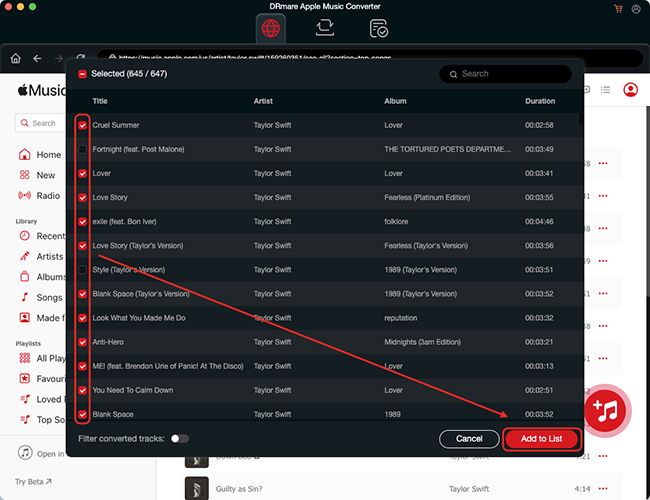 FAQs
Q1: How many Audible books can I return in total?
A: There is not an exact number according to the Audible official. This is related to a lot of factors such as orders, membership and so on. Normally about 10~20% can be returned. If you are abusing the Audible return policy, Audible may cancel your rights to return books or even suspend your account.
Q2: Can I delete Audible audiobooks from my library?
A: Yes. Go to "Manage Your Content and Devices" page > "Your Content", then you can choose the audiobook you want to delete.
Q3: What happens to my credits if I cancel my Audible membership?
A: It will be lost if you cancel the Audible subscription. So please make sure you have used up all your credits before you cancel it.
Q4: Can you keep the books you purchased after canceling the account?
A: Yes, sure. After purchasing, you can use all the audiobooks forever unless you return them.