When it comes to audiobook, Audible is the leader which is tough to beat. If you enjoy listening to Audible audiobooks, you may have already knew audiobooks cost much more than e-books. This is not good for users who are living on a budget especially the users in India, Philippines etc. where the gap of wealth is big.
So is there a way to get Audible subscription at a cheaper price? The answer is yes. But Audible didn't make these tips public yet. To make sure every penny you spent is worth, here we will list the top 10 Audible insider tips.
View also: Top 5 Audible Converters In 2019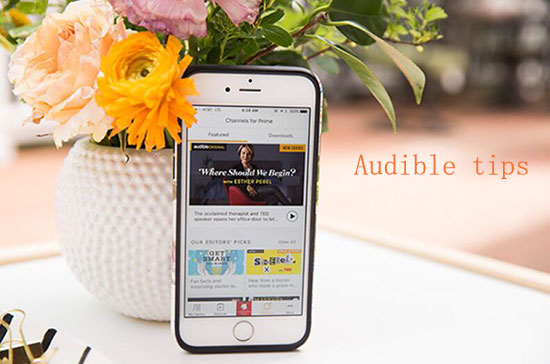 #1. Get 1 Audible Audiobook and 2 Audible Originals Free
Audible offers 30 days free trial to attract new users. If you haven't used Audible before, you can simply try the Audible subscription for free. This is one of the best way to get audiobooks for free. You will get 1 audiobooks and 2 Audible originals in total. The tips is simple. Just go to the Audible official website to search and locate the book you want. You will see a list of menus such as "Free with 30-day trial", "Add to Wish List", "Buy for $XXX", please click "Free with 30-day trial" instead of buying it at the original price.
#2. Go Through the Steps to Almost Cancel Your Membership
Can't afford the $14.95/month subscription fee after free trial? Here is an secret trick for you to reduce the subscription fee. Just go to your account panel, click the option to cancel the membership. Usually you will see a popup window asking why you want to cancel it. Please select the reason as "It's too expensive". Then Audible will send you a special offer such as 3 months membership for 1$, 50% Off or 20$ off coupon code.
#3. Change to Audible Silver Membership
How long does it take for you to finish an audiobook and how many audiobooks are you going to listen to in a year? If it takes you more than 1 month for listening to 1 book or you want less than 6 books in a year, the normal Golden Audible membership may not fit you perfectly. I will highly recommend you to change your membership type to Silver. The difference between the Golden membership and Silver membership is that Silver charges you $14.95 every other month while the later one charge you every month.
Audible doesn't advertise this membership in public, so you have to contact the Audible customer service to request it personally. On the support page, select "My account" and then choose "Change or cancel my membership" > "Upgrade/downgrade my membership". After that, you can choose to contact the right person by email, phone or chat to change the membership type for you.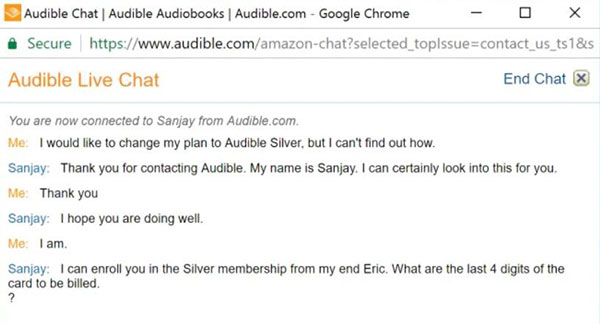 #4. Pause Your Audible Account Until You Need It
No matter how deeply you enjoy audiobooks, you may not have time to listen to them all the time. If you are busy with your examination, work or you just want to take a break, suspending your account will be a good option. Audible allows you to put your account on hold for up to 3 months every year. It will not only save your money but also retain your other privileges such as using your credits, enjoying discounts to buy new audiobooks.
#5. Watch for the Daily Deals
Audible keeps offering special deals. Such as the daily deals, 2-for-1 deals, free audiobooks for Amazon echo users and so on. Please pay attention to the Audible official website so that you can get them at the lowest price. Besides, you can sign up the Audible newsletter or add the books you like to your wish list so that you will get all these promotion info by email.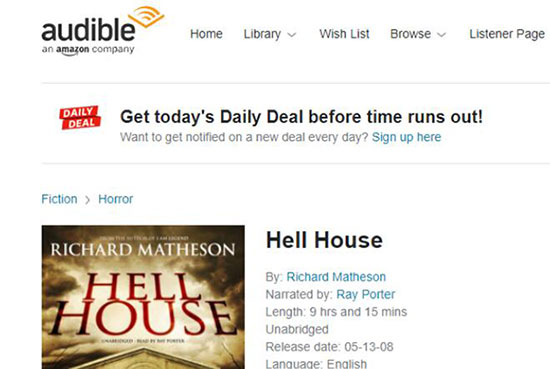 #6. Share Audible Books with Your Family/Friends
If you and your family or friends have the similar taste of audiobooks, you can share the audiobooks without buying buying them repeatedly. The most direct way is to turn on the Amazon Household sharing. You can add two adults and up to four teens to the same Household group. The audiobooks bought from anyone will be accessiable to the others.
If you'd like to share your Audible books with more users, you can also convert the Audible AA/AAX files to MP3 by using the DRmare Audible Audiobook Converter for Windows/Mac. Note: This tool is only for personal use, so please don't try to sell or distribute the converted files for making money.
#7. Return Any Audiobooks You Don't Like
Audible wants to provide users with best experience. All the audiobooks come with the "Great Listen Guarantee". This policy allows users to return any audiobooks bought within 1 year and use the credits for new ones. If you find any books you don't really like, you don't have to be reluctant to keep it. Just go ahead to return it. There is not a limitation on the number of books you can return.
#8. Add the Audible Option with the "WisperSync"
The WisperSync is a great feature to enable users to switch between reading an ebook and listening to an audiobook seamlessly. If you have already bought a lot of eBooks, you don't need to buy the audiobook separately at the originally price but get it at a special low price.
You can use the matchmaker to help you find which Kindle books you bout are compatible with the WisperSync. This is the most useful way for users who enjoy both ebooks and audiobooks to get great deals.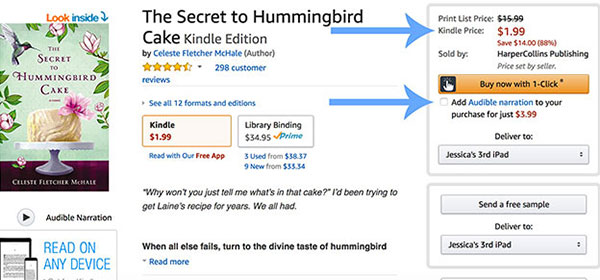 #9. Get Free Audiobooks with Amazon Prime
Amazon Prime is first known as the 2-day fast delivery service. But it also offer you great privilege to enjoy Amazon Prime audiobooks music, video for free. There are some special featured books and Audible Originals, channels for Prime users. So please take a look at it to see if there is any free books you are interested in before you pour your money to Audible.
#10. Use Your Credits In a Worth Way
Not all Audible books are with the same price. But if you pay with your credit, it costs the same 1 credit for each book. Since you can only get 1 credit monthly with your subscription, 1 credit is almost equal to $14.95. If you find some books which is less than $14.95, it is a better way to pay with your money.
Also, one thing you need to keep in mind is that there is a limitation on the number of rollover credits for your membership. For example, Golden memberships allows up to 5 credits/year. So please use the credits in time if you have too many credits on your account.
Final Words: Keep These Audible Tips In Mind
If you like Audible audiobooks, you should definitely keep these best Audible tips and tricks in mind. It will help you save a lot of money in the long haul. The tips are easy to follow, so why not get started with them today?
Besides, there are other hidden Audible tips which we may not list here. If you know other methods on saving money or improving the Audible audiobooks listening experience and so on, please don't hesitate to share them with other Audible fans in the comment sections below.