Most of you would already come into connect with DRM when you enjoy digital life with your Mac, PC or other popular devices. For example, when you download some movies, music, e-books, TV shows and games, you may be prevented from copying and sharing them to other devices. The reason is that these media files are encrypted with DRM, which contributes to protecting the copyright according to the content creators.
Different platforms provide different DRM technologies. In order to make sure that your media files are compatible with all mobile devices, we need to be clear about the leading commercial DRM technologies. Before we get down to discussing the different DRM technologies, we should have a good understanding of DRM.
View also: Top 3 Best Free DRM Removal Tools

Part 1. What Does DRM Mean
Digital rights management (also known as DRM) is the access control technologies designed to restrict the usage of copyrighted digital content, such as the movies, TV shows, music, e-books, games, and etc. With the encryption technologies, content providers can grant control and protection over their own digital media. That is to say, DRM is able to prevent customers from possessing, duplicating and sharing digital material and works or converting them to other formats.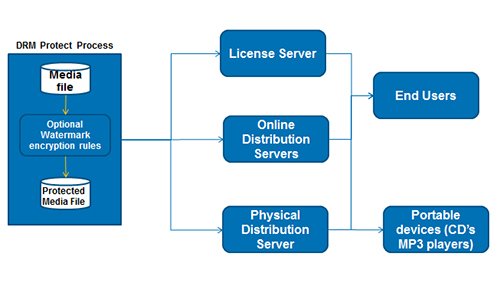 Part 2. Apple FairPlay DRM on iTunes
With the use of AES algorithm in combination with MD5 hashes, FairPlay is a digital rights management created by Apple Inc. In order to protect the copyright of content creators, Apple FairPlay DRM is built into all the movies and TV shows purchased or rental from iTunes store, which can't be allowed to play on other non-Apple's products except iPhone, iPod, iPad, Apple TV and etc. Previously, all songs purchased from iTunes store between 2003 and 2009 are also protected by Apple FairPlay DRM, you can only listen to these DRM-ed songs on iTunes and Apple devices. Fortunately, after 2009, you can freely enjoy all songs bought from iTunes store.
Quick Solution to Remove FairPlay from iTunes Movies
If you want to enjoy all movies and TV shows purchased or rented from iTunes by fully controlling the use of these media files, the most important thing you should do is to crack the lock of DRM. In this case, you are highly recommended with an easy-to-use yet professional FairPlay DRM removal tool, that is, DRmare M4V Converter, which can not only remove FairPlay DRM protection legally from the iTunes movie rentals and purchases, but also convert the iTunes M4V to MP4 or other DRM-free videos and audios with lossless quality. Therefore you can playback these iTunes movies and TV shows on almost all non-Apple devices. Currently this smart DRM cracker is available for both Mac OS and Window OS.
Part 3. Microsoft PlayReady DRM
Microsoft PlayReady DRM is a digital file copy prevention technology including encryption, output prevention and digital rights management, launched in February 2007 by Microsoft. Microsoft PlayReady DRM is the development of Window Media DRM, a system for protecting the Window media files and stopping the unauthorized users assessing to protected digital media. Microsoft PlayReady DRM is the widest deployed DRM in the world. Different from other DRM schemes in Microsoft, it has the independent platform that means it can be installed to any other portable devices, like connected TV devices, Windows operating systems, Windows mobile and Xbox.
Part 4. Google Widevine DRM
With the purpose of boycotting the pirate and protecting the benefit of content owners, Widevine developed by Google is an encryption system with DRM. It has two wonderful versions, called Widevine Classic and Widevine Modular. Actually, the Widevine Modular is the successor of Widevine Classic, which is joined the Google DRM scheme used for the on-demand and downloaded content. While Widevine Modular supports multiple content formats, including live streaming, MPEG-DASH and Common Encryption (CENC). Besides, Widevine Modular also supports a broad range of consumer devices, such as Android (4.3+), TVs, game consoles, iOS devices, etc.