iTunes digital media files include multiple types such as iTunes movies, TV shows, Extras, audiobooks, Apple Music, iBooks etc. They are thought to be of high quality which offer higher enjoyment to users compared to the files from other media content sources.
However, they are all protected by Apple's digital rights management system FairPlay. It is developed by Apple to prevent illegal copy of the contents but it may cause inconvenience for legal users.
To get rid of the DRM annoyance of the iTunes media files, you can follow me in this article to learn more about FairPlay DRM and find out a good solution to remove them effortlessly.
View also: How to Remove DRM from iTunes Rentals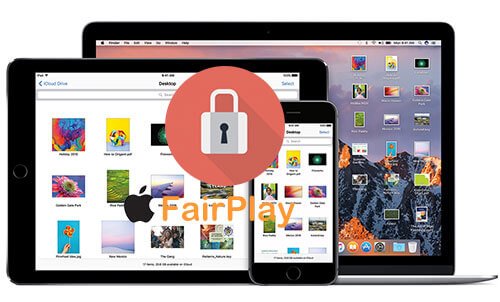 Part 1. Top 2 Things You Need to Know about FairPlay DRM
What is FairPlay DRM
FairPlay is one of the digital rights management system created by Apple. By adding this kind of DRM, the majority of the iTunes Media files are encrypted. As a result they can't be copied to other devices for playback and can only be played via the authorized Apple devices such as iPhone, iPod, iPad, Apple TV and computers etc. Also, it limits you to authorize the files to no more than 5 devices. This may help to protect the copyright somehow, however, it is not perfect as it also limits the purchased legal users from taking full control of the videos easily.
How Does FairPlay DRM Work
In general, FairPlay DRM can not only encrypts common Media Files to DRM-ed files but also manage every files to play on less than 5 devices in total. To achieve this goal, it requires a DRM server. When you purchased an iTunes media file, it will generate one public key and one user key to the purchased media file and another user key to the DRM server. The public key is used to prevent the media file from editing or modified. The user key is used to unlock the files when you try to play it for the first time and it can help you authorize the video to play on other devices. The FairPlay protected files can only be played on the authorized devices through iTunes.
Part 2. How to Remove FairPlay DRM from iTunes Digital Media Files
If you also tried of the DRM restriction, now it is time to get rid of them. As long as you have the right FairPlay DRM removal Converters, you can remove DRM from various kinds of media files easily. The processes to remove DRM from iTunes videos, audiobooks, Apple Music, iBooks are more or less the same, but please note that different software support different media files.
Take iTunes videos for instance, they are known as protected M4V videos which is an MPEG-4 container file with AAC audio codec etc. There are several types of videos including iTunes movies, TV shows, Extras. If you find any iTunes videos you like, you can either purchase or rent the videos. In order to get rid of the limitation to enjoy the iTunes purchased videos from any limitations or backup the rental videos forever, you can use DRmare DRM M4V Converter for Windows/Mac to help you remove DRM, then you can play them in any way you like. To check the full tutorial, you can visit: How to Remove DRM from M4V Videos Lossslessly.