The Freddie Mercury biopic Bohemian Rhapsody now hits the theatre in US, making it the second biggest music biopic in US history. In global, the box office is even better with over $384 million.
The film received mixed reviews from critics. The portrayal of Mercury's life and sexuality was criticized while Malek's performance is praised. This film also brought the music of Queen bank back into the spotlight. The same titled song, originally released in 1975, reenter the Billboard Top 100 after 3 decades.
That is really impressive. Now let's do a further review on the Bohemian Rhapsody.
View also: A Star Is Born Review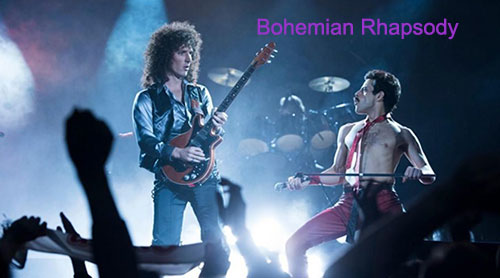 Part 1. What We Know about Freddie Mercury
Freddie Mercury was a British singer-songwriter and record producer.
He was name Farrokh Bulsara when he was born. For the first 25 years, Mercury was Farrokh Bulsara. Because he was only attracted to men, his father disapprove of his view and ambition.
Feeling not being accepted, Freddie Mercury left home and went to London, where he formed the band Queen. In the Queen's debut album, Freddie Mercury make his dizzying brush with fame quickly.
Part 2. Bohemian Rhapsody Film Plot and Trailer
Directed by Bryan Singer, Bohemian Rhapsody stars Rami Malek as Mercury. It follows Freddie Mercury's life, leading to Queen's live Aid performance in 1985. Freddie broke the stereotypes and convention to become one of the most beloved entertainers in the world. It is also a celebration of Queen, tracing the meteoric rise of the band with their iconic songs. .
The Bohemian Rhapsody trailer is available on YouTube for free, watch it below. If you want to watch the full movie, you can either go to a theatre or buy and download it from iTunes store. To backup iTunes videos, you can also visit: How to Convert iTunes M4V to MP4.
Part 3. Bohemian Rhapsody Single and Lyrics
This is a greatest song performed by the British rock bank Queen. It was written by Freddie Mercury in 1975 album "Night at the Opera". This song contains 7 parts: an intro, a ballad segment, an operatic passage, a hard rock and a reflective coda. It become a big success after its release and tops the UK Singles Chart for 9 weeks. Followings is the lyric of the intro part, it shows the background of the sound. It is a song make me moved and cried.
[Intro]
Is this the real life? Is this just fantasy?
Caught in a landslide, no escape from reality
Open your eyes, look up to the skies and see
I'm just a poor boy, I need no sympathy
Because I'm easy come, easy go, little high, little low
Any way the wind blows doesn't really matter to me, to me
Part 4. How to Listen to Bohemian Rhapsody Song and more Queen Album
Spotify offers the Bohemian Rhapsody soundtrack to stream for free online. Just open the Spotify app or go to the Spotify web player to search the song, you will be able to stream it directly. It does come with some commercial ads though.
If you don't want any ads and download it for offline listening, one of the solution is to buy the single or full album from iTunes song. Or alternatively use a third party software Spotify Song Converter for Windows/Mac to download the tracks to your local devices. You can save any music you want such as all the albums released from the Queen band. For the full tutorial, you can visit: How to download Spotify Songs without Premium.
Wrap Up
Bohemian Rhapsody film 2018 shows us the life of the talented artist. It is good enough to entertain ourselves as well as teach us how to get the best out of our unfullfilled potential, don't fear anything and be yourself.
In my option, this is a great movie deserve the attention of the Oscar award judges. And the soundtrack from the video is brilliant too. What do you think about the movie and soundtrack? Please do not hesitate to share your comments below.