Do you know or are you a fan of Selena Gomez? She is one of the biggest stars in American.
From the children's television series Barney & Friends to the to Disney Channel television series Wizards of Waverly Place to films Princess Protection Program, The fundamentals of Caring and The Dead Don't Die, you shouldn't be strange to her.
She has been hinting about her new music for a long time. On The Tonight Show recently, Selena told Jimmy Fallon she's done with her new album. It was a four year process. During the time, Selena Gomez has been through a lot of things like breaking up, illness. This new album will be all about her own story and personality.
If you are one of Selena Gomez fans who can't wait to hear her new work, you can continue to read to find out more info and download Selena Gomez songs for offline listening.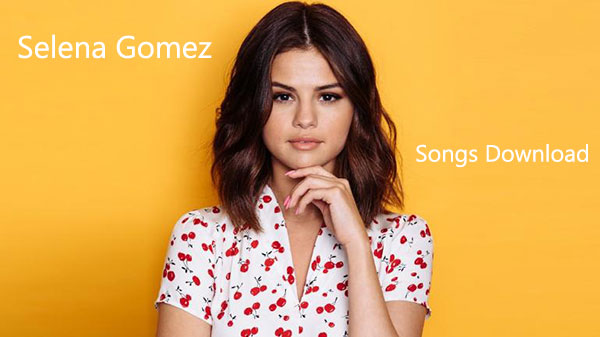 View also: How to Download Ariana Grande Music
Part 1. Selena Gomez Life and Career
Selena Gomez starts her career as an actress, but her own mind is always to be an excellent singer.
1992~2007: Early Life and Stress Career
Selena Gomez was born in Grand Prairie, Texas on July 22, 1992. Her father is of Mexican descent and her mother has some Italian ancestry. She gained an interest in pursuing a career in the entertainment industry watching her mother prepare for stage productions. She had a role in the film Spy Kids 3-D: Game Over in 2003, Walker, Texas Ranger: Trial by Fire in 2005 and The Suite Life of Zack & Cody in 2006.
2007~2012: Music Career Brakthrough
While working on the second season of Wizards of Waverly Place, she contributed a cover of the song "Cruella de Vil" to the compilation album Disney Mania 6 and record the original song "Fly to Your Heart" for Tinker Bell.
In the installment of A Cinderella Story series, Gomez recorded three songs for the soundtrack and release the song "Tell Me Something I Don't Know" as a promotional single.
2012~2016: Album Release
In 2012, Selena Gomez released "Come & Get It" as the lead single which became the top ten entry on the Billboard 100 and another single "Slow Down" peaked at number 27 in the Billboard of her debut album Stars Dance.
This album becomes her first album to debut at number on on the US Billboard 200.
In 2015, Gomez released her second studio album Revival which also debuted at number one on the Billboard 200.
Part 2. Top 10 Best Songs of Selena Gomez
Although Selena Gomez has confirmed her new studio album, but we still don't know when it will be released. Before that, you can enjoy the best music of Selena Gomez from her previous albums.
Who Says
This is a 2010 single from her band Selena Gomez which contains acoustic sound and thoughtful song writing.
Back To You
This is released in 2018 was an emotional doozy that hit listeners right in the gut.
Perfect
Gomez's pain is so relatable as she sings about the woman her man prefers in this song. It is a deeply personal song for Selena Gomez.
Love You Like a Love Song
This is one of the biggest hits from the third SG & The Scene album "When The Sun Goes Down".
Slow Down
This is one of the highlights on Selena Gomez 2014 compilation album "For You".
The Heart Wants What it Wants
This is is considered as heartbreaking love song to her ex-boyfriend Justin Biber. It is a passionate single which marked a new era of Gomez's career.
Slow Down
This is one of the highlights on Selena Gomez 2014 compilation album "For You".
Fetish
It is a deductive track about having a fetish for someone released in 2017, taking fans a little bit aback.
Good For You
Good For You was lead single song for Revival, it is good to listen if you are on a hot date.
Hands to Myself
This song is fun to listen to. It captures everything to love in the life of Selena Gomez.
Part 3. How to Download Selena Gomez Songs for Free
When it comes to the sources for listening to Selena Gomez music, we have a large list such as Spotify, Apple Music, YouTube, Amazon Unlimited, Google Play and much more.
All these platforms empower you to get access to millions of songs but none of them offer the unlimited download service. To make it a better experience to enjoy Selena Gomez music, you can try the 2 ways.
Download Selena Gomez Songs from Spotify
Spotify is a mainstream streaming music platform. It offers 2 tiers of services, freemium and premium. To download Spotify music without premium , you just need DRmare Spotify Playlist Converter for Windows/Mac. It supports to batch download Selena Gomez music in batch within a few clicks and convert the Spotify OGG format to MP3, M4A, M4B, AAC, WAV and FLAC. To find out how does it work easily, you can watch the video tutorial.
Record Selena Gomez Songs from Any Websites
If you'd prefer to enjoy and download music across multiple music platforms such as YouTube, Amazon Unlimited, you will need a comprehensive all-in-one DRmare MP3 Music Recorder for Windows/Mac. Usually you just need to play the Selena Gomez songs or album with the imported app like Chrome browser, then the DRmare software will capture the songs automatically.