iTunes library is a collection of precious media files for most people, which have been built with much energy, time and money. Hence, backing up iTunes library is a good idea if you don't want to face the trouble of losing your own iTunes library after a hard drive crash or virus infection.
Besides that, even there is not a problem on the computer, sometimes the iTunes library may become too big for us to keep them. Instead of deleting the media files such as videos, music, iBook files, you can move iTunes library to external drive. It is a most reliable way to back up data.
Here I will walk you through the detailed process on how to back up iTunes library to external hard drive by yourself.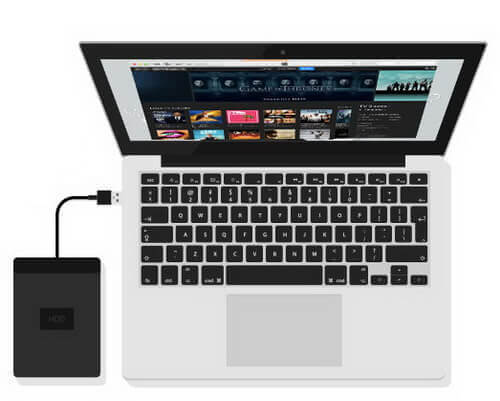 Part 1. What You Need to Do before Moving iTunes Library to External Hard Drive
As iTunes media library contains different types of files downloaded directly from iTunes, imported or sync from other devices, some of them may exist on multiple folders on your computer. It could take a fairly long time if you search and copy them one by one to your hard drive manually. Fortunately, iTunes has the built-in features to help you locate the iTunes media folder and consolidate the media files within a few clicks.
Find the iTunes Media Folder
The folder path may vary on different computers, but the default folder for Windows computer and Mac computer is as below:
Open your computer explorer on Windows or Mac > Click Users > [Your username] > Music > iTunes
You will then find your iTunes media folder, however, if you can't locate the right iTunes media folder under that path, probably it has been changed. You can go to the settings of the iTunes to check the folder path too.
Launch iTunes > Click 'Edit' menu on Windows or click 'iTunes' top menu on Mac > Choose 'Preferences' > Go to 'Advanced' tab > You can customize the folder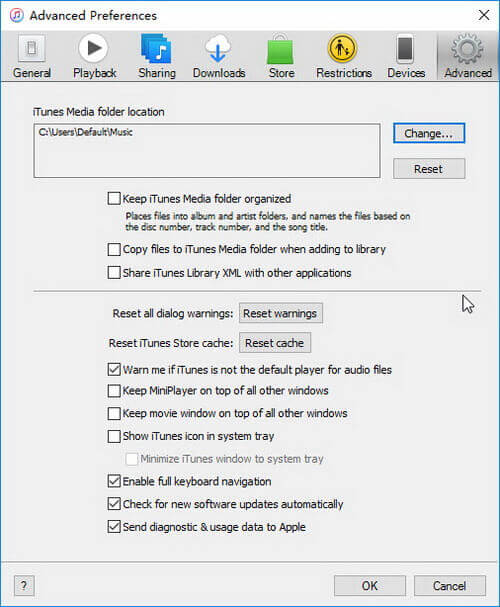 Consolidate the files to the same folder
After finding the iTunes media folder, you can start to put all the iTunes media files together to this folder, it is easy.
Launch iTunes > Click 'File' menu > Click 'Library' > Choose 'Organize Library' > Check the option 'Consolidate files' > Click 'OK'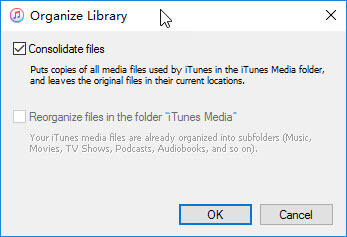 It will copy the media files from other folders to the media folder automatically. Normally, it takes only a few seconds only.
Part 2. How to Back up Your iTunes Library to External Hard Drive Step by Step
Then you will see the iTunes media folder with all the media files like videos, audiobooks, music, books which you have added before and other iTunes generated files with the extension name of ITL, XML etc. Generally, you just need to follow these 4 steps to transfer the iTunes library from your computer hard drive to the external hard drive.
1. Connect your external hard drive via a USB cable.
2. Open the folder of the external hard drive from the computer.
3. Go to the parent directory of the iTunes media folder.
4. Drag the iTunes media folder to the external hard drive simply. If you don't want to drag&drop, you can also right-click on the iTunes media folder and choose 'Copy', then navigate to the external hard drive folder to paste with ease.
Kind Notes:
It might take a long time to transfer a large library folder with hundreds of GB files to external hard drive, please wait patiently. In addition, it is easy to cause data loss or mess if any interruption happens during the copying process, please make sure you have stable connection of the external hard drive and the power supply is consistent.
Part 3. How to Use the iTunes Media Files from the External Hard Drive
Ultimately you will have the iTunes library files on your computer. In the future, if your computer crash or you just want to transfer the iTunes library to a new computer, you can copy the same iTunes media folder to restore the iTunes library. Additionally, you can access the iTunes library from the external hard drive directly to enjoy the media files. How?
1. Quit iTunes first on your computer.
2. Hold down the 'Option' key on a Mac or the 'Shift' key on Windows and launch iTunes simultaneously.
3. You will see a pop up window with the menus 'Choose Library' and 'Create Library', please select 'Choose Library'.
4. Then navigate to the iTunes library folder on your external hard drive and choose the library file called iTunes library.itl.
5. When it loads completely, you will see all the media files on the iTunes and you can choose the files you want to play.

Extra Tips: How to Play iTunes Media Files from External Hard Drive without iTunes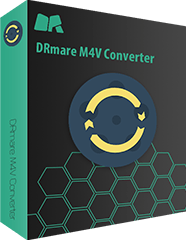 It is really fantastic to play the iTunes library media files as long as you have the iTunes installed. However, not all the devices support iTunes and you may have problem to enjoy the iTunes media files on other devices like Smart TVs, Android or Windows mobile devices and so on. Because of the Fairly DRM protection, the media files refuse to work without the authorization of iTunes. But please don't be frustrated about that. There is a good alternative solution by removing the FairPlay DRM protection from your iTunes media files. Let's say, if you want to play iTunes movies, TV shows on your Smart TVs, then you might take a look at the DRmare iTunes M4V Video Converter for Windows/Mac which is a top DRM video converter. It runs with really high performance. You can use it to help you convert the iTunes M4V videos to smart TVs. To find out how does it work completely, you can check this guide: How to play iTunes M4V Videos on Smart TVs.
Video Guide: Move iTunes M4V Library to External Drive on Mac OSX