As there are many music streaming services in the market, maybe you want to do a research on them before choosing one of them for using. Then please keep reading. Today, we are going to take Apple Music and Google Play Music as an example to do a study.
Apple Music launched in 2015 and was the new comer to the streaming services market, but it seems that it has become one of the most popular choice for music fans. Google Play Music makes us quite confused of its music strategy. Thus, let's get started to do a deeper research on Apple Music vs Google Play Music.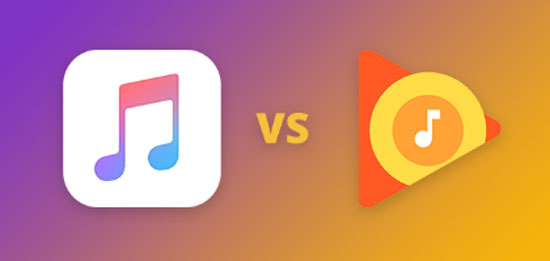 Part 1. Apple Music vs Google Play Music: Main Distinctions
Plans and Subscriptions
Both Apple Music and Google Play Music has the subscription services. For Apple Music, it cost $9.99 per month for an individual in America, and in other countries and territories, the price could be with slight variation. Subscribers are able to stream and download music and videos offline as well as get access to new release and exclusives. Google Play Music also costs $9.99/month for its standard subscription. It will allow you to get Google's music catalog, music recommendations, radio stations, offline listening and access to YouTube Music Premium.
Apple Music student subscription costs $4.99, while Google Play Music doesn't provide this service, although eligible students can subscribe to YouTube Music Premium for $4.99 monthly.
For family plan, both Apple Music and Google Play Music charges $14.99 per month for six members, but the features between them are quite different. Apple Music family plan allows family members to access to the service using a personal account for each family member. Members can share the purchased iTunes files with each other in addition to catalog content, but family members must use the same credit card for App Store/iTunes purchases. Google Play Music family plan allows members to stream music on up to 10 devices each and share eligible purchased items on Google Play using Family Library. Unlike Apple Music, each family member can still keep their own Google Accounts.
Free Music
Besides the subscription, Apple Music and Google Play Music also provide free service for their users, but once the trials are over, users need to pay for the subscription for using. Apple Music offers a free three-month trial, which allows uses to listen to lots of music online. Google Play Music provides a 30-day free trial. Users can listen to free music on iOS, Android or the web, though this doesn't provide on-demand access to a lot of songs.
Audio Quality
When it comes to the audio quality, it is vital for users to enjoy music. And every music streaming service offers different levels of audio quality. For example, some music services support 24-bit/96Khz audio, which is the high-end audio quality and sounds better than a CD. However, neither Apple Music nor Google Play Music offer this level of quality. Apple Music only streams at 256kbps, while Google Play Music streams at 320kbps at its highest quality level.
Equalizer
As for equalizer, it can allow users to shape the overall frequency response of music. For example, if some music doesn't have enough bass, then equalizer can help solve this issue and boost them. Apple Music provides an equalizer with presets like jazz, rock and classical. However, it seems that this make no sense. But having an equalizer is better than none. Like Google Play Music, it doesn't offer such kind of equalizer.
Music Sharing
Apple Music let you follow friends who are also subscribers and share playlists with them that you had created. Besides, the "For You" section on Apple Music also show you what your friends are listening to if you had connected to them.
Although Google Play Music doesn't have such a social feature, it allows you to share song links via text or over social media.
Listening in the Car
Both Apple Music and Google Play Music can be played in the car via Apple's CarPlay system. If a car doesn't have CarPlay, most newly models have their own entertainment systems, on which you can connect your devices to it. Or you could also use Bluetooth to make it.
Live Radio
Apple Music's Beats 1 Radio is a real and live radio station, which is operated by human being. It streams music 24 hours a day and 7 days a week. In addition, Apple Music users can send requests to Beats 1 and then you will know that millions of people are listening to the song you are requested. Whereas Google Play Music doesn't have this feature. It only provides automated radio stations for users, which are the playlists of it.
Part 2. Extra Tips We Would Like to Share with You
For Apple Music users, you may meet the issue that sometimes you can't play Apple Music on other portable devices. That is because Apple Music songs are under the protection of DRM, which will prevent you to enjoy Apple Music on other devices freely. Thus, in order to solve this issue, you need to remove DRM from Apple Music first with a professional and powerful Apple Music Converter for Windows/Mac. You could click on the "Download" button below to start your free trial of converting Apple Music.
For Google Play Music users, no matter you are the free members or the premium members, here you could use the Audio Capture for Windows/mac to download Google Play Music for offline listening. This tool can record audios and music from many sources on your computer with high audio quality. And you can also trim and edit ID3 tags for the recorded music according to your needs. Below is the download button, you could install it on your computer to have a try.
Part 3. Conclusion
Above is the detailed review of Apple Music vs Google Play Music. Each music service has its own pros and cons. You could study on them and choose the suitable one for you according to your requirements.
If you still have any issue on choosing which music streaming service, then please feel free to contact us or write down at the comment section.