Vimeo is a famous video sharing website founded in 2004 and it was the first video site to support HD video in 2007. Now it attracts more than 100 million unique visitors each month, among which there are a lot of video professionals.
Many users prefer to upload videos to Vimeo instead of other websites like YouTube, Facebook, etc. for its clean layout, intimate and fully engaged community yet no advertisements. The most important thing is that it allows users set a password to protect the videos, so they can share the videos to their friends or family only.
Though it is a great place for uploading common videos, it doesn't support sharing DRM protected videos such as iTunes purchased and rental movies, TV shows or music videos. To help every iTunes user enjoy iTunes videos better, here I will present how to upload your iTunes movies and episodes to Vimeo in the easiest way ever.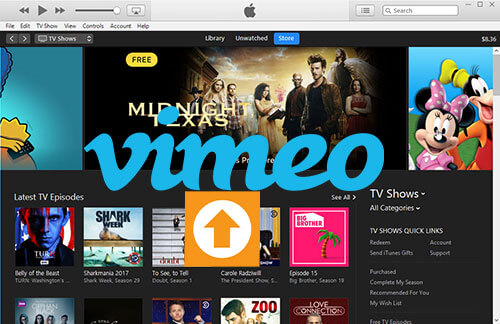 Part 1. A Great Workaround to Upload iTunes Movies to Vimeo
When it comes to uploading and sharing iTunes videos, most people find it is a great fun to do that between family people and friends. In this way, they can enjoy and talk about the same movies together. And this should not cause any copyright issue as long as they don't share the videos in public for marking money.
However, there are some problems need to be fixed before uploading the iTunes movies to Vimeo. One of the most noteworthy issue of iTunes videos is that they are combined with DRM theme protection. This DRM theme limits many aspects of the iTunes movies such as playback, editing and more.
Consequently, if you want to upload videos from iTunes to Vimeo, the only way is to remove DRM restriction firstly. Also, since Vimeo website doesn't support the Apple proprietary M4V video format, you should convert the iTunes videos from DRM M4V to a Vimeo compatible format too. This maybe sound a little complicated.
But you don't really need to worry about it as it is very easy if you get a right tool. Here I will recommend an all-in-one iTunes DRM removal software, that is DRmare M4V to Vimeo Video Converter which offers a one-stop solution to help you remove iTunes FairPlay DRM and convert iTunes purchased and rental M4V movies to Vimeo quickly. Following is a list of the main features of this smart app.
DRmare M4V to Vimeo Video Converter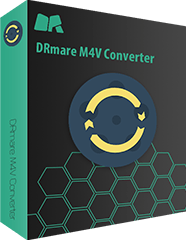 Strip DRM from protected iTunes M4V purchased and rented movies, TV shows
Convert iTunes DRM M4V videos to a list of Vimeo compatible formats like MP4, AVI
Batch converting iTunes movies at 30X faster speed to save you plenty of time
Supports lot of settings on your output videos including bit rate, frame rate and so on
Part 2. How to Convert iTunes DRM M4V Videos to Vimeo Step by Step
Before you getting started to convert your iTunes movie files to Vimeo, please make sure you have already downloaded the iTunes videos completely and also installed the DRmare M4V Converter on your computer. When you are ready, please follow the 3 simple steps one by one.
Step 1

Load iTunes movies and TV episodes

In general, you just need to do a simple drag and drop to load your iTunes M4V videos. But if you have numerous of files, DRmare M4V to Vimeo Converter offers a much better way to import the files. Just navigate to the bottom right side and then click the '+' button, you will see the popup list with all the videos from your iTunes library and you can check the options in front of the files to select them.
Step 2

Customize output video for 'Vimeo'

You can select 'Vimeo' profile under the 'Web Video' tab directly, it will export to the optimized video for Vimeo. But you can also customize the video more by yourself. The common video formats supported by Vimeo are MP4, MPEG, MOV, AVI and so on. You can simply select one of the format under the 'General Video' tab and then you can click the small gear icon on top of the format to customize the output parameters. Typically, the best settings for Vimeo is 1280 x 720 resolution, 23.97 frame rate, H.264 codec, MP4 container, 5MBPS bit rate.
Step 3

Convert the iTunes movies to Vimeo

At last, you can go ahead to click the 'Conversion' button, the software will get rid of DRM and convert iTunes videos to Vimeo at simultaneously. Depending on the number of files you selected and the output settings, it may take different time to complete, but the speed should be very fast. When you finish converting, you can open the converted list to find the output videos.
Part 3. More Tips on Uploading iTunes Movies to Vimeo
Now you should be able to upload the converted iTunes movies to Vimeo without DRM protection. Please note that there is a limitation on the size of the video file which you want to upload. For example, you can upload only 500MB weekly on a basic free account, 5GB per week for a plus account and 20G per week for Pro account. It takes only 4 steps to upload videos to Vimeo:
1. Log into your Vimeo account. If you don't have an account yet, you can click 'Join' menu on the Vimeo official website and then follow the prompt to sign up for a new account easily.
2. Upload a video. You can click 'Upload' menu and then choose the iTunes video which you have converted from your computer, it will start to upload smoothly.
3. Do the basic and privacy settings. You can add the title and description for the video. Also, you can do the privacy settings such as who are allowed to access to the video and you may input a password to protect it. Personally I'd suggest you add a password to protect it instead of putting it in publish to avoid any copyright issue.
4. Processing conversion. When it is uploading completely, the job is not done. To make the video playable, Vimeo platform need to encode the video to a new compatible one, but this is done in background automatically.
Video Demo: How to Share iTunes M4V Videos to Vimeo