"I have been struggling with the 'Spotify crackling' issue for a couple of weeks, and nothing has helped me fix this issue. Unfortunately, both the web player and app of Spotify are crackling. Can you help get rid of this chaos?"
Spotify is a breathtaking music streaming platform where you can easily access great songs. Like other online platforms, Spotify users might also face some issues using this online platform. The 'Spotify sound crackling' issue is one of the major issues you might have to deal with.
Irrespective of the reasons that might be the main culprit behind this issue, but you can solve this problem in this post. Here we'll tell you how to do it with some solutions.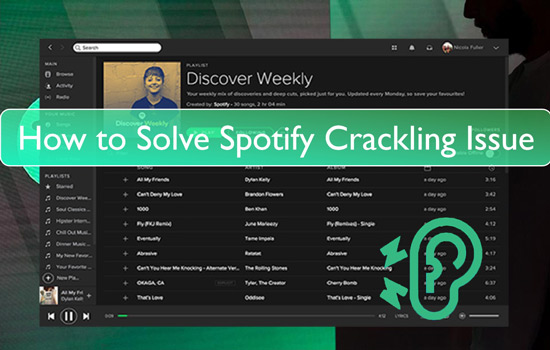 Part 1. How to Fix Spotify Crackling Issue
Not being able to enjoy Spotify music appropriately isn't something you'd have aspired for. Since the crackling sound in Spotify issue can be frustrating for many people, we're about to 7 perfect solutions to this issue.
Way 1. Clear Spotify App Cache on Android/iPhone
If you are using Spotify on your Android or iPhone, you might fix the Spotify crackling Android/iPhone issue by clearing the Spotify cache in Spotify. Sometimes, the unnecessary songs cache might be causing Spotify not to run appropriately, and you might end up having the issue you're facing.
So, you can go to delete all the Spotify temporary cache on iPhone or Android devices. In this way, you may make Spotify return to a normal state.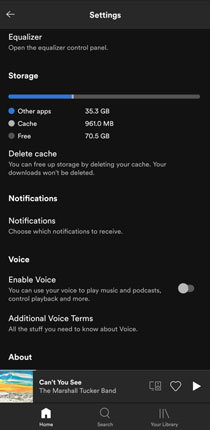 Way 2. Reinstall Spotify App on Computer and Mobile
Despite clearing the Spotify app cache, if Spotify's Android or iPhone issue stays, consider uninstalling the Spotify app and installing it again. Doing so might assist you in fixing the software glitches the Spotify app might be having.
If you are using a computer, then you can go to the Start menu > Apps section. Then you can find the Spotify app and uninstall it. After that, you can go to the Spotify official website to reinstall it.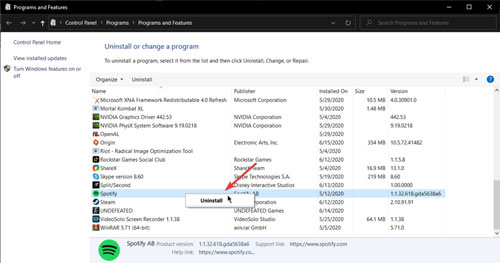 If you're an iOS user, navigate to the App Store, uninstall the Spotify app, and then install it again to see how it goes.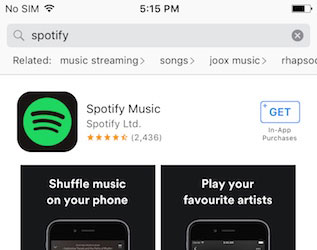 For Android users, you must navigate the Play Store and then find the Spotify app. After finding the Spotify app, you'll need to uninstall and install it again afterward. Then try to play Spotify music on Android to see whether the issue is fixed.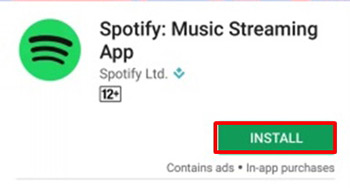 Way 3. Change Spotify Audio Quality
To fix the Spotify popping sound issue, you might consider changing the Spotify audio quality. Sometimes, the audio on Spotify has been adjusted to a low volume, causing the issue you're struggling with. Here's how to adjust the audio quality of Spotify.
Step 1. Launch the Spotify Settings and select the "Audio Quality" icon.
Step 2. Select Very High or High in both cellular streaming and WiFi streaming. After adjusting the settings, you'll need to check whether Spotify audio crackling issues remain.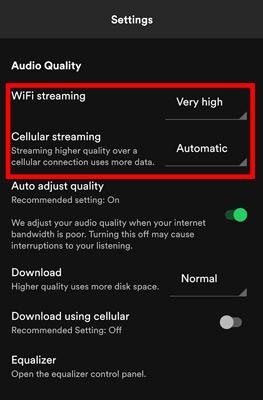 Way 4. Update Sound Drives on Computer
If the Sound drivers your PC has been using have turned old and outdated, facing issues like Spotify crackling Windows 10 will be surprising. Updating the Sound drivers on your PC might help you in resolving various issues. Here's how to update the Sound drivers on your PC.
Step 1. Navigate to your desktop manufacturer's website and try finding your computer model's driver download page.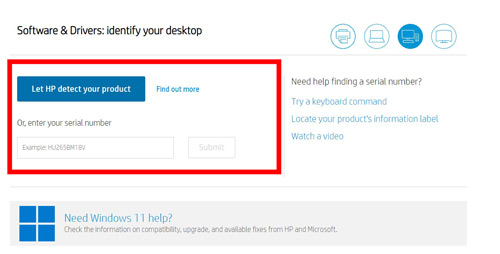 Step 2. Now, you can download the latest Sound drivers for your PC. If updating the Sound drivers doesn't help your cause, or things have yet to improve, watch out for the next solution.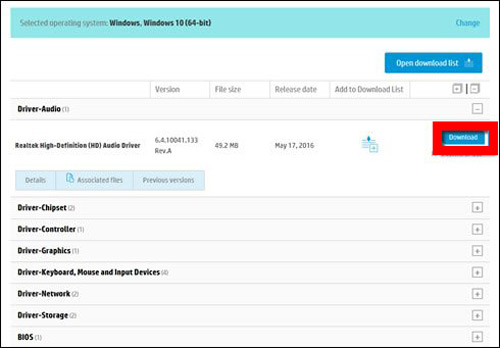 Way 5. Change Audio Playback Settings on Computer
Regardless of whether you're using the direct output of external speakers, headphones, or computer speakers, you can change the output devices' settings to fix the Spotify crackling noise issue. Here's how to do it.
Step 1. Head to the Notification area and press the speaker icon next to the clock. Select the Playback devices to alter the settings.
Step 2. Tap on the Advanced icon after double-clicking the playback device. Next, you must alter the audio or sound quality to 16-bit, 44100.
Step 3. Press on the "OK" icon to complete the proceedings. Doing so should assist you in getting rid of the Spotify crackling issue.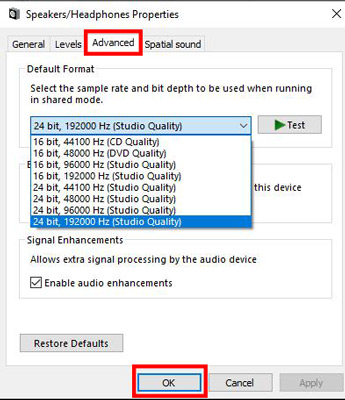 Unfortunately, if the same issue doesn't bother to stay away and you're still unable to enjoy Spotify music appropriately, navigate to the next solution.
Way 6. Allow Spotify on Firewall
Another reason that might be causing the Spotify cracking sound issue is that the Firewall of your PC might have blocked Spotify from running. This issue might occur due to various unforeseen reasons. But the good thing is that you can fix this issue by disabling the firewall for Spotify. Here's how to do it.
Step 1. Go to the Firewall settings on your PC to begin the proceedings.
Step 2. Enable Spotify to run from the firewall. After performing this task, you must launch the Spotify app and start playing your favorite music. Assess the situation and let us know if you face the same issue again.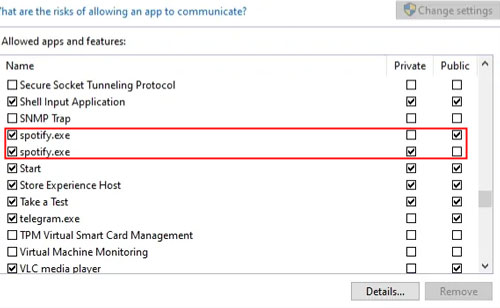 Way 7. Restart Your Device
A software issue on your iPhone, PC, or Android might also cause the Spotify audio crackling issue. So, what are your options to eliminate these minor software issues with your device? The first thing you must do is restart your device.
Giving your device a fresh start helps you fix many software glitches. Apart from fixing the Spotify crackling Mac, iPhone, Android, or Windows 10 issue, restarting the device empowers you to eliminate the various software issues.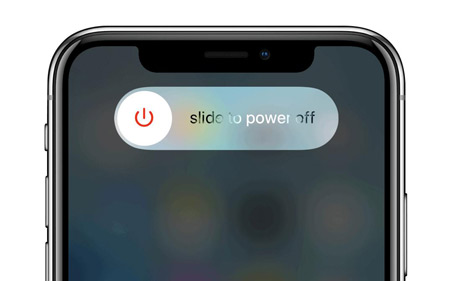 Part 2. Best Solution to Solve Spotify Audio Crackling
Despite having tried all the methods, if the Spotify sound crackling issue persists, you might look to download Spotify songs on your PC. But the issue is that you can't move and play Spotify songs offline on various music players directly. What should you be doing in this situation?
Don't worry. You can convert Spotify music into MP3 or other audio formats by using the DRmare Spotify Music Converter. It is an outstanding Spotify converter that allows you to download songs you like via the song's URL address. And then this tool will help you get the Spotify songs in lossless quality.
Besides, it can convert Spotify playlists, albums, songs and more to MP3, FLAC and other plain audio formats. Also, you can reset the Spotify output music parameters like audio channel, sample rate and so on. After that, you can move Spotify music files to other players or platforms for playing without the Spotify crackling issue.
Key Features of DRmare Spotify Music Converter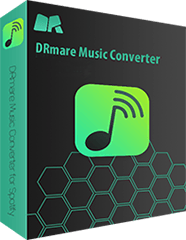 Download Spotify playlists, songs, podcasts, and albums without Premium
Convert multiple Spotify songs simultaneously at 5X conversion speed
Turn Spotify music to M4A, MP3, WAV and other audio formats
Offers the simplest of user interface
Retain the metadata information and ID3 tags
Convert Spotify music to lossless quality
Steps for Downloading Spotify Music without Premium using DRmare Music Converter
Step 1

Install DRmare Music Converter and import songs to it

Visit the official website of DRmare Music Converter and install the software without wasting any time. After installing the software on your PC, start the program and go to the pop-up Spotify app to drag Spotify music you'd like to DRmare tool. You can also directly paste the URL of the Spotify music you'd want to download.
Step 2

Modify the audio output settings for Spotify

DRmare Music Converter lets you download Spotify music into 6 different audio formats. You can navigate the Preferences icon to open the settings window and select the audio format you want to download. Besides, you can change the sample rate, channel and more you like.
Step 3

Download Spotify to fix Spotify crackling sound issue

After selecting the audio format, tap on the "Convert" button to start turning the Spotify music into the desired format. After that, you can find the local Spotify audio files in the 'history' tab on the DRmare program. And then you can transfer the songs to any device you like for listening without Spotify audio crackling issue.
Part 3. In Conclusion
Dealing with the Spotify crackling iPhone/Android/Windows/Mac isn't a good sight to behold. Luckily, this guide has introduced spectacular ways to help you fix the Spotify sound crackling issue.
If the common methods mentioned in this guide don't help you fix your issue, we recommend the best Spotify downloader, DRmare Spotify Music Converter. It allows you to download Spotify music to listen to offline anywhere and anytime. Also, it will keep the original sound quality of the Spotify music tracks so you will get a better listening experience.