"Can you download podcasts on Spotify?" You can listen to songs, albums, podcasts and more from Spotify online. And today, we will focus on Spotify podcast. It was founded in 2000 and users can enjoy it online for free. Yet, if you want to download Spotify podcasts, you need to subscribe to Spotify premium. And in this post, you can follow the steps to make it. Or, if don't have a Spotify premium account, you can also check this post to learn how to do that for free on PC and mobile devices.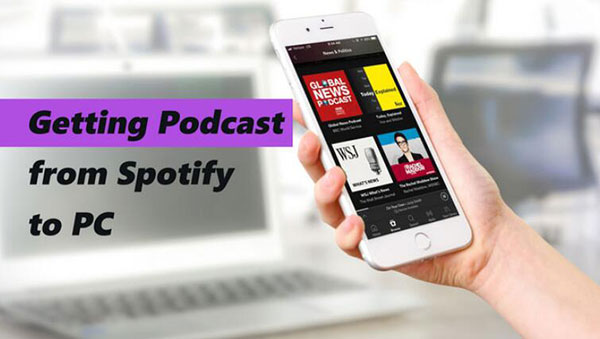 Part 1. How to Download Spotify Podcast to Computer without Premium
At the first part, we'd like to show you how to download Spotify podcasts on PC/Mac for free. To do that, you can use DRmare Music Converter. This tool will help you get Spotify podcast download without a Spotify premium account.
This tool can convert and download podcast from Spotify to plain audio files for free. You will get Spotify podcasts to audio formats like MP3, FLAC and so on. And you can customize Spotify output audio parameters like channel and more within it. Also, the output audio quality is original and with full ID3 tags kept. After then, you can keep Spotify podcasts on your computer for use offline. And you can move downloaded podcasts from Spotify to other devices for playing offline.
DRmare Spotify Podcast Downloader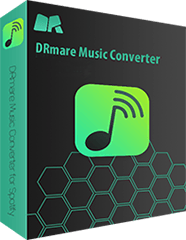 Download Spotify songs, podcasts, albums, playlists, etc.
Batch convert Spotify podcasts to MP3, AAC, M4A, FLAC, M4B, and WAV
Keep original quality and metadata such as album cover, title, author, etc.
Listen to up to 320Kbps high-quality Spotify podcasts for free
How to Download Podcasts on Spotify PC/Mac via DRmare Music Converter
In this section, we will show you how to download podcast from Spotify to computer. To begin, you need to download and install DRmare Music Converter on your own computer. Also, make sure that you had installed the official Spotify app on your computer.
Step 1

Import Spotify podcasts to DRmare

Launch DRmare Music Converter software from your computer desktop. The Spotify app will be opened as well. Find any kind of podcast that you want to download from Spotify. Then please drag & drop the podcasts to the DRmare main screen.
Step 2

Choose an audio format for episode on Spotify

To make the downloaded Spotify podcasts supported by any player, you can choose a universal format. You can select to download Spotify podcast to MP3, M4A and more. If you'd like to keep lossless quality, you can also choose WAV or FLAC. Besides, you can reset the sample rate, channel and more. After settings, click 'OK' to apply.
Step 3

Convert and download Spotify episode on PC/Mac

At last, click the 'Convert' button. Within a quick while, the podcasts will be saved to your local computer from Spotify. When it is done, you can copy and paste the files you want to any device for offline playback.
Part 2. How to Download Podcast from Spotify on PC/Mobile with Premium
Spotify is an online streaming platform. In usual, you need an internet connection to make it work. It's ok if you use it at home with WiFi. But if you use mobile devices with cellular data, it would cost you a lot to play the audio file for a long time. In this case, you can first subscribe to Spotify Premium to download Spotify podcast offline.
Below we will show you how to make it on desktop and mobile devices. Check it out now.
On PC/Mac:
Step 1. Launch the Spotify desktop client.
Step 2. Log in with your Spotify premium account. Please make sure that your computer is connected to the internet.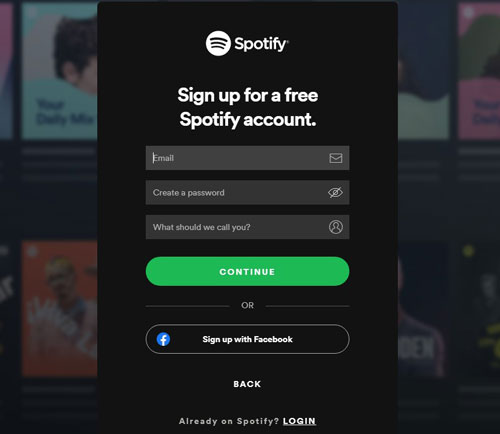 Step 3. Click the "Browse" menu from the left sidebar. Then click "PODCASTS" on the pop-up window.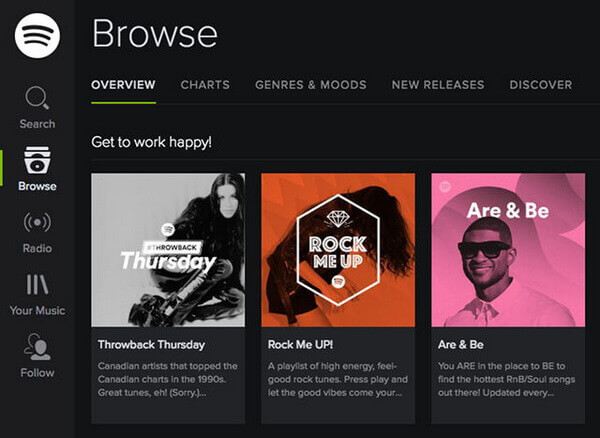 Step 4. You can see some recommended hot podcasts in the top, featured episodes, and categories.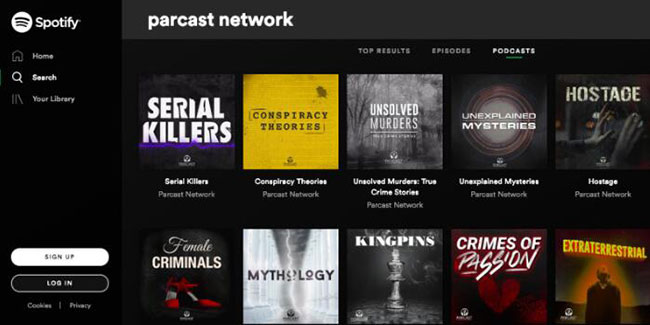 Step 5. Browse the categories like "Stories", "Educational", "Comedy", and more you like. Or, search for the podcast you like.
View also: Top Comedy Podcasts on Spotify
Step 6. Open the podcast details page. Then switch the "Download" button to "On" status.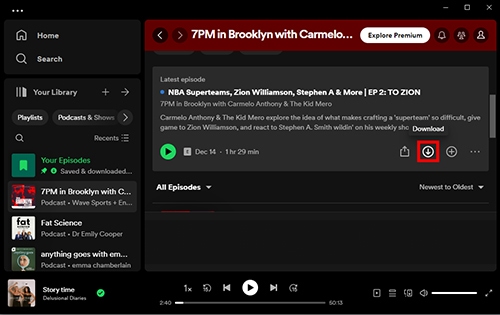 Step 7. Just wait for the downloading process. Once done, you can get a Spotify podcast download in Your Library.
At last, you can go to 'Your Library' on the Spotify app. Then choose 'Settings' and locate the 'Playback' option. Next turn on 'Offline'. After then, you can enjoy Spotify podcast offline with the Spotify app.
On Mobile Devices:
The instruction on mobile devices is similar to the desktop. If you are using an iPhone, Android phone, or tablet, please try the steps below. Then you can see how to download a podcast from Spotify on mobile devices.
Step 1. Log in to the Spotify app with your premium account and password.
Step 2. Find and open a podcast you want to download.
Step 3. Tap the 'Download' switch on Android. Or, hit the downward arrow icon on iOS. Then the podcast will be in 'Your Library'.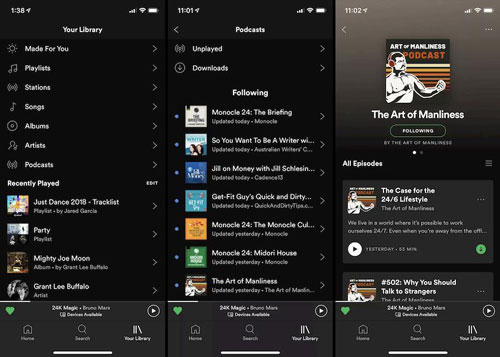 Step 4. Hit 'Your Library' in Spotify to find the downloaded Spotify podcasts. After that, you can turn on the offline mode in Settings and enjoy Spotify podcast offline o your mobile devices.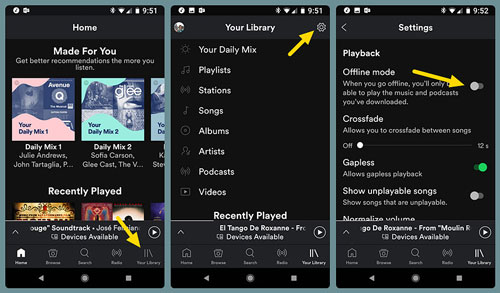 Part 3. How to Download Spotify Podcast Online Free
Is there a Spotify podcast downloader online? Yes, there is. Here in this part, we will introduce the Spotify Deezer Music Downloader to you.
It is a Google Chrome extension to help download Spotify songs. It works with the Spotify app and Spotify Web Player. With it, you don't need to install the Spotify desktop app as well. Besides, it can download audio from Deezer and SoundCloud. Here check the tutorial on how to download podcast from Spotify for free and online below.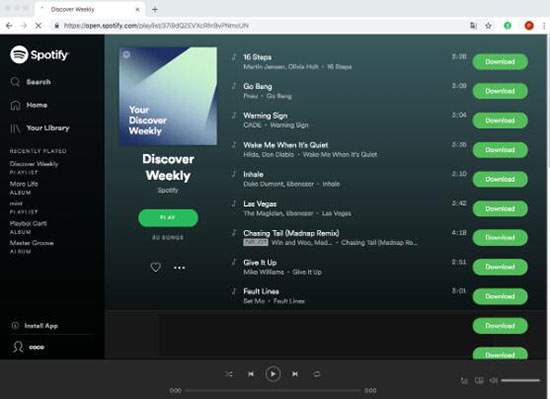 Step 1. Set up the Spotify Deezer Music Downloader from your Google Chrome extension section. Then click on it and it will launch the Spotify Web Player.
Step 2. Sign in to your Spotify account. Then discover the podcast you want to download.
Step 3. Open the podcast and you will see a 'Download' button. Then press on it to download podcast on Spotify for free.
Part 4. Comparison Table of Three Ways
Above are the three methods for you to download Spotify podcasts online free or with premium. Also, you can learn more differences between them in the table below.
| | | | | | | | |
| --- | --- | --- | --- | --- | --- | --- | --- |
| | Supported OS | Supported Input Format | Supported Output Format | Conversion Speed | Output Audio Quality | Keep ID3 Tags | Price |
| DRmare Spotify Converter | Windows/Mac | Spotify content | WAV, AAC, MP3, FLAC, M4A, M4B | 5X | Lossless | Yes | $14.95 |
| Spotify Premium | Desktop/Mobile | Spotify content | OGG Vorbis | N/A | Lossless | No | $9.99 |
| Spotify Deezer Music Downloader | Online | Spotify, Deezer and SoundCloud | MP3 | 1X | High | No | Free |
Extra Tips: How to Download Spotify Video Podcast
On Spotify, you can also watch podcast episode shows and download Spotify podcast video for playing offline. To make it, you need to enable the 'Download audio only' function on the Spotify mobile app. Please note that you don't need to do that on a computer. Now, let's check how to download Spotify video podcast in detail.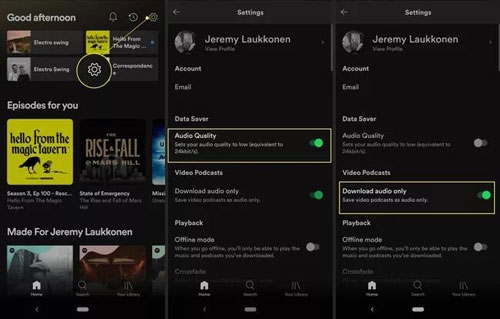 Step 1. Open the Spotify app on your mobile device. Then go to the 'Settings' section.
Step 2. Turn on the 'Audio Quality' under the Settings section.
Step 3. Check whether the 'Download audio only' toggle is off. If not, then turn it off.
Step 4. Next, scroll down to locate the 'Playback' section and turn on 'Canvas'.
Step 5. Back to the 'Search' tab in Spotify and look for podcast videos you like to download.
Step 6. Click on the 'download' icon to start to download Spotify video podcast on your mobile device.
FAQs about Spotify and Podcast
Q1: What Is Podcast?
A: A podcast is an episodic series of digital audio or video files. Many users may confuse it with radio. In fact, there are many differences. Podcasts are usually on-demand and can be listened to repeatedly. While the radio is scheduled to play automatically. And it won't be back when the time is over. Besides, podcasts are mainly for niche users. You can easily pick up the material you want to listen to.
Q2: Spotify and Podcast: Why Podcast Is Important to Spotify?
A: Although music is great, you may feel bored listening to music all day long. In this case, you may want to try other types of audio files like podcasts. Then you can relax and get new info that you can't get from music. Without podcasts, Spotify users will have to switch to other apps such as iTunes. And this is not a good user experience. At last, Spotify offers podcasts and believes it will make a big return on the investment.
Q3: How to Search and Subscribe to Spotify Podcast?
A: For those newer to Spotify podcast, here we will guide you on how to search Spotify podcast and subscribe to them.
Step 1. Open the Spotify app on your device and log in with your account.
Step 2. Hit the 'search' option to find a podcast via name, genre, etc.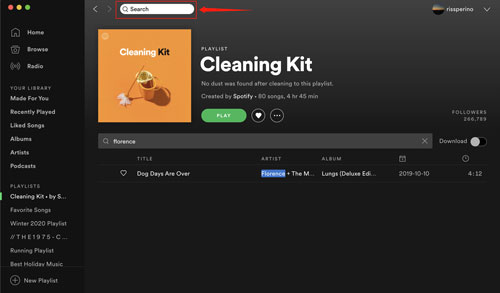 Step 3. Choose a podcast name for more details and listen to the episodes.
Step 4. Once found the podcast you want to follow, hit the 'Follow' button. Then it will turn to 'Following'.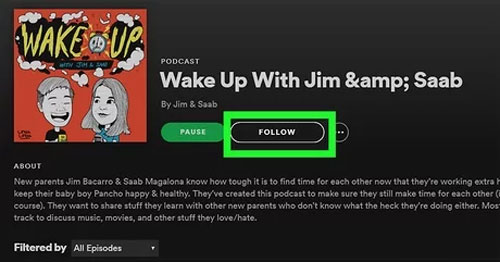 Step 5. Touch 'Your Library' > 'Podcasts' to check your subscribed podcasts on Spotify.
Q4: Can I Make a Spotify Queue for Podcasts?
A: Spotify podcasts can't be added to common playlists as songs can. But they can be added to your Spotify queue. It is a temporary playlist that shows what will play next. To import a podcast to your Spotify queue, you can hit on the '...' dots icon next to the podcast. Then click 'Add to queue'. Then you can see Spotify podcast in the playing queue.
View also: How to Clear Spotify Queue
Q5: What Are the Benefits to Enjoy Podcasts on Spotify?
A: There are some pros to listening to episode on Spotify. You can check them below.
1. No need to download other music apps. With a Spotify app installed on your computer, you can listen to podcast on Spotify directly. You don't need to use another app or sign up for an additional service.
2. Clean and simple user interface. The UI of Spotify is quite clean and user-friendly.
3. Supports new podcasts recommended. Spotify will recommend new podcasts according to your listening experience via its algorithm.
4. Multiple devices supported. Spotify has supported almost all of the major smart speakers and other devices.
Q6: Why Spotify Not Downloading Podcasts? How to Fix It?
A: There are several reasons that may cause this problem. And you can follow the fixes here to try to resolve it.
1. Use a Strong Internet Connection. If Spotify not downloading episode, first you need to check the network connection. If it is poor, then restart your wireless router and connect to the network again.
2. Check the Status of Your Spotify Premium Plan. Please make sure that your plan is still valid. Otherwise, you can't download anything on Spotify.
3. Ensure that Your Device Has Enough Storage Space. Before downloading podcasts from Spotify, you need to check whether the storage space of your device is enough. A podcast is much bigger than a single song. So, you need to have up to 1GB of free memory. If not, you need to free up some space on your device.
4. Check If You Reached the Download Limit. There is a download limit on Spotify. Please make sure that you don't reach the limit of 5 devices and 10,000 tracks. If reached, then please delete some downloads and remove devices in advance.
5. Use an Up-to-date Spotify App. If you use an old Spotify app, you may encounter some errors. So, please check the version of the app. If it is not the latest one, then go to update it.
6. Allow Spotify to Run in the Background on Your Phone. If you don't enable Spotify to work in the background, when you close the screen, it may not work well. So, please go to set and allow the app to run when your phone's screen is off.
View also: How to Fix Spotify Not Showing on Lock Screen
In Conclusion
Now, you got 3 ways how to download Spotify podcasts on PC and mobile devices. You can download podcast on Spotify without and with Spotify premium. You can even do that online. Just go to choose one of the ways that suits you. Besides, we'd like to recommend the DRmare Spotify Music Converter. It could be the best way to download podcast from Spotify. And it can download music from Spotify without premium. Then you can enjoy Spotify songs offline on any device and platform you like.