In this Spotify review, we take a deep dive into the most talked of amazing music streaming service. Spotify is by far the most popular audio streaming platform used all over the world. Founded in 2008 the Swedish audio streaming service has grown exponentially over the years garnering millions of subscribers, music publishers, and podcasters who use the service to buy and sell DRM audio content online. Latest figures estimate Spotify's monthly user base at 159 million or thereabouts with thousands of users joining every day.
Our aim is to critique the Spotify platform based on our experience. We explore the good, the bad, and the ugly in this Spotify review. What are the pros and cons of Spotify? Why is it so popular, and how easy it to use? Let's first take a look at the things we think make Spotify such a great platform.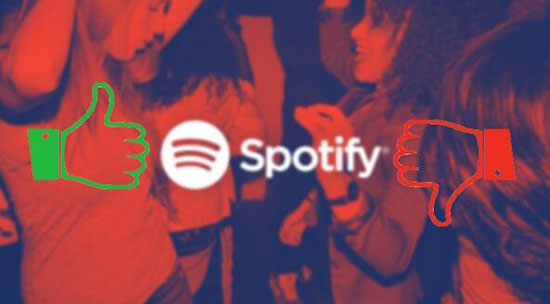 Part 1. Advantages of Spotify- The Good Side
Spotify is a great DRM audio streaming service. Anyone who has used this great music streaming service knows that it carries lots of goodies in it. Here are some of the beneficial effects of Spotify.
1. Spotify Offers Free and Premium Plans
Unlike most DRM audio streaming platforms, Spotify doesn't force new users to pay for their premium service right off the bat. You can still enjoy streaming your favorite music, creating playlists, and discovering interesting audio with a free Spotify account. Most users love to try out the platform before they decide whether they need to pay for the premium experience or not.
2. A Larger User Base Means A Better Experience
Spotify's larger userbase gives them an advantage in search recommendations and user experience improvements across the board. There is a push towards the use of AI and deep learning algorithms to improve search, suggestions, and content discovery in most online platforms, and Spotify is no different.
Spotify's 159million plus monthly usage traffic dwarfs its closest competitors such as Pandora and apple music. Their search and content discovery algorithms are lite years ahead of the competition thanks to the vast amounts of usage data collected from their active user base. You will have a better experience finding interesting content, audio files, and music you are looking for, and interacting with the refined Spotify platform due to this.
3. Spotify Reveals Hidden Gems
Part of the reason why Spotify is enjoyed by the masses is its large unrestricted music and podcasts database. Yes, some platforms like Apple music may have more DRM music content, but they tend to focus on the hugely successful artists and podcasters ignoring the smaller ones. Spotify can help you discover little known artists and podcasters you wouldn't normally access in other platforms. Oh, and they use your personal preferences and taste to recommend these hidden gems!
4. Spotify Works Regardless of The Platform (Hardware and Software)
We must stress the platform's unbiased availability in our Spotify pros and cons. Spotify is by far the most platform agnostic audio streaming services out there. It doesn't matter whether you are on iOS, Android, or Windows, Spotify provides a smooth audio listening experience on all platforms. Furthermore, it is compatible with the latest operating system versions. You can simply have one account for all devices.
5. Spotify Is Easy to Use
Spotify is by far the most intuitive platform for publishers and end users. The app experience is standardized and highly refined across all platforms with simple menus and intuitive playlist creation tools. Of note is Spotify's timely UX updates that seek to incorporate the latest design enhancements and trends for better user experiences.
6. Spotify Is Great for Artists! (Spotify Pros and Cons for Artistes)
It doesn't matter whether you are an upcoming artist, hobbyist podcaster, or a big-time record label artist; you should publish your content on Spotify. Spotify can help both small and big artists to build an audience, increase online revenues, reduce piracy, build their portfolio, and bump up their rankings on relevant charts wherever they are.
Some of the common complaints among artist publishing on Spotify include low pay, skewed rankings among others. However, these issues are quite scattered and are far outweighed by the larger percentage of earning artists publishing on Spotify. Spotify has helped many independent artists and podcasters to self-publish and make considerable earnings from their work.
Part 2. The Disadvantages of Spotify- The Not So Pleasant Side
Spotify is a great platform, but that doesn't mean it doesn't have its annoyances. Let's take a look at some of Spotify's weaknesses.
1. Geographical Restrictions
As with many other content-streaming services out there, Spotify has limited geographic coverage for reasons best known to them. You may love the service but find it is not accessible in your country- what a bummer. Also, note that only premium users can access their music offline when they travel overseas. You can check if your location is supported on Spotify's official listing.
2. You Can't Play Offline Files with Other Music Players
It might seem obvious to some, but there are lots of queries online about extracting mp3 tracks from Spotify. Spotify is a somewhat locked platform. Premium subscribers with access to offline tracks can only access them using the Spotify app.
That is right. If you do want to play Spotify offline with any other devices, one feasible way is unlock Spotify music. To do so, you need to use a DRmare Spotify Audio Converter for Mac. This software can directly locate the songs from Spotify and save them to MP3, M4A, M4B, AAC, FLAC and WAV quickly with up to 5X speed. The trial version is totally free, so you won't lose anything to try it out.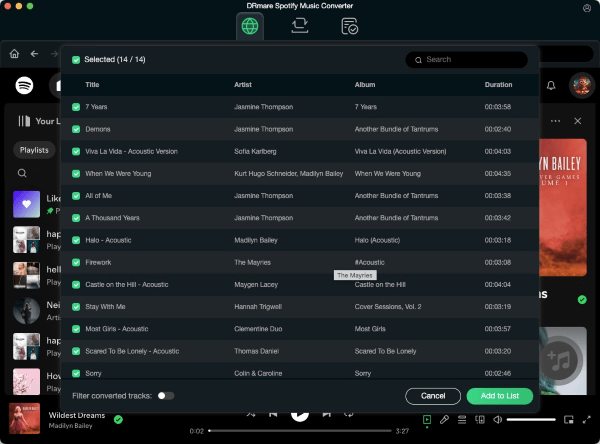 3. Spotify dropped Support for In-App Lyrics
Some people love reading the lyrics along with the song they are currently listening to. Sadly, Spotify no longer shows in-app lyrics forcing some users to turn to third-party lyrics apps. This is a direct entry into additional costs.
Part 3. Conclusion
Well, there you have it; those are the pros and cons of Spotify we could come up with in this brief Spotify overview. Spotify is an amazing audio streaming platform for both artists and listeners. Although it has its negatives, Spotify has revolutionized the way people access and listen to their music and pushed podcasting to where it is today. Furthermore, it has been in the limelight for a very long time making it a pro in its own way.