Being a hardcore music lover gets tough sometimes when choosing the right app for your listening experience. Plus, being a music lover, you need to look up with an availability of the supporting platforms that can support the music you use. Here we will talk about the Groove Music vs Spotify.
However, we have seen often that it gets difficult for some people to choose between Spotify vs Groove Music, because even though both Spotify and Groove Music are serving better music to their users. And to make their users better experience, they do offer some different features in comparison with each other.
But there's no negligible fact that at some point they are similar but different as well. In case you're planning to use Groove Music or Spotify, here are some basic guides of them that you must want to know before jumping into their functions.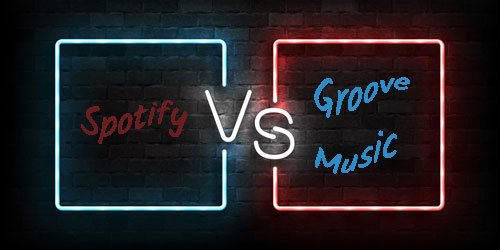 1. Subscription and Fees
As we all are of the fact that streaming music services mean you need to pay for their subscription, Spotify and Groove Music individually both.
If we talk about the subscription of Groove Music, it offers a 30-day free trial and you can also cancel it anytime if it doesn't suit you. Let's say if you like Groove Music, then it will charge you $9.99 per month or $99.90 per year.
Spotify also provides you a 30-day free and can also cancel anytime. Spotify has different packages in terms of payment. As for individual users, it will charge of $9.99 per month, the family of $14.99 per month, and discount for a student of $4.99 per month.
2. Ads-free Listening
As everything has its different perks, Groove Music offers you add free experience for your kinds of music no matter if you choose a free trial or buy a Groove Music Pass.
But things quite different in the case of Spotify account. Indeed, Spotify offers you a wide range of music that you can listen to any catalog anytime. But it gives ads breaks between your music experience, no matter what device you choose. However, premium accounts give you an ad-free experience without any limitations.
3. DRM Encryption
Whether you are planning to choose to Groove Music or Spotify, the keynote that you all should be aware of is that both services offer protected Digital Rights Management (DRM) through encryption. But whenever the subscription ends, you will not be able to get access to the music that you paid for previously. But if you know the rights tools to break these limitations of DRM protection, then you can convert Spotify music to MP3 songs without even worrying.
Note: To break DRM protection from Spotify music, you could use the DRmare Spotify Music Converter to help you. It can convert Spotify music with original quality and save to your computer. Then you can use the Spotify music on any other devices offline with ease. Besides, this tool allows you to download Spotify tracks for offline playing without Spotify Premium.
4. Music Library
Indeed, there is no doubt that Spotify and Groove Music gives an option to browse through millions of kinds of music and to enjoy your music experience.
More than 40 million songs along with new music are being offered by Spotify. Spotify also offers you to discover Weekly playlist features that put its streaming level at a new pace. This app surely offers you an adventurous music experience.
Groove Music is not any less than Spotify when it comes to offering you some free music along with unlimited skips. But the only limitation that is being faced during streaming is that you only got 10 hours of free music without any advertisements.
Both provide extremely high-quality audio tracks to make your wondrous experience for your favorite playlists that can easily fit your mood.
5. Sound Quality
When it comes to sound quality between Groove Music Pass vs Spotify, Groove Music is offering good quality of music experience with music streaming at 192kbps. The download rate is 256kbps. Eventually, the rate which is considered lower than Spotify.
Spotify's normal computer streaming rate is 160kbps, in case you switch to 'high-quality streaming' on Spotify that gives 320kbps. This gives you many pieces of a single song in every second. The most preferable device to listen to your songs is a smartphone than computers. On smartphones, it recommends the rate of 96kbps for lowering the data usage with fewer kbps.
6. Device Limit
The device limit is also another key factor to keep in mind while choosing the apps. Spotify is the one that doesn't allow your account sharing feasibility. However, you can log in with your only account to any of the devices while the security of your account is not being used by numerous devices at a time.
On the other hand, Groove Music offers you an automated registration of your device to the moment you download a song. You can use it in two or more devices at a time. But once you hit with your fourth device, you can't download songs any further on any device. You can also add your PC while making changes in Groove app settings.
7. Offline Play
Not having net availability is also another problem for your listening experience. So most of the users search for those apps that can offer offline music easily. Spotify is the one that offers you an offline music experience, you can also save and download songs to your device not individually but the whole playlists and albums being offered by Spotify. Another thing is that you can only download music as a Premium subscriber, not on free trials.
Groove Music offers you to download any song or playlist along with an album of your favorite artist from its music library. It has beaten Spotify in this and give a wide excess of downloading your desired music at any device whenever you want.
Bottom Line
After discussing each aspect between Spotify vs Groove Music, we can easily sum up to that both have pros and cons at some certain level. However, for a long time, indeed, Spotify has been considered better than Groove Music.
For some obvious reasons that Spotify Free gives you easily shuffle songs of your choice online. However, Premium accounts have more perks of enjoying ads free music, offline availability, and zero skips. Furthermore, Groove Music gives you online and downloading experience easily on multiple numbers of devices.
There is no doubt that technology is evolving rapidly and now users look for depths in terms of comparison between Groove Music vs Spotify. You can easily choose the one that fits best for you according to your needs by simply using one-month free trial offers of both the music app and start your happy musical journey.