How do I listen to Spotify offline without WiFi? Can I listen to music without Internet? Many Quora users asked these questions. We know that lots of Spotify users want to play Spotify without WiFi or hope Spotify works without Internet due to their inconvenient situations, for example, they use it on subways, trains or planes. So, can you use Spotify without Internet or WiFi when you are in unexpected situations? The answer is yes. Either the Premium plan or the free plan can do that. In this article, we will tell you the relevant operations.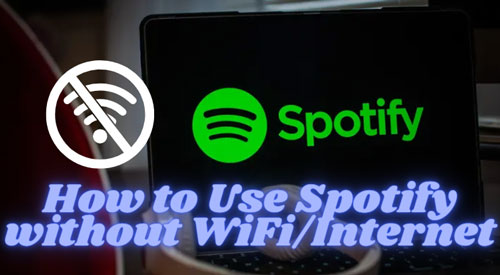 Part 1. Does Spotify Work without WiFi/Internet?
Spotify has an Offline Mode function which can help you play your downloaded music offline. However, you might already know that only the Premium subscription can use this function to enjoy all downloads. If you are a free user, it does not allow you to listen to Spotify songs without WiFi but you can enjoy its downloaded podcasts which are unlimited for all users.
Although free users cannot listen to Spotify without WiFi directly, a converting tool, DRmare Spotify Music Converter, can help you play all Spotify music without WiFi or Internet. Please click Part 3 to read more related information.
Part 2. How to Listen to Spotify without WiFi/Internet - Premium Users
This part will show you how to download songs on Spotify via Premium plans. To use Spotify without using Internet, the first step you need to do is to save online songs which you plan to play for offline playback. Then, switch on the Offline Mode feature on the settings list. After you get the downloads, it does not matter whether you use Spotify online or offline to enjoy the downloaded music.
But there is an important news that you have to connect to Spotify again after 30 days if your account is always in offline mode. The following steps will teach you how to listen to Spotify without Internet on desktop and mobile.
On Desktop
Step 1. Check your computer is connected to the Internet. This step is very important when you download music.
Step 2. Open Spotify on your computer and log in to your Premium account.
Step 3. Go to the playlist which you would like to save. Pay attention that a single song cannot be downloaded, so you must create a new playlist to collect your liked songs.
Step 4. In the playlist, you can see a grey download icon. Click it and then it will start to download the music. When the process is finished, it will become green. You are able to manage the downloads playlist in your library list.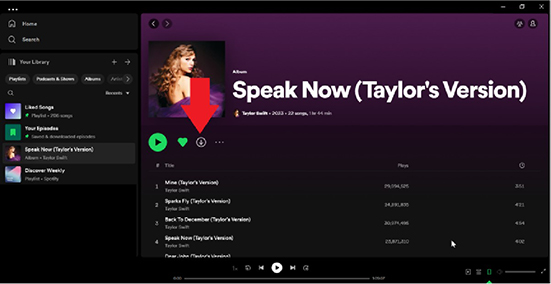 Step 5. Then, you need to enable the Offline Mode function. Tap the three-dot icon on the top left corner. Move your mouse to the "File" and click "Offline Mode".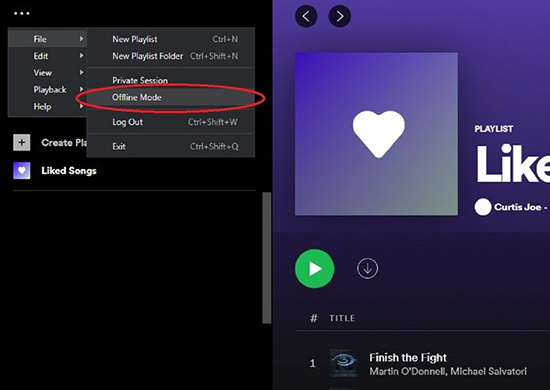 When the function is successfully switched on, the Spotify interface will show a blue tip on the top right side and you can see the downloaded resources. Then, you can choose and tap the saved resources and then they can be played without Internet.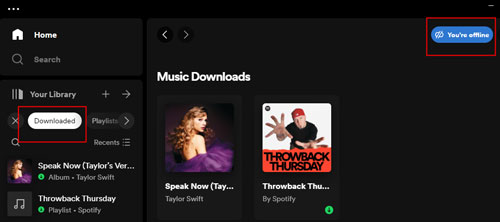 On Mobile
Step 1. Go to the Spotify app on your mobile device. Log in to your Premium account.
Step 2. An individual song is not supported to download. Please choose the playlist you plan to save and tap the "Download" logo.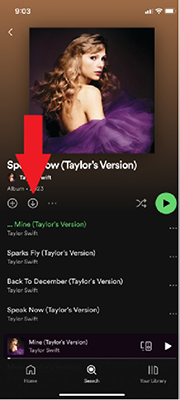 Step 3. You will get the downloaded playlist when you notice a green download logo.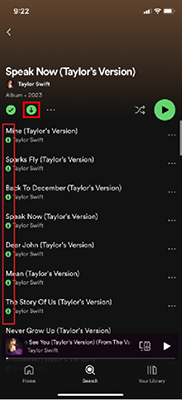 Step 4. After you get the saved music, please click "Your Library" and tap the "Settings" logo to find and enable "Offline Mode" in the list.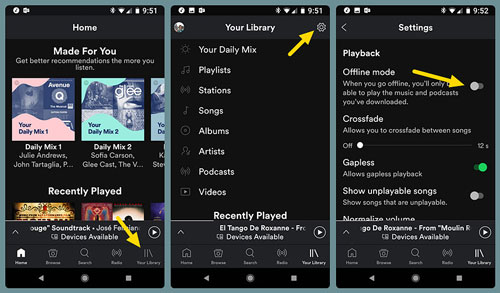 Therefore, you can see the downloaded resources on the current page. Whether Spotify is offline or your mobile device cannot connect to WiFi or Internet, you can enjoy Spotify downloads without WiFi.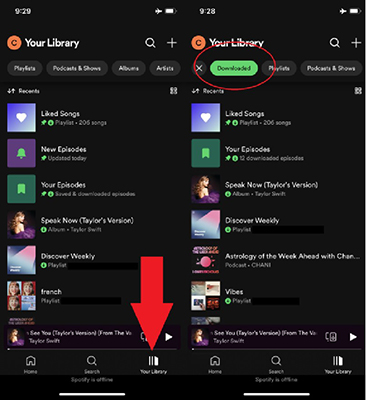 However, this method is only available in Premium subscriptions. If you decide to cancel Spotify Premium subscription, do you want to get a cost-effective way to save and listen to downloaded Spotify songs without WiFi? In the next section, we introduce a converter for Premium and Free plans users to let Spotify play songs without Internet.
Part 3. How to Play Spotify Music Freely without WiFi/Internet - All Users
As a powerful downloader, DRmare Spotify Music Converter supports Spotify users to download, convert and save Spotify music to their computer. It has 6 output formats which are MP3, WAV, FLAC, AAC, M4A and M4B. You are allowed to convert your favorite Spotify audio to those formats and then upload the converted resources to other music players. Moreover, you can get batches of music in one conversion which is faster than other ways. All in all, it is the best tool to help you remove Spotify download limits and play Spotify without WiFi or Internet.
DRmare Spotify Music Converter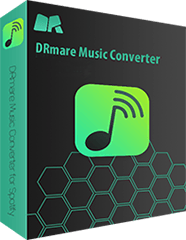 Download and save Spotify music without Premium
Convert Spotify music in bulk with 5X speed
Convert Spotify songs to MP3, FLAC and more
Play Spotify resources offline without WiFi
Step 1. Get DRmare Spotify Music Converter by downloading and installing it on your computer. Then, open it and the Spotify app will also be launched. Tap the top right menu icon to click the "Register" filter to register and activate your account.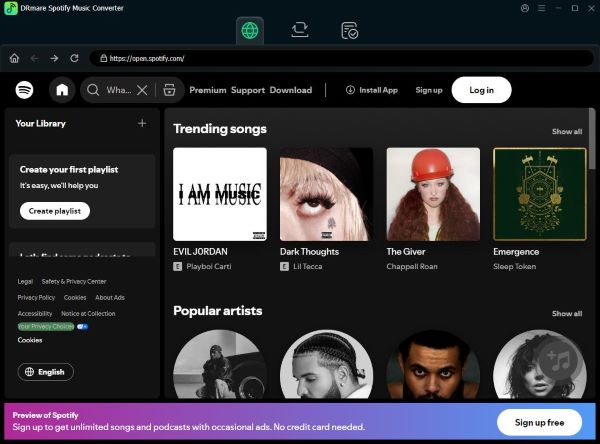 Step 2. Then, you can customize output settings in the menu list. Choose and click "Preferences" after you tap the menu logo. Choose the "Convert" option so you can personalize format, channel, sample rate and bit rate.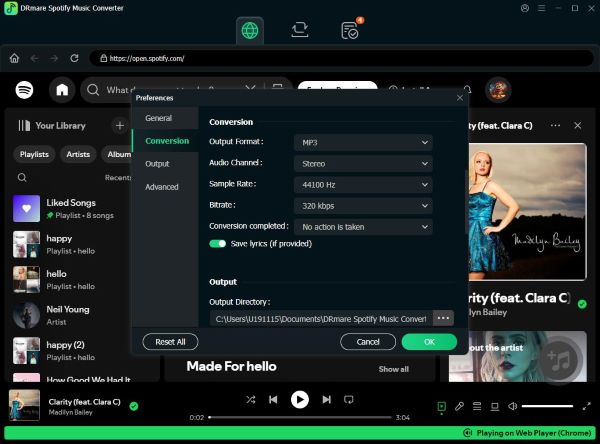 Step 3. You can directly drag and drop the Spotify playlist to the converter. The converter will load the chosen music and then please tap "Convert" to run the conversion step.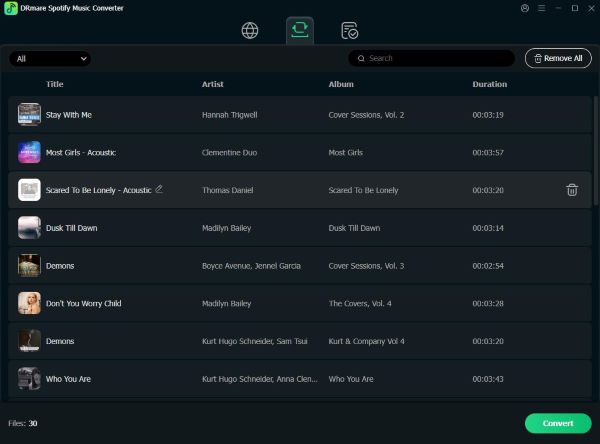 When the conversion is done, you will get the Spotify downloads which are unprotected from Spotify anymore. Therefore, you are supported to listen to Spotify without Internet even though you are a free user.
Part 4. Summary
Spotify Premium user has many benefits to use Spotify including you can play Spotify without WiFi. But you will lose those benefits after canceling the plan. Therefore, using DRmare Spotify Music Downloader to save Spotify songs to computer is a great method to listen to Spotify music offline forever. It supports you to get converted resources in MP3, M4A, M4B, FLAC, AAC and WAV formats. Besides, you can use it whether you are a Spotify Premium or free user.