"Does Rekordbox work with Tidal?" Rekordbox is a professional and cloud-connected DJ program. And it allows users to manage music on multiple devices. The Rekordbox integrates with some streaming music services, like SoundCloud and more. You may wonder is there any Rekordbox Tidal integration? Of course. Rekordbox has integrated with Tidal in its latest version 6.1.1.
If you are new to Tidal Rekordbox using, then you could follow this post. Here we will guide you on how to connect Tidal to Rekordbox online and offline. Just follow us and see how to make it.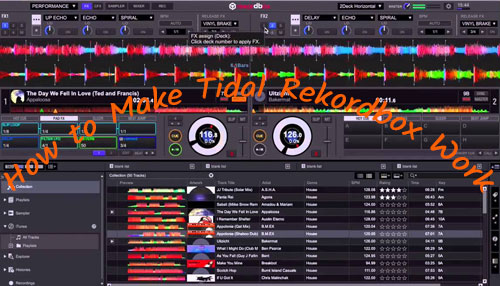 Part 1. Get Rekordbox Tidal Work by DRmare Tidal Converter
In the beginning, we would like to introduce the best way for you to get Tidal and Rekordbox to work. That is to use a third-party tool to make it. In this way, you can use Tidal Rekordbox offline without any limit. As we all know, Tidal is a streaming music service and the music of it can't be used outsides the Tidal app. Therefore, you need to get Tidal music to your computer as local files. And then add the Tidal music files to Rekordbox for use.
Now, let's meet the tool we're going to show you. It is DRmare Tidal Music Converter. It can download and convert Tidal to FLAC, AAC, MP3, M4A and more plain audio formats. Also, you can define the output audio settings for Tidal music tracks to enhance your Tidal audio quality.
Moreover, DRmare Tidal Converter can preserve the original audio quality of Tidal. And the full ID3 tags of Tidal music will be kept after the conversion. And this tool can run at a faster speed to convert the Tidal audios for you so that you can save lots of time. After converting, the Tidal audio files will be saved onto your computer. And then you can use Tidal on Rekordbox with ease.
DRmare Tidal Song Converter
Steps to Convert Tidal to Rekordbox
Before using DRmare Tidal Music Converter, please install it on your computer first. And then you can refer to the steps below to start the conversion for Rekordbox Tidal.
Step 1

Open the DRmare Tidal Music Converter

Now, open the DRmare Tidal Converter program on PC. Then you can see its main screen. To use DRmare program, you need to have a Tidal account and use it to access Tidal. If you have one, then click on the 'Log in' button on DRmare. Otherwise, you have to hit on the 'Sign up' to require for a new Tidal account.
Step 2

Set audio format for Tidal Rekordbox

Click the menu icon on the top-right and choose 'Preferences' option. Then you will see a pop-up window, in which you need to click 'Advanced'. And then you can start to define the output audio settings of Tidal music for Rekordbox. You could personalize the audio format, channel, bit rate and sample rate according to your special requirements. Once done, please hit on the 'OK' button to apply the settings.
Step 3

Import Tidal audio track to DRmare

In the built-in Tidal web player on DRmare, you can find the songs you like to convert. When found, then please press on the track. And then you will get a blue button. Now, click on that button. Then the selected Tidal songs will be added into DRmare conversion window.
Step 4

Convert and download Tidal for Rekordbox

At last, touch on the 'Convert' button. Then the DRmare program will work for you and download Tidal music. When converted, you can hit on 'Converted' icon to check the converted Tidal audio files on your computer.
Step 5

Connect Rekordbox Tidal

As you had converted Tidal music as local files, now you can go ahead to connect and use Tidal with Rekordbox. Below are three methods to do that, you can refer to the tutorial as below.

Way 1. Link Tidal to Rekordbox from the Hard Drive

Step 1. Open Rekordbox DJ software on your PC.

Step 2. Locate and select the Tidal audio files that you want to add to Rekordbox from the local music folder.

Step 3. Hit on the 'Collection' at the left side of Rekordbox. Then drag & drop the converted Tidal music to the track window at the bottom of Rekordbox interface.

Step 4. Rekordbox will analyze the track data of Tidal. After then, you could drag these music tracks into the playlist of Rekordbox.

Way 2. Get Rekordbox DJ Tidal to Work from iTunes

Step 1. On Rekordbox software, click the iTunes icon at the left side. Then touch on the arrow to expand for details.

Step 2. Search music files within your entire track collection or in the playlists that you'd made in iTunes.

Step 3. When you found the audios you want, Rekordbox will add them into its own collection.

Way 3. Get Tidal on Rekordbox Directly

The last way is a direct way to get Rekordbox Tidal to work. Let's check how to do that.

Step 1. Launch the Rekordbox program from your computer.

Step 2. Head to 'File' > 'Import' > 'Import Track/Import Folder/Import Playlist'. Then select the Tidal files you want to add to Rekordbox.
Part 2. How to Connect Tidal to Rekordbox Online with Tidal Premium
As Rekordbox Tidal has integrated, you can use Tidal on Rekordbox directly. But you need to have the Tidal subscription. If you have the Tidal premium plan, then you can follow the steps here to see how to get Tidal Rekordbox to work.
Step 1. Open the Rekordbox program. Then find and choose Tidal from the left side.
Step 2. Click on the 'Log in' button. Then log in to your Tidal account. It will then connect Tidal to Rekordbox for you.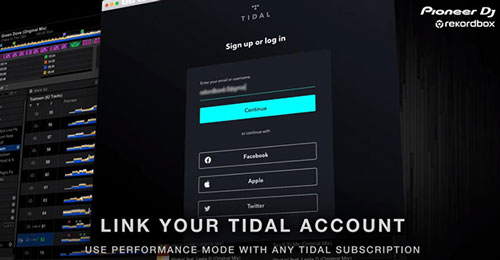 Step 3. When logged in, go to 'My Collection' option from the left on Rekordbox.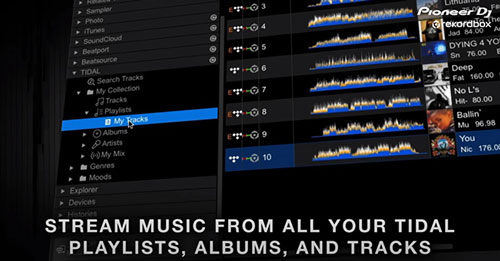 Step 4. Choose the Tidal music you want to mix and play on Rekordbox.
Note: You can only use Tidal on Rekordbox online due to the restriction from Tidal. Also, music from Tidal can be only used in the Performance mode on Rekordbox. Yet, if you want to fix Rekordbox Tidal not working offline issue, you can refer to the tutorial at Part 1.
Extra Tips: How to Transfer Rekordbox Playlists to Tidal
Apart from connecting Tidal to Rekordbox, here we would like to show you how to transfer Rekordbox playlists to Tidal. To do that, we will use Soundiiz. Now, let's see how to achieve it.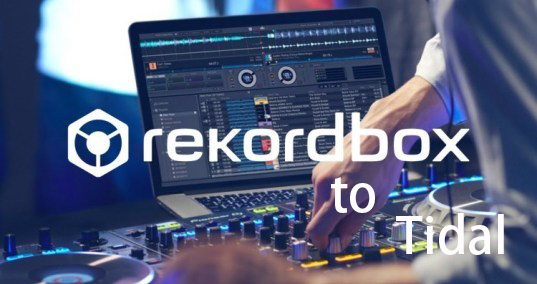 Step 1. Launch the Rekordbox software, choose the playlist you want and export as .m3u8 file.
Step 2. On Soundiiz, click on the 'Playlists' button and select 'Import Playlist/From File'.
Step 3. Choose the exported .m3u8 file and confirm.
Step 4. Follow the guidance to add your Rekordbox playlist to Tidal.
FAQs about Rekordbox Tidal
In the last part, we have collected some frequently asked questions about Rekordbox. Please check them out below.
1) Can I Use Tidal with Rekordbox?
A: Sure. Currently, Rekordbox supports music services are Beatport, Tidal, Beatsource Link and SoundCloud.
2) How Do You Play Tidal on Rekordbox?
A: With Tidal premium, you can stream Tidal music on Rekordbox directly. Just log in to your Tidal account on Rekordbox. And then go to 'My Collection' from Rekordbox to make it.
3) Can I Play Tidal with Rekordbox Offline?
A: No. Because of the limitation from Tidal, you can't stream Tidal on Rekordbox offline. If you want to use offline, then you can opt to DRmare Tidal Music Converter to help you.