Can you DJ with Tidal? Are there DJ apps that work with Tidal? Yes, Tidal has long offered integration with multiple DJ software. This means that DJs will be able to select music from their Tidal library and stream high-fidelity tracks directly to countless software. Tidal's focus on DJs has not only revolutionized the way DJs operate, but also allowed for greater accessibility.
In this article, we'll introduce you to 7 of the top Tidal DJ apps. You can also find out how to DJ with Tidal offline, even though Tidal doesn't offer an offline mode on any DJ software.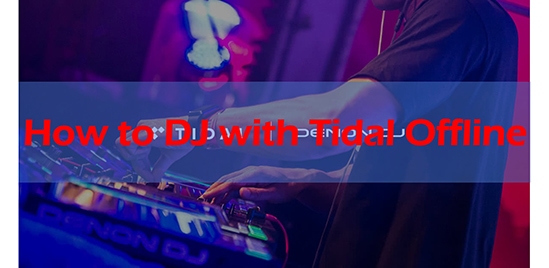 Part 1. The Best 7 DJ Apps for Tidal and How to Use
In this part, we will introduce to you the top 7 DJ apps that work with Tidal. You can also know how to use Tidal on them. Without further ado, let's get started.
Top 1. Serato
Among all the compatible Tidal DJ apps, Serato DJ takes the lead. If you're a beginner just starting your DJ career, this is your best bet. The user interface is easy to use and enables various operations such as mixing two tracks at the same time, locking tracks together for a seamless groove, looping to repeat any part, and much more. You can then export your playlists and share them online via your Serato profile.
You can also easily add songs from Tidal to Serato DJ, and all you need is a Tidal account to access the music. Of course, if you are a Tidal Hifi subscriber, you can enjoy higher-quality audio files with Serato. Serato also allows creating audio loops. Serato also allows you to add sound effects and unique transitions to enhance your listening experience.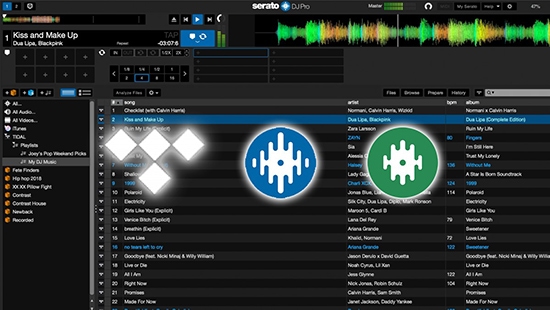 How to Add Tracks from Tidal to Serato DJ Lite:
Step 1. Open the Serato DJ software and go to "Setup" > "Library + Display" > "Music Streaming".
Step 2. Tick the "Show Streaming Services" and then choose "TIDAL".
Step 3. Click on "Sign up/Login to Tidal" and enter your account information.
Step 4. Once logged in, you will see a new window and click on "Open Serato DJ Pro".
Step 5. Now you can add music from Tidal and DJ with Tidal on Serato DJ online.
Top 2. Denon
Thanks to the DJ app Tidal integration, you can also play Tidal on Denon DJ seamlessly. Tidal is the first of several streaming service integrations appearing on Prime 4. Tidal and Denon DJ give you the ability to spin at the highest audio quality, access over 90 million songs, and thousands of expertly curated playlists, all without the need for a laptop.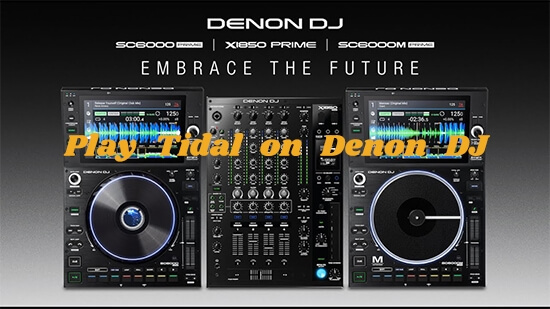 How to Use Tidal with Denon DJ:
Step 1. Connect your device to a stable Internet and open the "Library Collection" view.
Step 2. Tick the option of the "Library" window from the top left and click on "Media Device".
Step 3. Follow the instructions to activate Tidal with Denon DJ. Then you can access your entire Tidal music library.
Top 3. Pioneer Rekordbox
Rekordbox is a very powerful Tidal DJ software. Launched in 2012, it is now compatible with a wide range of devices. Until now, Rekordbox has developed into one of the best DJ software options on the market. It specializes in two main modes: export and performance. Rekordbox makes it easy for DJs to transition from entry-level controllers to main-stage CDJ players.
Once you log into your Tidal account within Rekordbox, you can effortlessly stream music from all your Tidal playlists, albums and tracks. You can mix with files from your Tidal or Rekordbox library. However, there is no way to edit or export Tidal tracks as audio files through this DJ app.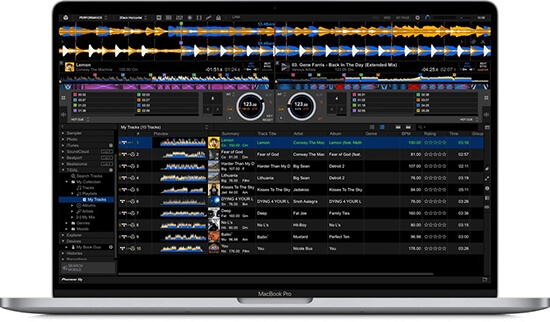 How to DJ with Tidal on Pioneer Rekordbox:
Step 1. Open Pioneer DJ and click on the "Sign in" tab next to Tidal.
Step 2. Log in to your Tidal account and then click on the "Allow" button on the new window.
Step 3. You can now access all your Tidal playlists on Pioneer Rekordbox.
Top 4. Djay Pro
Djay Pro is an excellent visual DJ program for iOS, Mac and Windows users. It has many user-friendly features and an easy-to-navigate interface. Thanks to the Tidal DJ integration, you can seamlessly stream millions of Tidal tracks on djay Pro. You can also take advantage of its powerful features such as audio effects, quad decks and hardware integration, to name a few.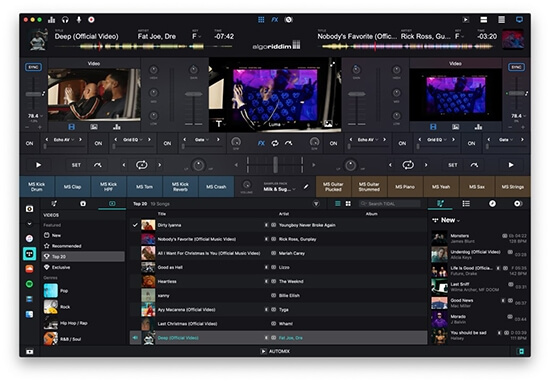 How to Use Tidal with Djay Pro:
Step 1. Download DJ Pro on its official website and open it.
Step 2. Click on the "Tidal" icon at the bottom left.
Step 3. Log in to your account and then add any track from Tidal to your DJ.
Top 5. Virtual DJ
Virtual DJ is compatible with Windows and macOS and is one of the most well-known DJ programs in the world. Thanks to its intuitive user interface, it is one of the most easiest Tidal DJ apps. You can directly add Tidal music to Virtual DJ after you connect to you Tidal account. It's worth mentioning that Virtual DJ has the lowest crash rate in the industry, so you don't need to worry that you'll lose your entire mix set during the creation process. Also, the application is a haven of stunning visualizations and can be enabled with beat-aware algorithms for audio tracks.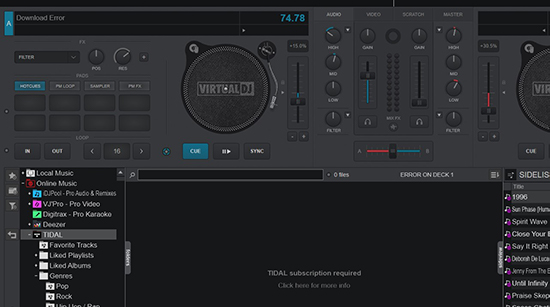 How to DJ with Tidal on Virtual DJ:
Step 1. Tick the option of "Online Music" and then click on Tidal.
Step 2. Right-click on the folder and then follow the instructions to log in to your account.
Step 3. Once done, you can use the root Tidal folder to find the directory and expand the Tidal folder.
Step 4. You can simply drag and drop any track from the "Files" list.
Top 6. DJUCED
As DJUCED advertises "from your bedroom to your first gig", it stands out for its easy-to-use performance. It has powerful mixing capabilities. You can track mixes, remixes, and enable music recording. With the integrated Video DJ Academy, interactive help, and smart music assistant, DJUCED is the right DJ software for your first steps to start DJing.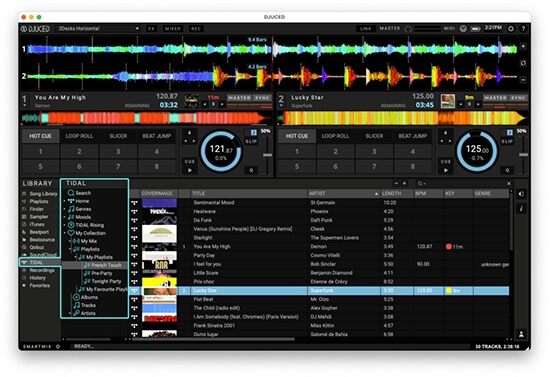 Step 1. Open DJUCED and click on any category to open a login window.
Step 2. Enter your Tidal account and password.
Step 3. Enjoy your Tidal playlists on DJUCED.
Top 7. Edjing
Edjing works perfectly on your iPhone, iPad, Android phone and tablet. It is a Tidal DJ software specially designed for portable mobile devices. The interface is simple and lets you sync your tracks and load music from Tidal. It has great features such as hot cues, audio effects, scratches and more.
You can unleash your inner DJ by easily loading playlists of songs, using loops, FX or samples. after mixing, edjing Mix makes it easy to share your creations to cloud storage platforms such as Dropbox, Google Drive and more.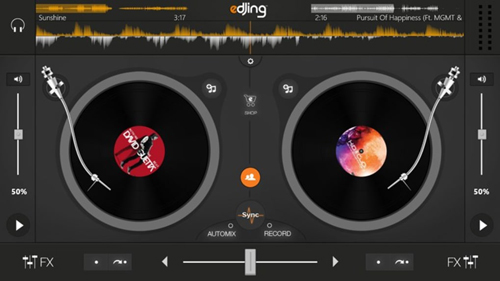 How to DJ with Tidal on Edjing
Step 1. Open Edjing mix and then open the music library.
Step 2. Select the "music source selector" from the top left corner.
Step 3. Click on "Tidal" and log in to your account.
Step 4. Once logged in, you can add any playlist from Tidal.
Part 2. How to DJ with Tidal Offline on Any DJ Apps
Can you DJ offline with Tidal? Although we have listed 7 best DJ apps that work with Tidal, none of them allow offline mixing of Tidal music. Luckily, we have found a method for you.
To use Tidal DJ software offline, you can first download Tidal songs to your local hard drive. Since Tidal music files are digitally protected, you can't stream Tidal music without converting them to a common-used format. To help solve this problem, here is an amazing tool - DRmare Tidal Music Converter.
It can convert Tidal music to various common formats, including MP3, FLAC, WAV, etc. At a fast conversion speed of 5X, the original audio quality is still preserved losslessly. DRmare Tidal Music Converter also preserves all the metadata and ID3 tags. With this powerful tool, you can easily import Tidal offline music to any DJ software for mixing anywhere, anytime.
DRmare Tidal Music Converter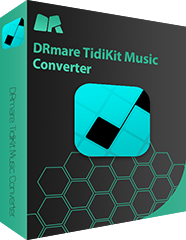 Convert Tidal to MP3, FLAC, AAC, and more common formats
Download Tidal music for offline mixing on any DJ apps
Keep lossless sound quality and all ID3 tags with a speed of 5X
DJ with Tidal offline without a Tidal subscription anywhere
How to DJ with Tidal Offline on Any Tidal DJ Apps
Here is the way for you to use Tidal with any DJ apps offline. With a few clicks, you can download Tidal music offline with a 5X speed.
Step 1

Add Tidal Tracks to DRmare Tidal Converter

Select the songs you want to mix on your DJ. Then drag and drop them to the main window of DRmare Tidal Converter. Or you can copy and paste their links into the search bar and tap on '+' icon.
Step 2

Choose Output Format for Your DJ

Select the menu icon from the top-left corner. Then click the 'Preference' option and the 'Convert' tab. You can decide which output format to choose. Generally, MP3 is the most common format. Other parameters like the channel and sample rate are also allowed to customized.
Step 3

Convert and Download Tidal Music

Drop your mouse on the 'Convert' button. The DRmare Tidal Music Converter will start to download and convert all your added Tidal files. After downloading, you can move the converted Tidal files to your DJ for mixing offline.
Step 4

DJ with Tidal Offline

Open any DJ software on your computer and simply import the converted Tidal music to your DJ panel. Now you can use Tidal on your DJ even if you don't have a stable WiFi internet connection. Even better, even if your DJ software doesn't support Tidal, you can still use Tidal music on all other DJ apps.
Part 3. Final Thoughts
With the Tidal DJ integration, you can access your Tidal tracks directly from your DJ. And there are now a variety of DJ apps that work with Tidal, for example, Denon, Serato, djay Pro, etc. They're all great, but none of them support offline mixing with Tidal. So, if you want to DJ with Tidal offline, you might consider DRmare Tidal Music Converter. It allows you to use Tidal music offline on any DJ app, whether it has a partnership with Tidal or not.