Amazon Music has many attractive features that appeal to many music lovers. With over 100 million songs and podcasts, its music library can give a wonderful music trip for everyone. Besides, it cooperates with the popular Alexa speaker which makes a specific customer source. As Amazon Music becomes more and more popular, several questions arise.
"Are there ads on Amazon Music?" "Why am I getting ads from Amazon Music?" Nowadays, Amazon Music ads is a heated topic on Reddit and other forums. Many people wonder why Amazon Music free users get ads and how to remove ads from Amazon Music. Today, we are going to talk something about this topic and conclude some tools to achieve Amazon Music no ads.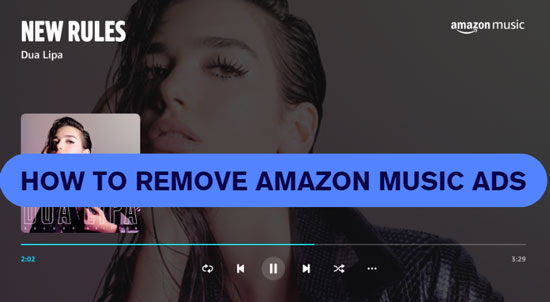 Part 1. Why Do You Get Ads on Amazon Music?
Amazon Music now has ads and only the free users get ads. Why? That is because every music streaming platform needs money to support its business. Therefore, Amazon Music decided to work with some companies. It plays their advertisement on songs and podcasts and companies give fees to it. As a free user, you can enjoy music on Amazon Music which does not need to buy a Premium plan. But it also means you have to bear something from Amazon Music, like inevitable ads when you are listening to music.
Why is Amazon Prime Music ad-free? As we all know, Amazon Music has two paid plans. They are Amazon Music Prime and Amazon Music Unlimited subscriptions. You can get some rights after you pay for a plan. The right, ad-free, is included.
View also: Amazon Music Unlimited vs Prime Music
Part 2. How to Remove Amazon Music Ads without Premium
When you are an Amazon Music free user and you do not want to subscribe to a Premium, how to remove Amazon Music ads? In this section, we will share a tool with you. It is DRmare Amazon Music Converter.
You can use it to download Amazon Music audio in bulk without Premium. What is more, it supports you to convert Amazon Music audio to MP3, WAV, FLAC, AAC, M4A and M4B. If you plan to stream Amazon Music on multiple devices, you should choose a right output format. In addition, the downloaded resources can be saved as your local files. You are able to manage them whatever you do, for example, you can modify their original information and play them without WiFi.
DRmare Amazon Music Converter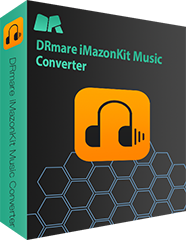 Stream Amazon Music no ads
Convert Amazon Music to WAV, MP3 and more
Keep lossless sound quality and ID3 tags
Download Amazon Music as local files
Step 1

Download DRmare Amazon Music Converter

Click the 'Download' button above. Then, download and install it on your computer. Also, install the Amazon Music app and open the converter.
Step 2

Set output formats of Amazon Music audio

Look at the right corner on the top line, you will see a menu logo. Tap it to find the 'Preferences' option. Click 'Preferences' > 'Convert' to start the setting. Here are the format, channel, sample rate and bit rate that can be changed. Then, remember to hit the 'OK' button.
Step 3

Load Amazon Music to the DRmare tool

After you complete step 2, please locate the song on your Amazon Music app and drag and drop it to the converter. You also can copy its shared link and paste it to the search bar of the DRmare tool. And then click '+' to load the song.
Tip: You also can export an Amazon Music playlist at once.
Step 4

Convert and save Amazon Music

In this step, you should tap the 'Convert' option to run the conversion process. When the converter is downloading and converting songs, you can click 'Cancel' to stop. If you note a red dot at the 'Converted' icon, it means you successfully convert audio. Just tap it to find converted audio on your computer.
This method can help you remove Amazon Music ads without using a Premium plan. It is the best way to reach Amazon Music no ads.
Part 3. How to Block Ads From Amazon Music - Premium Users
As we talked about in Part 1, go to the Amazon Music website and buy a Premium subscription so you will block ads on Amazon Music and get other music features. The leading steps are as follows.
Step 1. Search for 'Amazon Music' on your web browser or click here to enter its website.
Step 2. Choose your favorite plan to see the details and get started.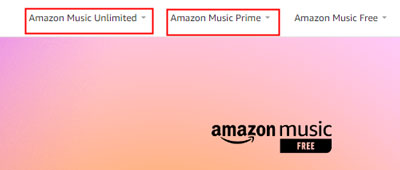 Step 3. Fill in the payment information to pay for the plan. Please know that you only can use Premium rights during you are a Premium subscriber. If you do not want to spend your money anymore, you can cancel your Amazon Music Unlimited subscription or Prime plan. But you will get ads on Amazon Music again.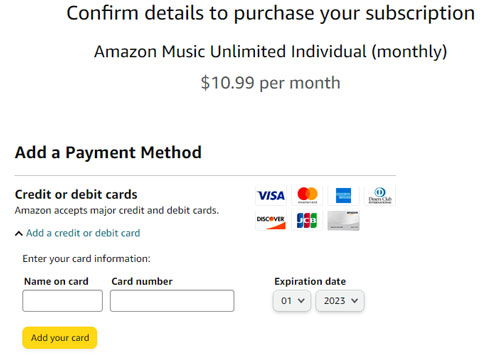 Part 4. Ad Blockers to Remove Amazon Music Ads
Apart from these two methods, we also recommend some ad blockers for you to get Amazon Music no ads. These blockers can be used on Windows/Mac/Android/iOS. You will enjoy Amazon Music with no ads even if you are a free user.
Via AdGuard Ad Blocker (Windows/Mac/Android/iOS/Web Browser)
AdGuard Ad Blocker is an extension and also an app. You can use it on Windows, Mac, Android, iOS and web browsers. This remarkable tool can block all ads on your device but still save traffic and speed up page loading. Besides, it can give you privacy protection.
Step 1. Go to its product page on the official website. Choose one version to download or add it to Chrome.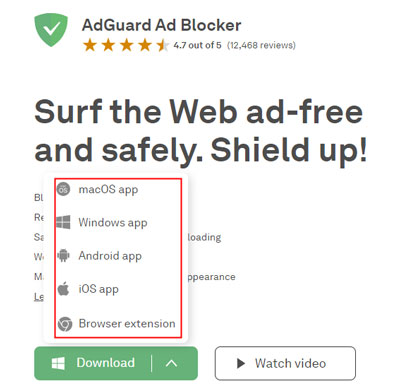 Step 2. After you install or load it, switch on its functions you need to use. If you keep it available, it will always protect your computer from no ads, including ads from Amazon Music.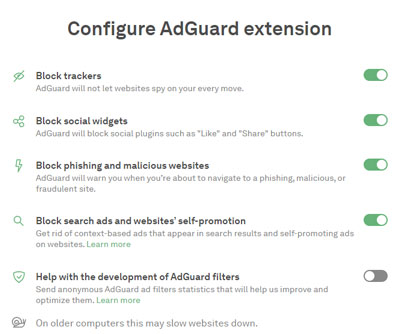 Via StopAd (Windows/Mac/Android/iOS)
StopAd also is an ad-blocking software to achieve Amazon Music no ads. It works for Windows, Mac, Android and iOS. Supporting multiple language versions, many Amazon Music users from different countries can download and use it as well.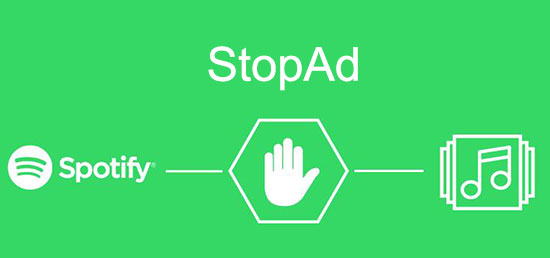 Step 1. Search for 'StopAd' and download it on your device. Install and open it.
Step 2. Find and click 'Setting' > 'Application' > 'Search app' > ' Amazon Music'.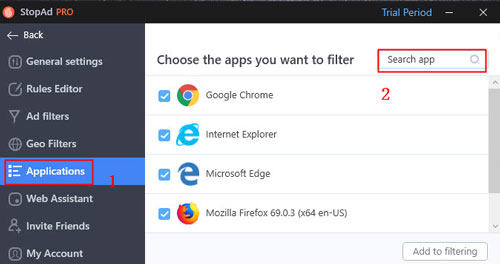 Step 3. Click the 'Add to filtering' button to add Amazon Music. Then, you will not have pop-up ads on Amazon Music.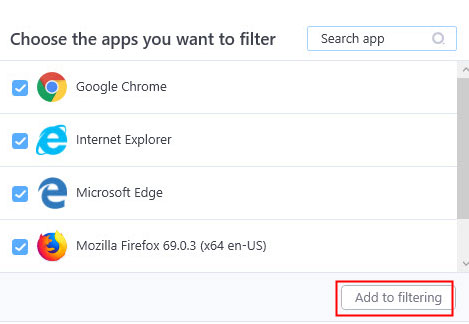 Via Shelblock (Windows/Mac/Web Browser)
Shelblock is a web browser extension and an app that can remove Amazon Music ads and other software and browsers' ads. It also can protect your data from tracking.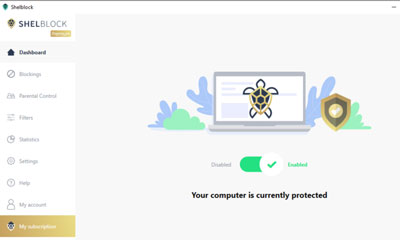 Step 1. Download and install it on your computer or add it to your Chrome.
Step 2. Enable its ad-blocking function and then you will enjoy Amazon Music without ads.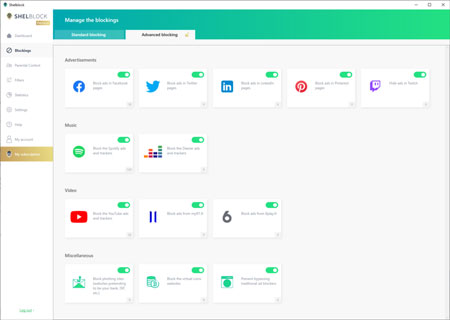 Part 5. Conclusion
We give you 5 ways to remove Amazon Music ads in this article. They are using the DRmare Amazon Music Converter, subscribing to a Premium plan and installing or adding AdGuard Ad Blocker, StopAd or Shelblock. Although all methods can get Amazon Music no ads, the safest and most efficient way is to use the DRmare Amazon Music Converter. It not only can block ads on Amazon Music but also help you download batches of Amazon Music audio at once. Additionally, you can save its audio as local files and listen to Amazon Music offline forever which breaks the digital right management of music.