Gone are those days where people must wait to listen to their favorite songs through television or radio. Now, digital technology had led the music to play the favorite soundtracks on their palms in no time. The live streaming applications supporting a wide range of platforms assist the users to reach out for their playlists quickly. Surplus applications are playing your music tracks according to your needs.
The Amazon Music HD vs Tidal seems to be the trend-making topic in the digital environment. Many users wondering what to choose between these two applications. Both are equally good with mind-blowing features. They stand unique for their built-in programs that ease the user's access to identify their best soundtracks. Here comes another question, which is the best live streaming music app that meets your needs without any compromises. Step into this article to get valuable insights into this topic in detail.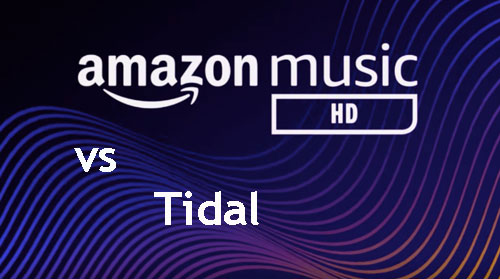 Part 1. Common Features between Amazon Music HD and Tidal
In this section, you will learn about the common features of Amazon Music HD vs Tidal applications.
Both the applications have similar compatibility features. They support multiple platforms like Android, iOS. You can also find web-players in Amazon Music HD and Tidal to play your favorite soundtracks on the browsers effortlessly.
They are adaptable to the smart speakers to amplify the output for optimal listening. These two applications seem to perform efficiently on desktop devices like Windows and Mac without any issues. If you are a newbie user, then Amazon Music HD and Tidal offer you 30 days' free trial to make yourself comfortable with the application's environment.
Note: If you want listen to Amazon Music HD songs when the free trial expired, then you can use the DRmare iMazonKit Amazon Music Converter to help you. It can convert and download Amazon Music HD songs to computer for use with lossless quality. And you can save Amazon Music HD files to MP3, FLAC, and more for playing on any device and platform as you want offline.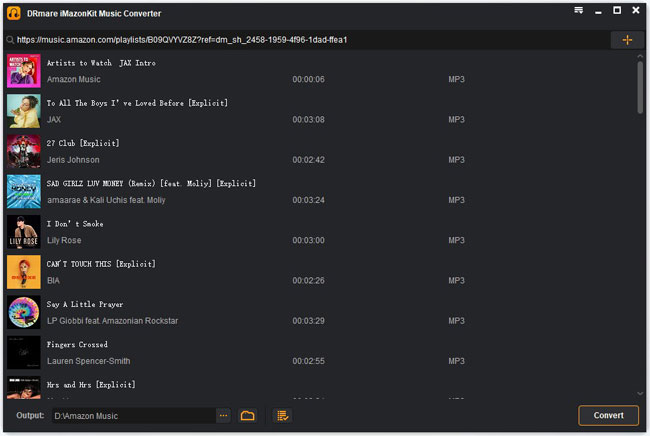 Amazon Music HD and Tidal support the Google environment. Connect with the smart devices using Airplay and Chromecast to enjoy the music tracks from unique quality players. The home screen in both applications displays well-organized soundtracks for easy reach. The users can tap their desired playlist without wasting their valuable time. Then you can listen to Tidal music and Amazon Music on Google Home with ease. Both the applications assist the users to listen to music tracks from different languages.
If you take a closer look at the quality attributes, Amazon Music HD's maximum quality attribute is 192kHz. In Tidal, this factor shoots up to 384kHz. You can also find different versions of Amazon Music like High Definition and Ultra HD songs stream. Likewise, Tidal has the Masters version to enhance the quality parameters of the soundtracks.
Part 2. Amazon Music HD vs Tidal - Remarkable Differences
Here come the differences between Amazon Music HD vs Tidal HiFi. We will discuss on the differences between their music library, audio quality, and more. Let's check more below.
Amazon HD Music vs Tidal: Music Library and Audio Quality
In the music library, you can find more than 60 million soundtracks on the Tidal space. In Amazon Music HD, the count restricts up to 50 million songs. The collections are huge in Tidal when compared to the Amazon Music HD.
The music options with the Amazon Music HD is unclear and sometimes it confuses the users. In the Tidal space, all the controls are visible for easy reach and you can operate them without any hesitation. Tidal has a wide range of options despite bitrate factors. You can find a free access option with Tidal that allows the users for limited access with advertisements. This free plan triggers the users to upgrade to the paid version by enjoying the comforts of listening to quality songs anytime.
When compared to Amazon Music HD, Tidal offers a variety of soundtracks to add flavors to your music journey. It doubles your joy and allows you with a broader scope to access songs from unique sources like concerts, artists, albums, and more.
Next, in terms of Amazon Music HD vs Tidal sound quality, Tidal outruns the Amazon Music HD. The Tidal app has an outstanding audio quality than the Amazon Music HD application.
Tidal vs Amazon Music HD: Price Plans
Regarding the price tags, Tidal offers you discount plans to students and you can find multiple pricing plans to support your needs like Family plan, Military plan, First Responder plan, etc. If you are an Amazon Prime member, then accessing Amazon Music HD seems to be easy.
For a cheaper streaming app, you can opt for Amazon Music HD whereas if you look for quality factors, then quickly step into Tidal to discover the new horizons of music. Amazon provides its services for $13 per month and for Tidal you must pay $20 per month.
Tidal HiFi vs Amazon Music HD: Network
The Tidal live streaming app handles the network challenges optimally. It places less demand on the network. Tidal efficiently performs on the network quality despite the fluctuations. It provides quality music most of the time. This approach in working on the network lags with the Amazon Music HD. It reacts with the network changes giving out interrupted music tracks. The dynamic tracks of Tidal seem to be more realistic and quickly convinces the users when compared to the Amazon Music HD.
Amazon Music HD vs Tidal: Other Differences
The integration with Google has limitations for Amazon Music HD whereas Tidal provides in-depth integration with the Google, Nest, Sonos, Echo devices.
There is an additional feature in Amazon Music HD, and it lacks in the Tidal platform. The built-in lyric is available with Amazon Music HD which is absent in Tidal. Tidal provides soundtracks from popular concerts, artists but these songs are unavailable at the Amazon Music HD.
Part 3. In Conclusion
Thus, you had an enlightening comparison of Amazon Music HD vs Tidal in detail. The above facts help you to choose between these two applications and enjoy the flavors of your favorite soundtracks without compromising the quality factors. You can try both Amazon Music HD and Tidal and find out the app that satisfies your requirements and go for it without any hesitation. Depending on the usage, choose the perfect subscription plan for optimal utilization of the tool.
Just connect with this article to gather effective facts on the best streaming music applications to engage your time worthy with no regrets. Stay tuned for enlightening data about the best live streaming applications on the digital platform.