Amazon allows customers to focus on their tune and explore the lyrics of the songs it offers them. The company's website allows customers to be aware of their purchased song and read its lyrics wherever they have internet access. People can also explore extraordinary facts about the songs, which include an artist's biography, moving photos of track performances, and income facts. Users can also add their own personal lyrics and music and share them with others.
If you don't know how to see lyrics on Amazon Music app, then you can check out this post. Here we will guide you on how to get Amazon Music lyrics on PC, Mac, mobile phones and Smart TV.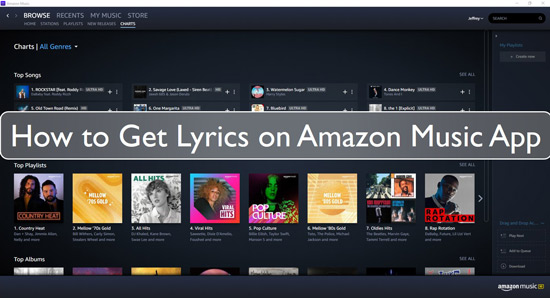 Part 1. Does Amazon Music Have Lyrics?
Yes, Amazon Music has lyrics feature. Amazon lets you pay attention to the lyrics of different songs in their save. You can do this by clicking on the tab at the top of any page on the Amazon website that contains music revenue statistics for a specific artist or album. You'll then be able to browse through specific tabs with one type of record about that artist's songs, which include motion pix, charts, biography, and costs from enthusiasts' approximately textual content material of that music.
Part 2. How to See Lyrics on Amazon Music App on Mobile Phone
How do I show lyrics on the Amazon Music app on mobile phones? Below are the steps to see Amazon Music lyrics in your Amazon Music app for Android and iOS phones.
Step 1: First, you need to tap the Amazon Music app on your mobile phone to open it.
Step 2: Next step, click a song that you want to stream.
Step 3: On the playing music displaying bar, tap on the title of the song, then expand the Album cover. The lyrics will automatically appear below the album cover.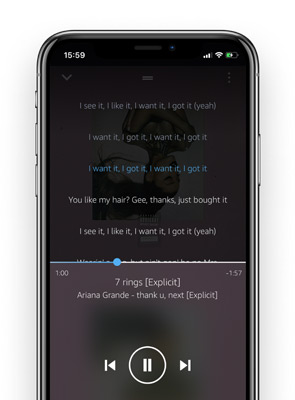 Part 3. How to Display Amazon Music Lyrics on PC
Anyone can access their entire Amazon Music lyrics on PC by downloading the Amazon Music app to their device or signing in to their web account. Below are the steps to let Amazon Music show lyrics on Windows computers.
Step 1: First, tap the Amazon Music app on your Windows device to open it.
Step 2: On the music app, there is a control bar for the current playing music. On that bar, click the #lyrics button to open up a window.
Step 3: After that, it will display an album cover on the left side of the window and lyrics on the right.
Tips: To get Amazon Music with lyrics on the Amazon Music web player, the steps are the same as on the Amazon Music app. Besides, if you want to turn off lyrics Amazon Music, you can hit on the 'Lyrics' button again.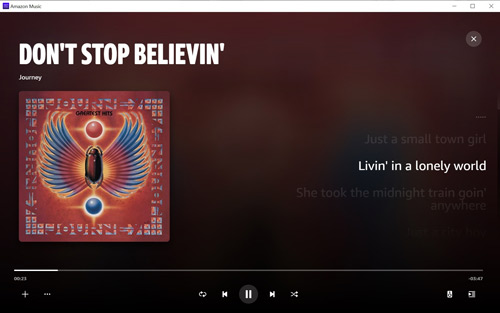 Part 4. How to Show Amazon Music Lyrics on Smart TV
In this parts, we'll show you how to display lyrics on Amazon Music on your Smart TV like Fire Stick, Sony TV. This allows you to enjoy your favorite songs while singing around the content of the songs. Amazon Prime members can now enjoy lyrics while listening to music on their Amazon Smart TVs. This feature is available in the US, UK, Germany, and Austria.
To get started, open the Amazon Music app on your Amazon Smart TV. Then find a song you want to play and you will see a new Lyric View icon on the screen. Tap the Lyric View icon and the lyrics of the song being played will appear on the screen.
Part 5. How to Enjoy Amazon Music Songs Anywhere Anytime
To enjoy Amazon Music anywhere anytime, simply means enjoying music, even when offline, you will need a third-party program to help you.
Drmare Amazon Music Converter is a tool that enables you to download your favorite music from the Amazon Music app for offline streaming. You can listen to Amazon Music even if there is no internet connection. This program can download up to 30 million songs from the Amazon Music library. It is an easy-to-use program that outputs high-quality audio quality of Amazon Music. Millions of users trust it today. Download it today and enjoy Amazon Music by both local and international artists.
By using this tool, the Amazon Music songs can be downloaded and converted as MP3 and other audio formats. And you can save them as local files on your computer for use anywhere. Now, let's see how to use this tool to get Amazon Music to listen to offline.
Step 1

Download and set up the DRmare Amazon Music Converter

Simply visit DRmare Amazon Music Converter's official webpage, then tap the Download button. After that, install it on your Mac, or Windows device. And then open it and log in to your Amazon Music account.
Step 2

Set audio output format for Amazon Music

Here, you are supposed to choose the output format you want for your Amazon Music songs. Your output form will also determine your audio quality. Please hit on the three-lines icon on DRmare Amazon Music Converter, then choose 'Preferences'. In the new window, click on the 'Convert' tab. Then you can simply select your favorite format from the list provide and change any other specification as desired.
Step 3

Add Amazon Music songs you want to convert to DRmare program

Simply find the songs you want to convert and listen on the Amazon Music app. And then drag them from the Amazon Music app and drop them on the DRmare Amazon Music Converter. Or, you can copy the song's link to Amazon Music and put it on the search box on DRmare, then click on the '+' button.
Step 4

Convert your Amazon Music as local songs

Click Convert to start the conversion process of Amazon Music songs. Once the process is done, simply find the converted Amazon Music songs in the converted folder and start to listen to Amazon Music offline on the device you want. Also, it allows you to see lyrics of Amazon Music songs on other music player if you meet the Amazon Music lyrics not working on the Amazon Music app.
Part 6. Conclusion
Amazon Music is a great app that has been gaining popularity lately, and for good reason. It's a great app with lots of features that can enhance your listening experience. Besides, in this post, you learned how to see lyrics on Amazon Music app on different devices.
If you want a great Amazon Music experience, then you should consider using the DRmare Amazon Music Converter. With this tool, whether you're at home or on the go, listening to your favorite tunes on Amazon Music is easy. It is easy to use and allows you to easily convert all your Amazon Music songs to any format so that you can listen to them on any device. Also, you can listen to Amazon Music offline without the Amazon Music app.