How to Add Apple Music to Video as BGM
"I am trying to add Apple Music to video when creating an Instagram Story. It simply won't work. I have no problem with sharing Spotify Music on Instagram. Do you know why?" - Question from Apple community.
When it comes to video, background music is an indispensable part. A proper and beautiful background music will make your video stands out. With the advent of streaming music service like Spotify, Apple Music, SoundCloud, you can get access to millions of songs online. In theory, you can find any genres of soundtracks that will match any videos you want to create.
But do you know that? All the streaming music don't allow you to import songs to other players, editors unless authorized. Take Apple Music for example. It is completely different from the songs you bought from iTunes. You can't edit Apple Music on iMovie or distribute them elsewhere officially.
So can we still add Apple Music to video? Please read on.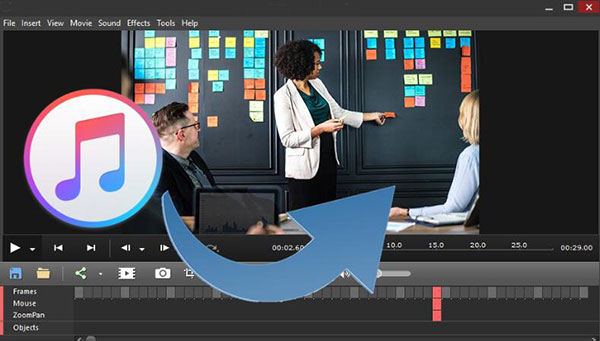 Part 1. What You Need to Add Apple Music to Video
Apple Music is only for personal use by applying the FairPlay encryption. Even if you subscribe to the premium membership, you can only play Apple Music on authorized devices like iOS, iTunes, QuickTime and so on. You are not allowed to copy, redistribute, reproduce, transfer Apple Music elsewhere because Apple can't control if you use it for personal or commercial.
That makes no sense because it assumes everyone will break the rules. Actually in our daily life, we do want to edit Apple music for personal use often such as sharing a Facebook, Instagram video or creating a home video and so on.
To get rid of the limitation of Apple Music and use it anywhere, you can turn the Apple Music M4P to MP3 songs. Perhaps you may already know you can simply use a free music recorder to capture the songs.
Honestly a free recorder won't keep the best audio quality and the recording speed is slow.
Here I'd recommend another better way to batch converting Apple Music losslessly by using DRmare Apple Music Converter for Mac/Windows. This tool use the most advanced technology to reverse the encryption process from Apple Music and extract the songs as MP3, M4A, M4B, AAC, WAV, FLAC and so on.
Personally I didn't find any shortcoming of it. If there is any, then I think is that it is not a freeware. You have to pay a few dollars to get a full license. Anyway you can try it out for free.
Best Apple Music Converter of 2019
Part 2. How to Downloading Apple Music for Any Video Projects
Find a great song and want to use it on your own video project? Now you don't need to buy the song from iTunes anymore. Just follow the tips to download Apple Music songs for free.
Step 1

Launch DRmare Audio Converter

You can click "Download" button to install the software to your Windows or Mac computer. Then you can launch it and you will see the beautiful clean screen.
Note: Before converting songs with DRmare software, please make sure you have prepared the Apple Music songs on your local iTunes library first. Else please go to "For You" tab to save the songs offline first.
Step 2

Import Apple Music M4P tracks

You can click the "+" button from the bottom left and then browse the Apple Music tracks from iTunes library. Or alternatively you can drag & drop the songs from the computer folder to the DRmare main screen.
Step 3

Choose a new music format

Next you can head to the bottom right and click the "Format" icon to pick up a format you want. Here I will choose MP3 and for the other parameters like codec, channel, sample rate, bit rate, I will keep them by default.
Step 4

Unlock Apple Music

At last, you just need to click the big "Convert" button, then all the songs from Apple Music will be decrypted. When it is done, you got all the songs just as if you have bought them from iTunes. This will in turn save you a lot of money. You won't have any problems on importing the background music to other video editing tools such as Camtasia, iMovie, Windows Movie Maker etc. for creating different videos you like.