Apple has been working hard to promote its own streaming music service. The entire music category has exceeded 50 millions songs in 2019. You are easy to stream music you like on the go with up to 256Kbps AAC format. And with the release of the new Apple Watch, Homepod, AirPods, music accessories, there are more reasons to subscribe to Apple Music.
But no matter how many advantages Apple Music has, it may not contain all your favorite songs. If you have songs, concerts composed or remixed by yourself, ripped from CDs or whatsoever, you can add all them to Apple Music so that you can enjoy them together.
View also: How to Add Local Songs to Spotify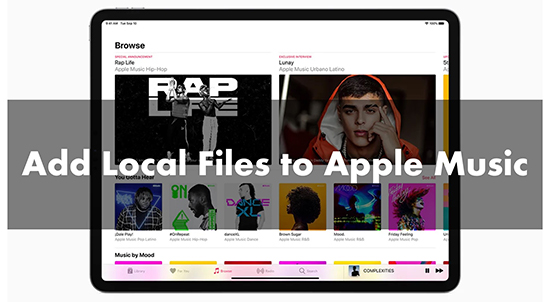 Part 1. Top Ways to Import Songs to Apple Music
How to Sync Your Local iTunes Library to The Music App
Want to have a cloud-based Apple Music library as well as a local collection on iPhone, iPad or iPod Touch? That is possible though it is not obvious to find it. It works well on iOS 11.3 or newer systems.
1. Open your iOS device, go to "Settings" > "Music" > turn off the iCloud Music Library.
2. Connect your device such as iPhone to the Windows or Mac computers.
3. Launch iTunes from your computer, tap the icon from the top left corner, it will show you a list of files including music, movie, TV shows which can be synced.
4. Tap "Music" menu, you can choose to sync the entire music library or select the playlists, artists, albums and genres you want to sync.
5. It will take a while to finish transferring songs to your Apple Music app.
6. When it is done, you can go back to the "Settings" > "Music" to toggle iCloud Music Library on. It may pop up an option if you want to keep your music or delete and replace, you can choose the keep music option.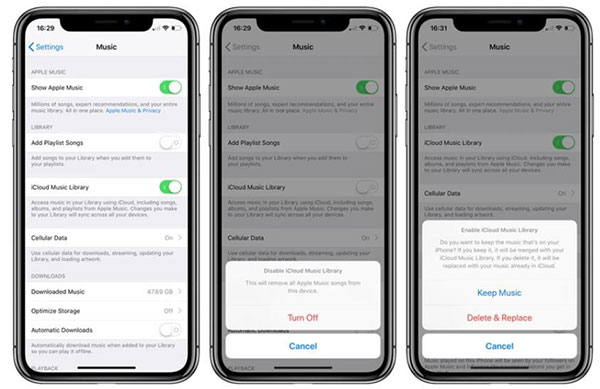 How to Add Songs to iCloud Music Library
Apple Music subscription offers the iCloud Music Library service which lets you upload up to 100,000 songs for free. Usually when you login Apple Music the first time, it will scan your device to find and upload all your songs automatically. If your songs are saved elsewhere, you can also move the music to your computer and follow these tips to upload them to iCloud Music Library manually.
1. Launch iTunes, it may pop up a window asking for your account and password. If so, please just do as it suggests.
2. Click "File" menu and then you can import your audio files by using the menu "Add File to Library" or "Add Folder to Library".
3. Open the songs you want to add from iTunes, then click "My Music" > "Add to iCloud Music Library".
4. Once the file is synced, you will find a green mark beside the song on iTunes. And you can add it to a playlists with other songs on Apple Music.
Note: When uploading songs, if there are already same songs from the iCloud Music Library, they will be available immediately on all your devices. Else they will be uploaded directly with the original parameters. It works in a similar way like iTunes Match does. The main difference is that the uploaded songs are DRM protected if you use Apple Music.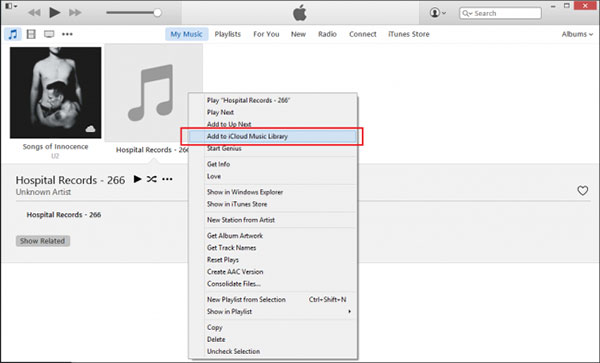 Part 2. Download Apple Music to Your Own Library
Add Songs Directly from Apple Music
Do you want to add new songs to play directly to the Music app or your iPhone or iTunes on your computer? If yes, Apple music is one of the best options. Its intelligent system will recommend fantastic song you will like.
1. Launch the Apple Music app.
2. Check to find the recommended songs or you can input the keywords to search the ones you like.
3. Locate the song and then press "+" button to add it manually.
4. Go back to your Library, the songs should be showed at the top.
5. You can also click the "..." menu and choose "make available offline" to enjoy the song without Internet connection.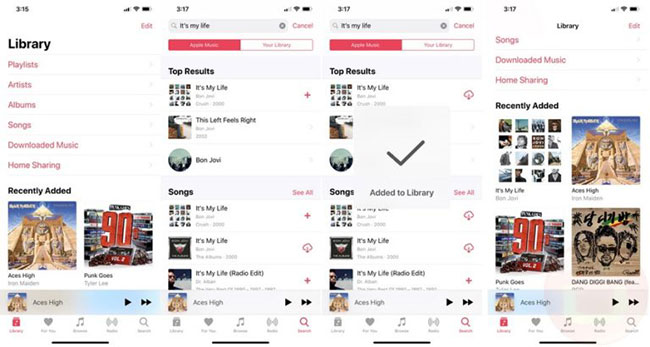 How to Make Apple Music Available Offline Forever
With the Apple Music subscription, it is easy to listen to Apple Music offline on iPhone, iPad or other devices with the Apple Music app. But it also has its caveat. You need to log in every 30 days to confirm your membership, else they won't will be invalid due to the FairPlay DRM. And they will be lost from your own library immediately if you cancel the subscription.
Thankfully, you can use third party tools DRmare Apple Audio Converter for Windows/Macto keep the songs you like forever now. It is a great tool that comes with an advanced technology to reverse FairPlay DRM encryption. Apple don't really want users to use such kinds of tools to crack its streaming music. But as long as you use it for personal, it is totally legal.
1. Drag and drop to import the M4P files from iTunes to DRmare software.
2. Choose an output format you like. If you'd like the best quality, you can choose the FLAC or WAV format.
3. Click "Convert", all the songs you imported will be converted in batch.
4. You can copy the converted songs to your own library or any devices you have.