Can you make a collaborative playlist on Apple Music? Collaborative playlists allow you and your friends to curate playlists together. Everyone can add, remove, and listen to songs in the same playlist, regardless of location or device. It's a fun way to connect socially with friends through music and participate in shared experiences.
Spotify was an early adopter of such collaborative playlists. While Apple Music has previously announced that it would add the feature before the end of the year, the feature is not available in iOS 17.2 and may be delayed until 2024. So until it's actually launched, you can read this post to learn how to make a collaborative playlist on Apple Music using some workarounds.
See also: How to Make Collaborative Playlists on Spotify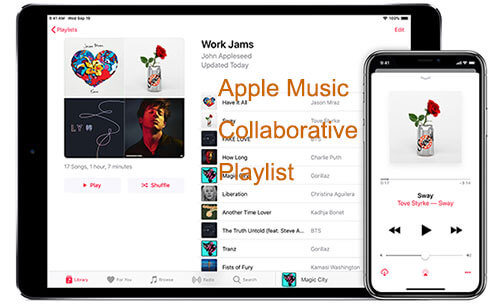 Part 1. How to Make a Collaborative Playlist on Apple Music
In the upcoming iOS 17.2, Apple has removed the collaborative playlist feature. This is disappointing news. But you can still install the iOS 17.2 public beta to use collaboration features. You and your friends can add music, delete songs, rearrange songs, and more. Everyone can listen to their favorite songs without having to switch between multiple playlists. Now follow the tutorial below on how to make a shared playlist on Apple Music.
Note: Currently, Apple Music collaborative playlist is only available on iOS 17.2 beta 1 version.
Step 1. Open the Apple Music app on your iPhone.
Step 2. Tap on your 'Library' to find the playlist you want to use with your friends. You can also create a new playlist.
Step 3. Open the playlist and tap on the 'Three Dots' icon at the top-right corner and select 'Collaborate'.
Step 4. On the new page, tap 'Start Collaboration' and you can invite friends to join through AirDrop, Messages, etc. You can also choose 'Copy' and copy the invitation link and send it to your friends.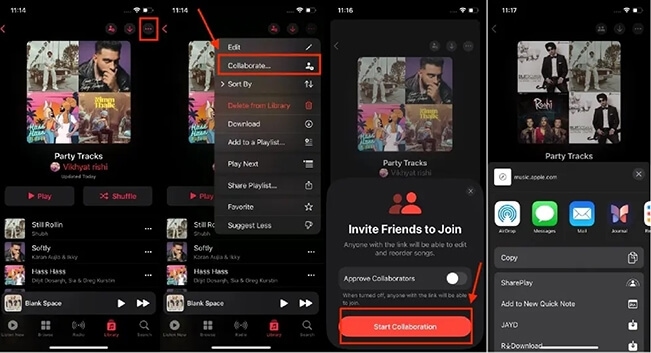 Part 2. How to Make Apple Music Collaborative Playlist via Caset
As mentioned above, the collaborative playlist Apple Music feature is not mentioned in the upcoming iOS 17.2. Therefore, when iOS 17.2 is updated, you will not be able to use the above beta version. Although you can create playlists and share Apple Music playlists with your friends, they cannot edit the playlist. So, here's a workaround, use Caset, the next-generation Mixtapes app for iOS.
It can directly invite your friends to edit Apple Music collaborative playlists through the collaboration function. Users can customize Apple Music cover art, add or remove songs from mixtapes, and see who made the changes. Now let's see how to make a collaborative playlist on Apple Music via Caset.
Step 1. Install and fire up the Caset app on your iOS devices. And then, please log into your Apple account.
Step 2. There are some built-in pre-made playlists or mixtapes. You can select favorite mixtape template and create a new playlist by clicking the Create Mix icon.
Step 3. Now, you can start to hit on the 'Add Track' > '+' button to add liked Apple Music songs to this playlist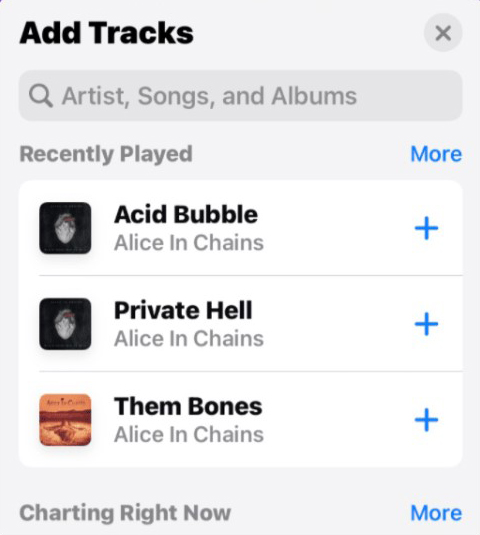 Step 4. Tap the 'Continue' and 'Share Invitation' buttons to start collaborating Apple Music playlists with others. You can share collab playlists on Apple Music via email or a group chat.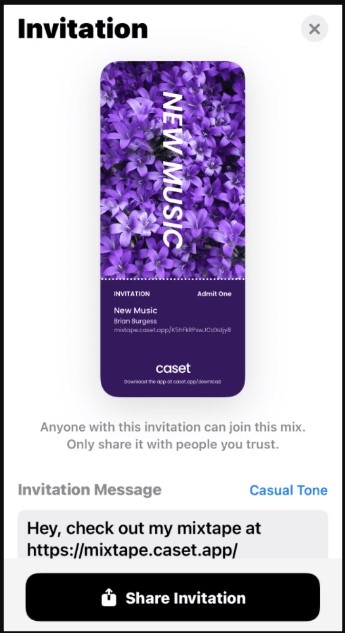 Step 5. Collaborators can assess and edit this playlist together by clicking the three-dot > Edit icon.
Part 3. How to Save Apple Music Collaborative Playlist for Offline Playing Forever
As you know, once you cancel your Apple Music subscription, all your playlists will disappear. So, here, we'd like to show you how to download and keep Apple Music collaborative playlists forever.
Let's meet DRmare Apple Music Converter, which is designed to unlock Apple Music and convert Apple Music to common-used format. It supports multiple output formats including MP3, AAC, M4A, M4B, WAV, and FLAC. After conversion, you can get lossless Apple Music with full ID3 tags kept. You will really own the songs so you can listen to and keep them forever even without an Apple Music subscription. You can also share them with anyone who don't have Apple Music.
DRmare Apple Music Converter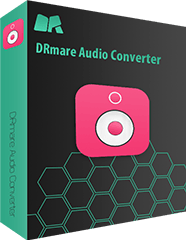 Easy-to-use interface, 30X faster work speed
Convert Apple Music to MP3 for playback on any devices/players
Keep lossless audio quality and full metadata information
Play Apple Music playlists offline forever without a subscription
Please install the DRmare Apple Music Converter in advance. Also, download Apple Music playlists to your PC or Mac. Then you can follow the steps below to convert collaborative playlist Apple Music and listen to them forever.
Step 1

Import Apple Music collab playlists

Drag and drop your downloaded Apple Music collab playlists to the DRmare Apple Music Converter's main screen. Or you can click the "Add Files" button at the bottom left to browse the Apple Music files to import.
Step 2

Select a new format for Apple Music songs

Just click the "Format" icon from the bottom right. And then select the output format you want from the drop list. Generally, MP3 is a highly recommended format due to its high quality and small size. Also, you can alter other Apple Music audio parameters like bit rate and more.
Step 3

Download and keep Apple Music shared playlists forever

At last, you can one-click on the "Convert" button to start converting collaborative Apple Music playlists. With the 30X faster batch converting speed, you can get these playlists stored on your computer quickly. When it is done, you can find the common Apple Music files in the "Converted" folder or "History" folder. You can then copy and paste the playlists and play them anywhere and anytime, no Apple Music subscription is required.
Part 4. How to Show and See Apple Music Shared Playlists on Profile
Apple Music has a profile feature that allows you to show what you are listening to. So, you can use this feature to show your playlists and your friends can easily see them. Below are the steps for you to check out how to do that.
Step 1. Open Apple Music on your mobile device.
Step 2. Touch on the 'Listen Now' button.
Step 3. Click on your avatar at the top right corner and choose 'View Profile'.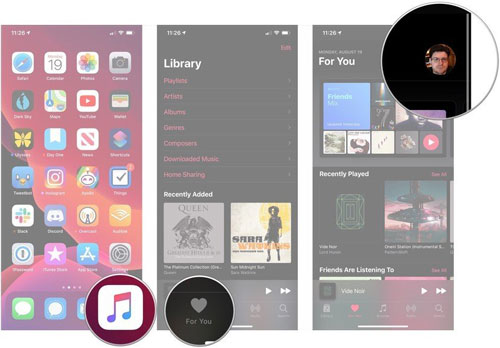 Step 4. After that, hit on 'Edit'.
Step 5. Then you can select the playlists you want to show on your profile.
Step 6. Then your friends can search for your name and then see the playlists on your profile.
Step 7. On your profile, you can also check the shared playlist on Apple Music by your friends.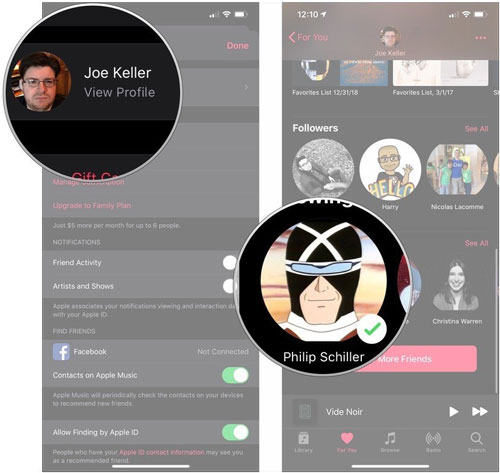 Part 5. In Conclusion
Through the above introduction, you have learned how to make a collaborative playlist on Apple Music. It offers the opportunity to discover new music with your friends. Even better, you can use DRmare Apple Music Converter to save your favorite Apple Music collaborative playlists forever. Even if you cancel your subscription, you can listen to Apple Music offline. You can share playlists with anyone, even if they don't have an Apple Music subscription or the app installed.