For streaming industry, Apple Music was new when it was released in 2015, causing left behind the music king Spotify which had millions of subscribed users. That is why Apple had been trying a lot of strategies to promote its streaming music service. Apple Music exclusive content seemed the best way to pull users from Spotify in 2016.
Usually the exclusive album are from the superstars. When an album is exclusive in Apple Music, it will be available exclusively for a few weeks there only. Users has to subscribe to the Apple Music subscription only to get it instead of other streaming platform services. Just like Tidal which cooperate , Beyonce with Lemonade and Kanye West with The Life of Pablo, Apple Music also had some exclusive albums from exclusive artists like Drake, Taylor Swift and so on.
Though they are not exclusive anymore nowadays. If you are still interested in the previous Apple Music exclusives, you can follow this page to learn more and download them offline.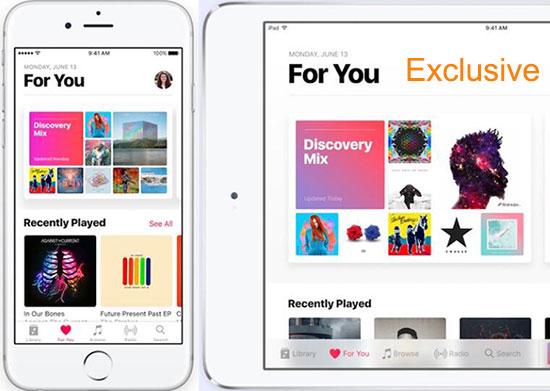 Part 1. The Best Apple Music Exclusive Albums in 2016
Blonde
This is a long expected album from Frank Ocean, also known as "Boys Don't Cry" and released on August 20, 2016. "Blonde" contains 17 tracks including "Nikes", "Pink + White".
Glory
The is the ninth studio album of Britney Spears. It is released in August 26, 2016. Although it is exclusive for streaming on Apple Music, you can preorder it on all music distribution platforms.
Rainbow Bot
This Stefanie Sun album was released on August 17, 2016 and available on Apple Music for 4 months. It focuses on the theme of nature.
Views From the 6
Drake is one of the most popular hip-hop singers. Though it is only available on Apple Music for the first 7 days, this album contains 20 songs and were played over 245 million times, making it the biggest hip-hope album ever made.
1989
1989 is the fifth studio album released on October 27, 2014 by American singer-songwriter Taylor Swift.After that, she signed a deal with Apple to put her albums on Apple Music.
EVOL
Future released this album on Feb 6, 2016 and made it exclusive on Apple Music. As a great album, it still reaches number one on the charts.
Freedom
This album was released on June 30, 2015 to Apple Music according to the contract between Pharrell Williams and Apple.
Part 2. Are There New Apple Music Exclusive Content Now
By offering songs and albums as exclusive, artists will receive extra money. However, it may also affect the exposure of the songs and albums and result in lost revenue. That is why many labels object to exclusive contents.
After Frank Ocean released his most-anticipated album Blonde, the CEO of Universal Music Group decided to stop making exclusive deals with streaming networks.
Since then, Apple exec Jimmy Loine said the music service will be less aggressive on obtaining exclusives in the future. As of now, the only exclusive content from Apple Music is the album "Strange Times". Also, Apple has added the music video category to its music service, you can follow this tips to play Apple Music videos on Apple TV too.
Strange Times
This is an album released by TEEN MORTGAGE in 2017. It contains the songs of Wannamaker, Stay, Trip, Jamie, Blue Wave, Coney Island Girl, Forever and a Night, Strange Times and The Ocean.
Part 3. How to Listen to Apple Music Exclusive Songs and Albums
Nowadays this Apple Music exclusive list is already available from any platforms such as Spotify, Deezer, SoundCloud, Amazon Unlimited, Google Play Music and so on.
But no matter which platform you used, the songs are DRM protected, meaning you can only play the songs with its specific player. If you haven't used any streaming music before, Apple Music should be the best option because it offers up to 3 months free trial.
If you'd like to transfer Apple Music exclusive songs to any other players, you can also use DRmare Apple Music Ripper for Windows/Macto convert the M4P songs to MP3. It is a sleek software. But it has the advanced encoding technology which enables you to import unlimited songs and convert them with up to 30X faster speed. For more features, you can check below.
Best Apple Music Ripper
Before converting, please make sure you have already prepared the contents from the Apple Music exclusive artists you want. You can search them from iTunes and download them to your iTunes library.
Step 1

Import Apple Music M4P songs

Just drag and drop all the files from the iTunes library to the DRmare main screen. Or click the "Add Files" button to browse the music files. Note: Please make sure the files are authorized to play well on iTunes, else they may not be converted.
Step 2

Set new audio format

A compatible format to make it easy for you to play the songs anywhere. If you'd like to play Apple Music exclusives on any devices such as MP3 portable player, Bluetooth speakers, mobile phones, you'd better choose the universal MP3 format. Please just click the format icon from the bottom right.
Step 3

Start converting songs in batch

You can select an output folder and then click "Convert" to start convert all your songs to MP3. The converting time depends on how many songs you have. Please just wait a little while patiently.