With the arrival of 2023, many platforms like music streaming services and so on begin to provide the year-in-review for their users. For example, Spotify offers Spotify Wrapped to its users to check their listening stats for this year. Also, Apple Music also has an Apple Music Replay (Apple Music Stats) that shows listening stats for 2022 for its subscribers.
If you are new to Replay Apple Music, then you can check out this post to learn what is it and how to see Apple Replay 2022. Also, if you can't get it, you can try the methods here to fix Apple Music Replay not working. Moreover, if you want to listen to them offline, you can use a third-party tool to download Apple Replay Music offline. Now, let's learn more about them below.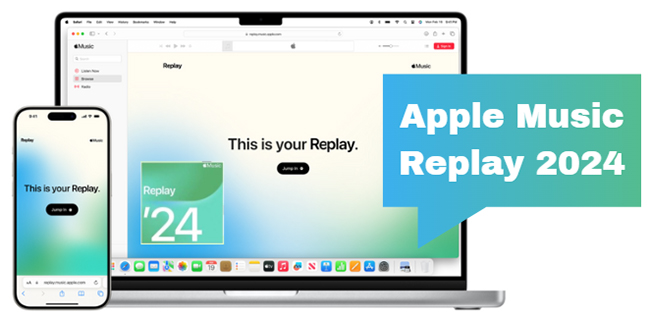 Part 1. What Is Apple Music Replay
Apple Music Replay is a year-in-review for users' listening stats. It will show users' listening habits, like their top artists, favorite songs and so on for a year. By checking this feature, you will know the amount of time you spent listening to music, the top songs you streamed and how often you listened to them, top 5 genres of music you like during the year and more.
Besides, the user interface of Replay Apple Music 2022 has been redesigned and added a new feature. It is a feature that can display your personalized listening insights on each card.
Also, it allows you to create and share a list of your favorite songs from the replay. And you can listen to these replayed tracks on your iOS devices and the web.
If you don't like the stats on your Apple Music year in review 2022, you can try and change it till the end of the year. The Apple Music yearly review will be available through December 31, 2022.
Part 2. How to Check Apple Music Replay 2022 on Apple Music Web Player
How to see Apple Music Replay Stats 2022? To do that, please make sure that your Apple Music subscription is activated first. Besides, this feature is not available in the Apple Music app. So, you need to go to the Apple Music web player to get it. Here you can check the tutorial on how to get Apple Music Wrapped 2022 on phone or desktop on the web.

Step 1. Open a browser and go to music.apple.com/replay.
Step 2. Hit on the 'Sign in' button to log in with your Apple username and password.
Step 3. Click 'Get Started' to see your 2022 Apple Music Replay.
Once you found the playlists of Apple Music Rewind 2022, you can watch a quick overview by clicking on 'Play your highlight reel'. You can also view the detailed stats of your 2022 Apple Music year-in-review. Also, you can add them to your library and share them on your social platforms.
Part 3. How to Get Apple Music Replay Playlist
If you are an old Apple Music subscriber, then you can find all your Replay Apple Music playlist. The Apple Music Replay feature will create the songs you listened to most from the year into a playlist. So, you can find them out and see your past years' listening history, like 2021, 2020, 2019 and more.
Step 1. Go to the Apple Music app on your iOS device or Mac computer.
Step 2. Click on the 'Listen Now' section on the screen.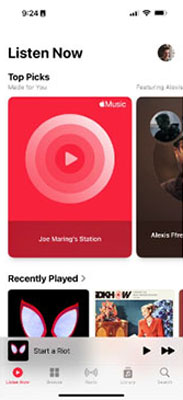 Step 3. Scroll down to the 'Replay: Your Top Songs by Year' section. Then choose your Replay playlist for this year or the past years.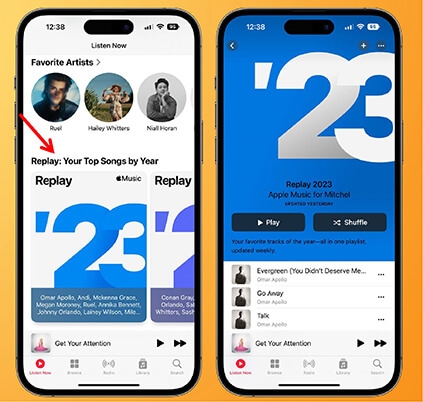 Step 4. Touch the 'Play' button to start to stream the playlist. Also, you can click on the 'Add' button to add the playlist to your library.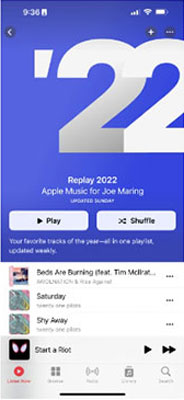 Step 5. Click on the 'three-dots' icon and you can share the playlist on your social account.
Part 4. How to Fix Apple Music Replay Not Working
The Replay Apple Music feature has been released on November 29, 2022. Yet, some users won't access it as their Apple Music Replay not updating and working. So, to fix this issue, you can follow the methods below.
1. Check Your Apple Music Subscription Status
To get Apple Music year-in-review, you need to be an Apple Music subscriber. If you didn't subscribe to it or you cancel the subscription, then you won't get this feature. Also, if your current Apple Music subscription expires, you can't get your Apple Replay Music.
2. Use the Correct Apple ID
If you enter a wrong or invalid Apple ID, you won't get Apple Music yearly review. So, please check whether you use the right Apple ID. If not, then sign out and log in back with the correct Apple ID to enjoy Apple Music songs.
3. Enable the 'Use Listening History' Feature
If you disable the 'Use Listening History' feature on your Apple Music, it will cause the Apple Music Replay not working issue. So, confirm whether you turn off that feature. If so, please turn it on. Here is how.
For iPhone:
Step 1. On your iPhone, go to the Settings app.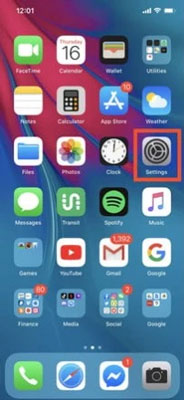 Step 2. Find the 'Music' option and touch it.
Step 3. Locate the 'Use Listening History' option and enable it.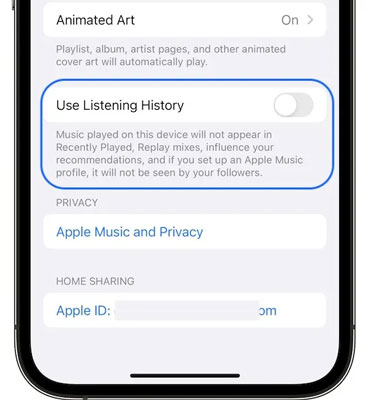 For Mac:
Step 1. Launch the Apple Music app on your computer.
Step 2. Head to 'Music' > 'Preferences'.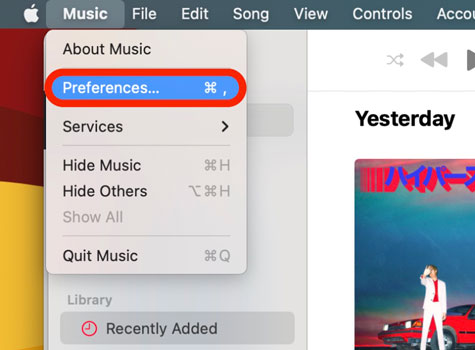 Step 3. Go to the 'General' tab to tick and turn on the 'Use Listening History'.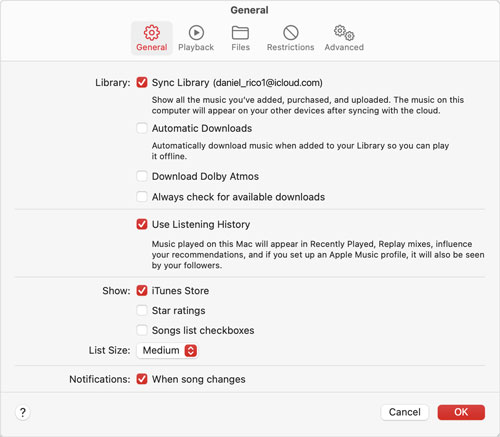 On Android:
Step 1. Open the Apple Music app on your phone.
Step 2. Click on the 'More' icon at the top of the screen.
Step 3. Choose Settings and then go to turn on 'Use Listening History'.
Once done, you may fix Apple Music Replay not updating problem. And please note that Apple Music can only create the playlist for the current year as it won't access your listening history for the previous years.
4. Start to Listen to More Songs on Apple Music
If you don't use Apple Music frequently and stream songs enough songs with it, you may get Apple Replay not updating. So, to resolve it, you can listen to more songs on Apple Music and try again.
5. Check the Internet Connection
Please confirm that you have a stable internet connection while accessing Replay Apple Music. If the internet connection is not good enough, you can change to use WiFi or cellular data.
6. Update Apple Music App and Your Device
If you use an outdated Apple Music app and device's system, you won't see the Apple Music Wrapped. So, you can check for any update of the Apple Music app and your device. And then go to upgrade them at once.
7. Restart the Apple Music App
You can try to force close the Apple Music app and then open it again to check whether it can fix Apple Replay Music not working issue.
Part 5. How to Convert and Download Apple Music Replay 2022
From the above, you knew how to see Apple Music Replay 2022. Also, you learned how to find Apple Music year-in-review for the past years. For the Replay Apple Music playlist, you may wonder if can I keep them forever for listening. In this part, we will show you how to convert and save Apple Music Rewind playlists and songs for offline playing with ease.
With the DRmare Apple Music Converter, you can do that without any effort. This intelligent software is applied to download and convert Apple Music tracks, playlists, albums, and audiobooks. And it can convert Apple Music to MP3, AAC, FLAC, M4A, M4B and so forth. Also, the converted audio keeps 100% music quality and 100% original ID3 tags. Besides, you can define the channel, codec and so on for your Apple music tracks.
By using this tool, you can easily get your year-in-review Apple Music songs to local files. Then you can move them to other devices for use without an Apple Music app and an Apple Music subscription. Also, you don't need to connect to an internet connection to enjoy Apple Music songs on your device.
DRmare Apple Music Converter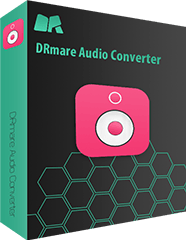 Download Apple Music Replay playlists with lossless quality
Convert Apple Music to MP3 and other audio formats
Working at a 30X faster speed with songs' full ID3 tags preserved
Listen to Apple Music songs offline anytime and anywhere
With DRmare Apple Music Converter, you can easily download and keep Apple Music Replay 2022 playlists forever. Now let's see a simple instructions on how to download Apple Music Rewind step by step.
Step 1

Load Replay Apple Music playlist to DRmare

After checking your Apple Music Replay list, tap '+ADD' to download it into the library. Then go to install and open DRmare Apple Music Converter on the desktop. The iTunes app or the Apple Music app will open also. Turn back to DRmare's interface, and hit the first "Load Library" icon to open the Library. In the left panel, choose 'Apple Music' and choose your Replay tracks. Then click the 'Add' to import them to DRmare.
Step 2

Edit the output settings for Apple Music Rewind playlists

Now, please click the 'format' icon from the bottom right corner of the DRmare. Then you can choose the output format for your Apple Music playlist. You can also reset codec, channel, sample rate, and bit rate by clicking the down arrows beside. Here are the suggested settings for Apple Music songs: MP3, 320 kbps, 48000 Hz, and keep other parameters in auto mode. If you convert audiobooks, you can also change the volume, speed, and pitch of the track. Just hit the 'magic stick' icon next to the track. The 'edit' icon beside is used to change ID3 tags.
Step 3

Convert and download Apple Music Recap playlists

Now press the huge "Convert" button on the right corner to start converting. After this phase is finished, you can hit the "Converted" icon to locate the local music folder. All converted Apple Music Replay tracks are in there. Then you can find them in the local folder on your computer. And you can transfer the files to other platforms for use offline.
Part 6. FAQs about Apple Music Replay
Q1: Is Replay Apple Music 2022 Available Now?
A: Yes, 2022 Apple Replay Music is here. You can see it on the music.apple.com/replay website on your browser.
Q2: How Often Does Apple Music Replay Update?
A: It updates once a week. It will change the order in your Replay mix weekly when you listen to a song.
Q3: Is Apple Replays Accurate?
A: Apple Music generates your year-in-review based on your listening history for the year. It is quite correct and accurate.
Q4: Can I Add A Playlist to Apple Replay Manually?
A: No, you can't. Apple doesn't allow you to import a playlist to Apple Music Recap manually. If you want to do that, you need to listen to the whole album or playlist for multiple times. Then it may be added to the Apple Music Annual Replay.
Q5: Why Won't My Apple Music Replay Work?
A: There are some factors that may cause this issue like internet connection, app updates, cache data and so on. To solve it, you can refer to the ways in Part 4.
Part 7. In Conclusion
Now, you learned more about Apple Music Replay. Just check your own Apple Music annual listening review at once. Also, if you want to keep the playlist forever, you can use DRmare Apple Music Converter. To use it, you need to download Apple Replay Music playlist first. Then you can use this tool to convert the playlist to common files for use anywhere offline.