Q: "I have just started to learn music editing with Ableton Live. My question is: can you use Apple Music with Ableton Live? I can't import tracks to my Live 10 from neither Apple music nor iTunes. I've tried converting those audio files in iTunes, but nothing works. Is this caused by the audio formats? Or any other reason? Should I need to purchase those songs? Please help. Very urgent to finish this task. Thank you."
Ableton Live is one of the best DJ software in the competition of DJ mixing tools. In contrast to many other similar products, Ableton Live focuses more on the live show. And that's the reason why it called "Ableton Live". It is like an all-in-one music producing tool, offering a suite of controls like turntablists for crossfading, adding different effects, etc.
Let's look back to the top questions. The issue is absolutely caused by the audio formats, but the format is not the only reason. In the following part, I will give you detailed instructions on how to import Apple Music to Ableton Live.
See also: How to DJ with Apple Music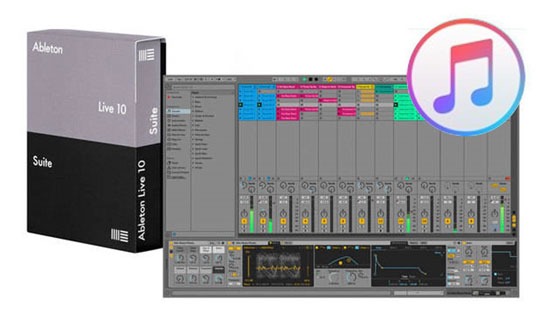 Part 1. Way to Stream Songs from Apple Music / iTunes to Ableton
To add Apple music to Ableton Live requires the copyright of the track, which means you can't directly drag songs from Apple Music or iTunes to Ableton Live. And that needs you to buy every song that you would like to edit in Ableton Live.
But for the bought songs, there is a special case: The music purchased from Apple Music before 2009. Those tracks are not available to use with Ableton Live due to the format protection.
Now you must realize that it is unpractical to mix Apple music with Ableton Live via buying Apple tracks from Apple Music or iTunes. You may spend too much on tracks, which is even more than the price of Ableton Live.
Here is a reliable workaround to help you add songs from Apple Music or iTunes to Ableton Live. This method requires you to use a powerful music converting tool named DRmare Apple Music Converter. This smart tool is specialized in downloading Apple songs as local files, converting Apple music to MP3, FLAC, WAV, AAC, M4A, M4B, nd different universal formats.
DRmare Apple Music Converter
Making use of the newest converting feature, this smart software is capable of keeping 100% the same quality as the original Apple streams, identifying and preserving audio metadata such as albums, titles, artists, track numbers and so forth. In addition, the high capacity of loading function allows you to import and convert a whole Apple playlist, no matter how many tracks contained in it. By using these features, you don't need to re-browse the store and purchase what you need one by one. Just load your Apple playlist to DRmare and download the existing audios with simple clicks.
Part 2. How to Import Apple Music to Ableton Live
Step 1

Stream Apple playlists to DRmare

Download and launch DRmare Apple Music Converter on your desktop. The Apple Music app or the iTunes app will automatically open. Discover and download songs to your Apple Music Library. Then find and tap on the first "Load Library" icon from the left side of the DRmare. Pick what you want to mix with Ableton and import them to DRmare.
Step 2

Edit output settings for Ableton

If you are using macOS, please direct it to the top left corner of the screen. Then open Mac's menu bar > Select the "DRmare Audio Converter". If you are using Windows, please go to the right side of the main window. Then choose the first "Format" icon. "Settings" window will show up. Now you can customize the output parameters as you need.
Tips: To make Apple music better usable on Ableton, you can choose output format to WAV or FLAC, sample rate to 48000Hz, bitrate to 512kbps.
Step 3

Covert Apple songs for Ableton

Now simply click onto the big "Convert" icon to begin. The converting time is based on the number of music in the playlist. When the task is accomplished, a red spot will appear the "History" icon. Check it to locate the "Converted" folder where all selected tracks kept.
Step 4

Import Apple Music to Ableton

Now you can move Apple tracks to Ableton. In Ableton, find the menu > "File" icon. Next please set up a "New Live Set" for a new project. Go to "File" > "Open". Click the "Converted" folder. Select a file and click to "Open". Now you can play and mix Apple Music with Ableton Live.
Tips: If you meet some problems in this step, please refer to this Q&A