Q: "Can I use Apple Music on Mixxx? I am a newbie in learning djing. My friend recommends Mixxx DJ software to me. And I am trying to figure out how to mix a new track by myself. But the problem is that I can't import music files from my Apple Music Library to the Mixxx Library. Those Apple tracks are bought from Apple Music before 2009. It seems like they are protected? Also, I can't add other downloaded Apple songs to Mixxx though I have subscribed to Apple Music. Any suggestion is welcome."
Mixxx DJ is a good start for DJ to beginners. It provides the most common functions to the digital DJ, and the open-source authorizes every user to customize many unique features. The wide compatibility of music formats is a good example. Mixxx fully supports audio tracks in MP3, AAC, FLAC, Ogg Vorbis, Opus, AIFF, and many other formats.
However, you will find that you are still stuck in the question on the top. The situation is slightly different. In the next paragraphs, I will reveal the differences and show you a feasible method to import Apple Music to Mixxx DJ.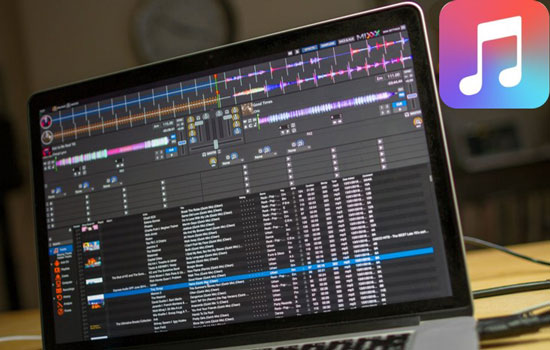 Part 1. Import Apple Music Playlists on Mixxx: Tool You Need
For starters, you should be clear about the essentials of Apple Music. It is a kind of streaming music service, which requires listeners to subscribe to it for music listening. Subscribers can download music for offline playback in the Apple Music app. But this downloaded music actually doesn't belong to them, which are protected by music copyright. To truly own the track, they need to buy it by paying an extra fee. And that explains why can't add the downloaded Apple songs to Mixxx.
For the purchased songs, there are other two cases. The music bought from Apple Music before 2009 are also limited and copyrighted, while songs bought from Apple Music after 2009 are unlimited. So that is the reason why can't import purchased Apple tracks to Mixxx.
To simply solve what we mentioned above, you need a powerful helper called DRmare Apple Music Converter. This specific audio converter for Apple Music is different from other similar products, which offers intelligent solutions to convert Apple audios to MP3, FLAC, WAV, AAC, M4A, M4B, and many other common formats.
DRmare Apple Music Converter
Using the latest smart converting feature, this tiny software is available to save 100% original quality and complete metadata, containing titles, albums, artists, track numbers and so on. It supports you to add and convert the entire Apple playlist at once, letting you import Apple Music playlists to Mixxx at one time. Just download and try this simple, quick, and comprehensive way to stream Apple Music to Mixxx.
Part 2. How to Get Apple Music on Mixxx: Approach to Use
Step 1

Load Apple songs, playlists or albums to DRmare

Open DRmare Apple Music Converter on your desktop. The Apple Music app automatically opens later. Browse and download Apple songs to your Apple Music Library in the Apple Music app. Then hit on the first "Load Library" icon from the left side of DRmare. Select what you would like to download and import it to DRmare.
Step 2

Change output formats and quality for Mixxx

If you are a macOS user, please go to the top left corner of the entire screen > find Mac's menu bar > Choose the "DRmare Audio Converter". If you are a Windows user, please tap on the first "Format" icon from the right side of the main screen. Format Settings will open for you to reset the parameters. To make Apple music better usable on Mixxx, you can choose MP3 for AAC, select FLAC for ALAC, alter sample to 48000Hz, change bitrate to 512kbps. And check "Save" to keep the modification.
Step 3

Covert the download Apple songs for Mixxx

Now just click to the big "Convert" icon to start. The process relies on how many audios you added before. When the mission is finished, a red spot will bounce on the "History" icon. Click it to locate the "Converted" folder. Please check if all selected songs are converted.
Step 4

Import Apple Music playlists on Mixxx

Open Mixxx on your computer. It will automatically scan and load audios from your local music folders if this is the first time you use it. Or you can manually hit "Add" to find the local music folder. Mixxx will monitor this folder and its subfolders to auto-input new tracks. Besides the "Converted" folder, you can connect other local music folders to Mixxx Library in advance. Finally, use the menu or directly drag and drop the audio to the waveform display. Now you have successfully to add Apple Music to Mixxx's deck.