Imagine working yourself on the music for weeks and now when it is finally prepared and you are ready to share it with our friends and family but not sure to make it in which audio format? M4A or MP3?
Or if you are an ultimate music lover and love to collect albums of your favorite artist and not able to download the music due to the confusion between these two audio formats according to your system, then this article will help you to understand the difference.
Just like you, many of us are also not able to know what's the difference between M4A and MP3. Don't worry. We got you covered with all the basic details of these formats.
In simple meaning, M4A vs MP3 are the only audio music formats that are being as a key tool to help us to download and stream our desired music from all over the world of any of our favorite artist.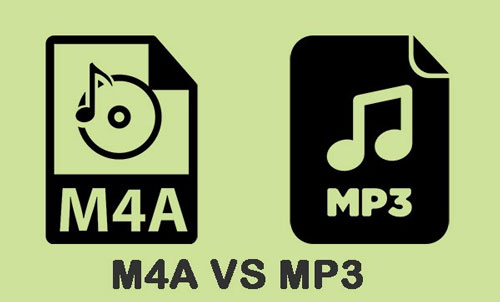 Part 1. What Is M4A vs MP3
What's M4A
File Extension: .m4a, .mp4
Format Type: Compressed Lossy
M4A is the (MPEG-4 Part 14) files that were formed purposely as a solution for Apple users to the MP3, though it is not an official thus can't provide the video. M4A has taken over the whole Mac-centric compressed audio formats completely and found its place when the iTunes store was born and grown into the primary format of music to be purchased in an online music store. This music is coded with lossy AAC compression which is capable of using ALAC in some situations too. M4A is also called as the successor of MP3 generation.
However, M4A is still the preferable format of audios being released on Mac and iOS App stores, along with Nintendo and products of PlayStation. Furthermore, the rapid ongoing process in M4A, shortly it will turn into a go-to format for audio.
Pros:
Its lossless quality assures the user's high-quality music with smaller files.
You can also use M4A format as your iPhone ringtone setup and can also rename it into M4R.
Easily stream a variety of kinds of music without any license and payment limitations due to not being protected.
Cons:
Only accessible in a limited number of devices.
No support for video.
What's MP3
File Extension: .mp3
Format Type: Compressed Lossy
MP3 is the audio format in an uncompressed form similar to WAV and AIFF format. These are MPEG-2 Audio Layer III born out of cause when in the mid-90s the internet sharing has taken over the hype, people realized that sending uncompressed files over dial-up connections was beyond impossible. So to enjoy good music at the cost of high file size, MP3 was the solution of this enormous music sharing problem. It is file format that supports the download and playing of audio-only.
Now, MP3 is the most common audio format file in the industry. Furthermore, it was introduced in the technology industry before M4A, also termed as music only, as it is the less developed version in comparison to M4A.
How MP3 Working Is Different in Comparison with M4A
MP3 requires the compression algorithms for the working procedure, these algorithms helps to reduce the file of the size. Moreover, this MP3 format also allows Apple users to easily download the files, save it, and freely share it with other pairable devices as well.
Pros:
Accessible sharing to almost every other device except iPhone and iOS system.
The compressed algorithm helps in easy storage.
You can download audio files easily.
Cons:
Quality-wise is not as good as M4A's audio format.
Part 2. Key Features of M4A vs MP3
Both the audio formats are designed to deliver audio-only music experience. However, each format has its advantages and disadvantages and it'll be very biased to choose any clear winner over each other. Since we all know MP3 has been introduced long gone in the back days and is being supported by multiple platforms for its compression algorithm.
In vice versa, M4A delivers the best quality music experience, but it's being adapted slowly.
The following are the features based comparison between MP3 vs M4A:
Quality:
M4A provides better quality music in comparison to MP3 which serves less quality.
File Size:
There's no such big difference in file size in both the formats as it depends on the bit rate.
Compatibility:
M4A doesn't provide easy streaming compatibility. However, MP3 easily supports HLS and MPEG-DASH.
DRM Support:
M4A provides low support but MP3 gives high coverage.
DRM:
M4A Supports M4P but not DRM support by MP3.
Compression:
Better from M4A and MP3 Less compared to M4A because of the technology used.
Extra Tips: How to Convert M4A to MP3
If you are facing any problem regarding sharing your M4A songs to your loved ones and family friends, simply you can use DRmare Audio Converter to download and convert M4A to MP3 step-by-step.
Mentioning the simplest steps down below to start converting your favorite songs and sharing it freely with anyone.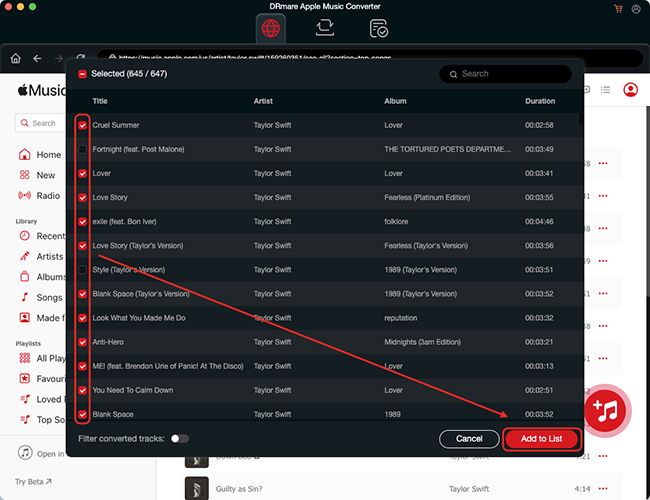 Install the DRmare Audio Converter on your PC and launch the program.
Import M4A audio files to DRmare Audio Converter.
Customize output settings according to your needs.
Simply start to convert M4A audios to common MP3, AAC, WAV, etc. of your own choice.
Move and play converted M4A audios on any device.
Conclusion
We hope that this guide is enough to let you know about the basic difference between MP3 vs M4A quality-wise as well as format file size-wise. Telling you which one is better over another will not be fair judgment from outside, because it depends on the set of priorities you've maintained for your music listening experience.
If you are concerned about sound quality, so your ultimate choice will be M4A. If compatibility is your main concern, then settle for the MP3. Hope these format discussions will help you in finding your best pick and have a great music experience.