"My Apple Music is not playing on Android. Anyone know the magic to solve it?"
"I have switched from iPhone to Galaxy S9. When I login Apple Music on Android, it says I need a verification code, how do I get it?"
"My Android seems not compatible with Apple Music. When I try to launch it, it says it can't be opened."
Apple has been keen to promote its music service to more and more people. The Apple Music for iOS app together with the Android app are released at the same year 2015. But Apple rarely updates the service on Android and focus on the the iTunes users and iPhone, iPad, iPod audience. As a result, many problems may occur on the Android version.
If you also encounter one of these problems that Apple Music not working on Android, you can follow this guide to solve it immediately.
View also: How to Play Audible Audiobooks on Android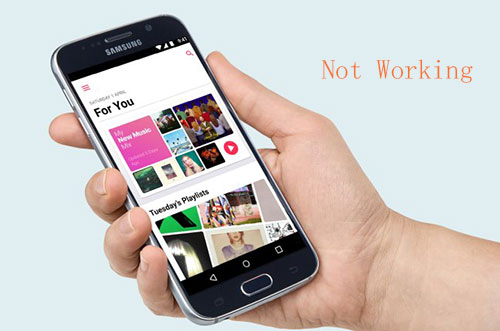 Part 1. How to Get Apple Music Verification Code on Android
Apple has the two factor authentication mechanism to protect your account safety. If you have already logged in your Apple Music from iTunes or iOS device before, you will need a new verification code when you use a new device or web player. If your Apple Music not working is caused by the verification issue, you can follow the following common ways to get a verification code.
Allow Login from Trusted Devices
This works well on a trusted devices with iOS 9 or OS X EI Capitan or higher versions.
1. Sign in Apple Music for Android with your Apple ID and password.
2. The sign in notification will show on all your trusted devices including mobiles devices and computers.
3. Tap "Allow" button, you will see the verification code and input it to login on your new device.
If the notification doesn't pop up, you can also go to the settings window of your devices to get it. Take iPhone X for example, you can click "Settings" menu > Click "Password & Security" > Click "Get Verification Code".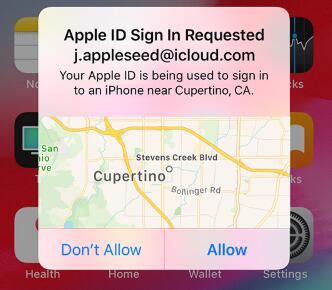 Get a Verification Code by Text or Call
If you have already ditched your old devices, the method above won't work. But as long as you still have your original phone number, you can choose to get the code by phone.
1. From the login screen, choose the option to send the verification to your trusted phone number.
2. You will get the code by text or phone call from Apple.
3. Fill the code to complete login.
In case you try all these ways still can't login, you may need to contact Apple Support to help you recover your account. It takes a few days.
Part 2. Solution to Apple Music Android not compatible
The latest Apple Music update for Android has solved many bugs and work much more stable. It works well Android 4.3 or above. If your Apple Music is not playing because of low Android version, please upgrade it.
Upgrade Android System
If you have the old models of Samsung/LG/Huawei Android phones with lower than 4.3 system, they won't be compatible with Apple Music for Android. Please go ahead to upgrade the system.
1. Start your phone and make sure it is connected to WiFi.
2. Click "Settings" > "About Phone", you will see an Update button there when a new version is available.
3. Tap the "Update" button to update it. It may take couples of minutes. Please don't use the phone during updating and make sure it has enough battery.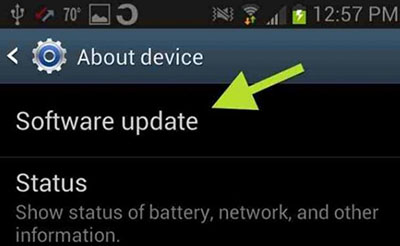 Apple Music for Android Not Working on Compatible Devices
If you have already updated your system, but still encounter the issue like crash, not opening or downloading, you can try these solutions.
Method 1. Check if you have a good Internet connection.
You can switch to a different network from WiFi to Cellular data or vice visa. In addition, please make sure you don't use any proxy settings because they will affect the Internet connection.
Method 2. Reinstall the latest Apple Music app.
Apple Music is not perfect especially the Android version. If some files are corrupted, you can uninstall the old version and then head to the Google Play store to get the latest version.
Method 3. Restart your Android.
No matter what fast your device runs, sometimes the process could be stuck. So please just turn off your Android phone and start from scratch.
Part 3. Best Solution to Solve Apple Music Songs Not Playing on Android
Tried all the solutions but still encounter that Apple Music songs stop playing? Well, that could be caused by the update of the Apple Music Library. Apple has contracts with many artists to stream their songs. Some may put their songs off the shelves when the contract is ended. You can download the songs offline to keep them on your Android forever.
DRmare Apple Music Converter for Windows/Mac is such a tool to help. It supports to unlock DRM from all Apple Music files, so that you won't be limited by the Apple's FairPlay DRM protection. With it, you can quickly convert your M4P files to MP3 and put them on SD card, USB flash drive for your other devices with any versions of systems such as Android Auto.
Easy Apple Music Converter
Step 1

Launch DRmare converter

DRmare depends on iTunes to help you decrypt music files. Please make sure you have installed both DRmare software and iTunes. Then you can start DRmare.
Step 2

Import Apple Music M4P files

Please download the M4P files completely on your iTunes first. Then click the "Add Files" button from the bottom left to browse and import the Apple Music files.
Step 3

Set a format for Android

Click the format icon from the bottom right, it will pop up the format settings window. You can choose the format and parameters depending on your requirements. If you don't have any special needs, it is a good idea to keep all the default settings.
Step 4

Batch Convert M4P to MP3

Finally click the "Convert" button to save the the Apple Music offline. After that, you can copy the songs to your Android device. You can enjoy them in the way you like freely.