"Anyone has encountered the same issue like me? The Apple Music songs keep freezing or skipping on my iPhone with iOs 12 and iTunes 12.9. This is really a bummer when I am listening to a favorite song. "
"The Music app will just randomly pause or skip to some random place. What is the problem?"
Apple Music skipping error is not new and you are not alone. There are many complains from users online especially the iOS 11.3, 11.4 users or so. This could be a small bug of the Apple Music server. Besides that, there are a lot of other factors may cause your songs to pause or skip. Here we will offer the top tricks to solve the Apple Music skipping problems completely or at least reduce the error happening times.
View also: How to Solve Apple Music Android Issues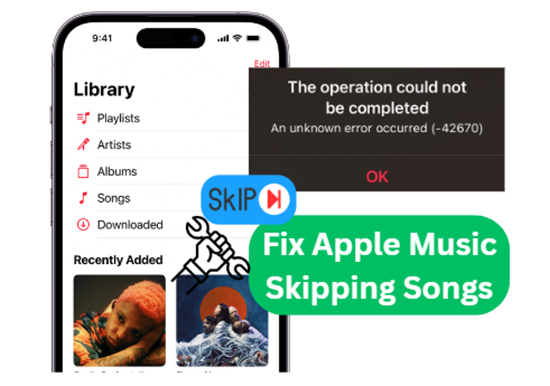 Trick 1. Stop "Shake to Shuffle" Feature on iPhone/iPod Touch
The new iOS devices contain the built in motion sensor that let's you shake the device to play music randomly. This is pretty cool sometimes. But it is too sensitive. If you are walking or running, you won't like Apple Music stop playing or skip songs frequently. You can simply go to the settings of the Music app and switch the option "Shake to Shuffle" off.
Trick 2. Check If the Songs Are Still Available In Apple Music
The music are offered by the artists or record labels by signing up contractions with Apple. If the contractions are expired, the songs will be put off shelf and those Apple Music songs will disappear. The easy way to find out if the songs are still available or not is to try to play them or check if they are greyed out. To avoid Apple Music pausing or skipping, you can remove the songs from the playlists.
Trick 3. Reset Your Mobile Network or Wifi
As an online streaming streaming service, Apple Music comes with DRM encryption. You need to have good network to cache and stream all the songs online. Even if you download the songs offline, it will still need to check if you an legal user who has subscribed to the service constantly. If the device has been offline for a long time, Apple Music problems may occur. You can try to turn on and then turn off Airplane mode. Or just switch between cellular data and Wifi. Another way is to click "Settings" > "General" > "Reset" > "Reset Network Settings" to start from scratch.
Trick 4. Restart Your iPhone/iPad/iPod Touch
iOS devices run stable. But sometimes there maybe still some small bugs or software compatibility which cause your phone to act weirdly. You can always restart your devices to fix the Apple Music not playing problems. Just hold the "Home" and "Power" buttons together for a few seconds and choose "Restart" on the popup window.
Trick 5. Redownload Your Apple Music Tracks
With the DRM protection, Apple Music songs can't be played unless they are downloaded completely and authorized with the Apple ID and password. If the songs are interrupted during downloading, you may fail to get the complete music files. Please delete them and start over to download them one by one.
Alternatively if you have the songs playable on iTunes, you can sync them to your iPhone via the Apple Music Library in an easy way.
Trick 6. Try to Sign Out and Sign In Your Apple Music
All the songs you downloaded from Apple Music are related to your Apple ID. To avoid iPhone music skipping issue, please make sure you have signed in with the correct Apple ID and password. We'd suggest you try once again to sign in and sign out.
Trick 7. Turn to Apple Support for Help
If you encounter any problems about Apple products or services, you can contact Apple Music to get professional help. Just click the link > "Contact Support" > Click "Get Help" under Talk to us > "Apple Music" > "Saving & Playing Songs" > You can choose to email, schedule a call or chat immediately.
Also, you can simply submit a ticket from the Apple community too, the professional experts will help you as soon as possible.
Trick 8. Update Apple Music App
Apple has realized this playback issue and they constantly update the Music app to improve the listening experience. To make sure your Music app works best without any skipping errors, please go to the App Store to locate the app and click "Update". It takes a few minutes.
Trick 9. Try to Play Apple Music on Third Party Players
Apple Music are limited to play on the Music app or iTunes due to the DRM protection. This encryption prevents illegal distributions but it also cause some problems on the playback for legal users.
If you have tried all the tips but still can't fix the playback error, one of the best way is to try this once and for all solution to remove DRM. Just let the DRmare Apple Audio Converter for Windows/Mac to help you.
Leading Apple Music Converter of 2019
The best music players for iPhone are VlC, KMPlayer, Vox and much more. If you find any players that you want to play Apple Music on, just convert the M4P files to common formats MP3, M4A and so on. This will help you solve any Apple Music skipping problems on iOS devices. And the process is not difficult at all. Just import your songs and click "Convert" button. For more tips, you can visit: How to Convert Apple Music to MP3.