Q: "Can I buy books on Audible without a subscription?"
Audible is a great place to purchase and listen to audiobooks. It has many original and exclusive products that no one else has. But you'll need to pay a specific fee or subscribe to an Audible membership. Besides paying a certain fee, there are other ways to buy Audible books without a subscription. Read on and we show you how to buy Audible books without membership in 6 ways.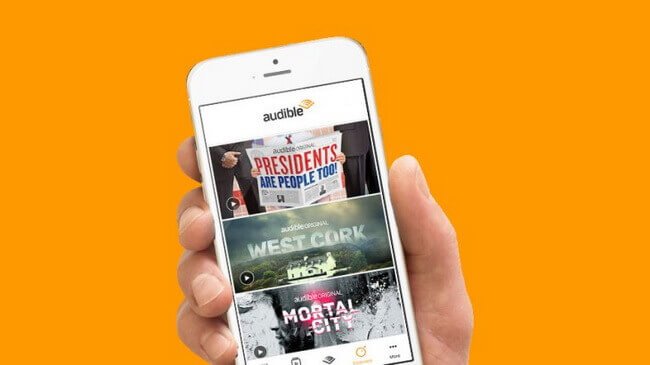 Method 1. How to Buy Audible Books without Membership - Free Trial
Amazon wants more users to enter the audiobook world. If you are new to Audible, you will be able to enjoy 30 days free trial with two free audiobooks. Please follow the steps.

Step 1. Visit Audible website to search and locate the audiobook you want.
Step 2. Click "Free with 30-day trial" button, it will prompt you to sign in. You may login with your Amazon account or create a new one.
Step 3. If your account is already have a credit card, you will get the 1 free credit to complete the order successfully. Else please input your credit card info and click the button "Start free trial" to complete the process.
Step 4. After buying, your book should show up on the library. You can download it to listen on Windows Media Player, iTunes or Audible app.
Step 5. Finally please don't forget to unsubscribe Audible subscription before it expires to avoid any subscription recurring payment.
Method 2. How to Buy a Book on Audible without a Membership - Special Daily Deals
To thank the support of customers, Audible offer 1 popular audiobook at an extremely low price everyday. These books may not be interesting for everyone, but if you keep paying attention, you should find some books you really like.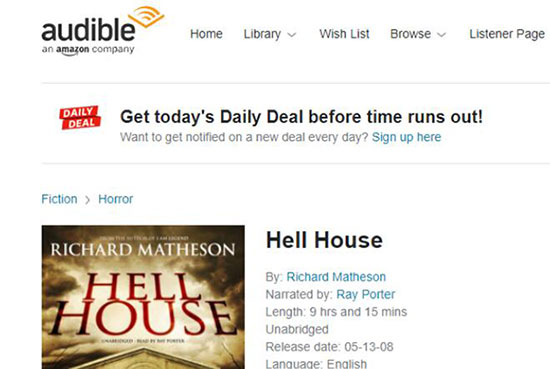 Step 1. Go to the Audible desktop website and navigate to the "Daily Deal" section to find the book which is on sale.
Step 2. If you are satisfied with the Audible file, you can click "Buy" button to buy it at the lowest discount price.
Step 3. Else if you don't like the book, don't worry, you can also sign up the daily deal newsletter by go to to "Account info" > "Notifications" > "Daily Deal" and input your email address. After that, you will get the notification everyday by email.
Step 4. When a book you want is on sale, you can simply click the link from your email to buy it before it is expired.
Method 3. How to Buy Audible Books without Subscription - Whispersync Deals
If you also like Amazon eBooks, this deal is for you. Whispersync is a service that lets you automatically sync eBooks with related audiobooks so you can keep switching between reading and listening. It also automatically keeps track of your last read or listen history. Even better, Amazon is offering great deals to buy the bundle. Sometimes it's even cheaper to buy a bundle than to buy either of them individually.
Step 1. Go to Amazon and navigate to the Kindle Store. Then select the option of 'eBooks with Audible Narration' under 'Audible Narration' on the left.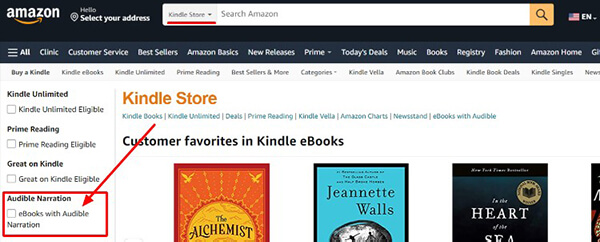 Step 2. Find the book you want and choose 'Add Audible narration to your purchase for just $X.XX' under the 'Buy now' button.

Step 3. Go to complete the purchase and then you will see this book appear on your Audible library.
Method 4. How to Buy Books on Audible without Membership - Amazon Prime
If you're an Amazon Prime member, you can stream over 40 Audible audiobooks for free. The selection of these books changes from time to time, you can browse to see if the one you want is available. But you can only listen online, there is no download option.
Step 1. Open the Audible app and click on 'menu'.
Step 2. Select 'Channels for Prime' and then you can start listening to Audible books for free.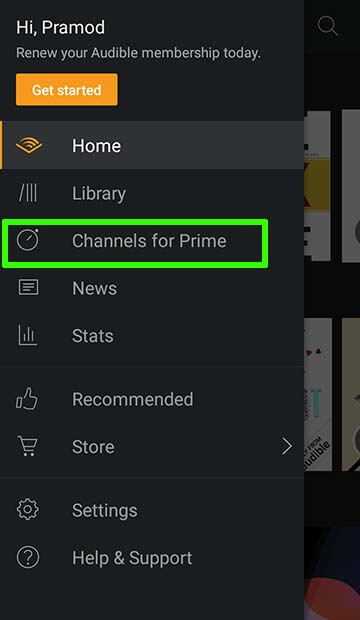 Method 5. How to Buy Audible Books without Membership - Free Listens
Audible has a free listening section that lets you stream hundreds of free audiobooks, podcasts, and more. No Audible membership or free trial is required, just log in with your Amazon account. The selection is extensive, including classics, literary fiction, romance, sci-fi, and more. You can find the one you are looking for.
Step 1. Go to the Audible Free Listen page. Then sign in with your Amazon account.
Step 2. Browse the book selection or search for the book you want.
Step 3. Click on the book and select 'Play'.
Step 4. You can also click on 'Buy for $0.00' to buy an book on Audible without membership.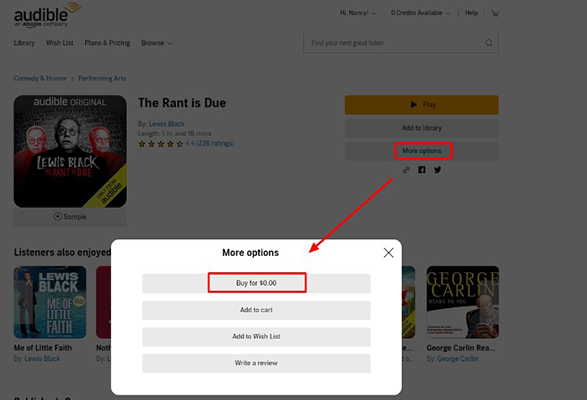 Method 6. How to Buy Audible Books without Subscription - Credit Card/Credits
Can you buy Audible books without a membership? Sure, yes. You can buy Audible books without membership with the most primitive way - by purchasing individual books with a credit card or credit card.
Step 1. Go to Audible's website or open the Audible app.
Step 2. Find the book you want to listen to and tap on it.
Step 3. Click 'Buy for $X.XX' to pay with your credit card. Or click on 'Buy with 1 credit' to buy with an Audible credit.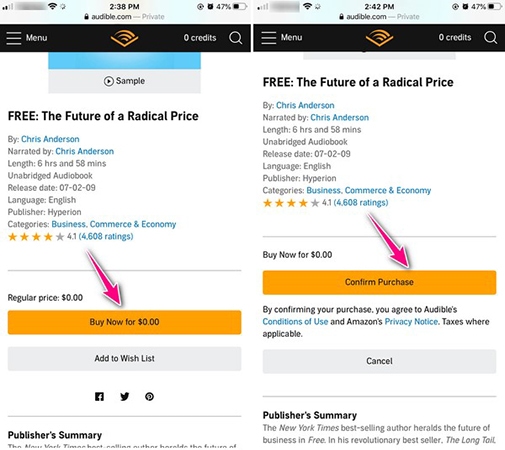 Learn More: How to Use Audible Anywhere without Limits
With the above 6 methods, you can buy Audible books without membership, which can save you a lot of money. However, it's worth mentioning that Audible books can only be played on authorized devices.
To listen to Audible audiobooks on any device, you need a third-party tool called DRmare Audible Audiobook Converter. It is designed to help you remove Audible protection and convert Audible books to MP3, AAC and more popular files. After conversion, you can listen to audiobooks even without subscription, or transfer them to play on other unauthorized devices.
DRmare Audio Converter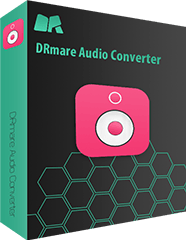 Remove protection from Audible AA/AAX files, iTunes audiobooks and common audio files
Batch convert Audible files to MP3, AAC, M4A, FLAC, M4B, and WAV
Save 100% original sound quality and all the metadata info
Split large audiobook files into small chapter/hour/minute/second and so on
Step 1

Load Audible AA/AAX books

Before starting, please make sure you have already downloaded your audiobooks already. After that, you can click the two buttons from the bottom left to import your Audible books from iTunes library or computer folder.
Step 2

Select output audio format

DRmare Audio Converter offers several options for you to select the output format. You can pick up the one according to your requirements. If you'd like to play the output file on any devices or you want to split the files by chapters, then MP3 is the best format doubtlessly. If you'd like to keep the original chapters, then you can choose the output format as M4A or M4B. If you'd like to keep lossless quality, then please choose FLAC or WAV.
Step 3

Convert Audible AA/AAX audiobooks

Finally, you can choose the output folder and click "Convert" button to download and convert Audible books. You will locate the files on the folder you specified. To make it better to manage your files, you can also choose the option to archive files by album/playlist before converting.
In Conclusion
Can you use Audible without a subscription? Yes, you can use the 6 tips above to buy non-member Audible books and listen to them for free. They're perfect tips for users who only occasionally listen to Audible books. If you are a big fan of Audible, then you can't miss DRmare Audible Converter. It allows you to convert Audible books to popular files and listen to them anywhere.