Sometimes it's relaxing to put on your headphones, open a story, close your eyes and enter a fantasy world. Audiobooks are really a trend. Whether you like to read or not, audiobooks are a great form of entertainment for everyone. Whether you're walking, cooking, or driving, you can open a good audiobook and listen to it.
Audible and Storytel are two well-known audiobook services. What's the difference between them? Audible vs Storytel, which one is better? If you have to choose between Audible and Storytel, it's best to read this article first. We will compare them according to the aspects that interest users the most, so you can make the right decision.

Part 1. Audible vs Storytel: All-around Comparison
When it comes to Storytel vs Audible, it is best to compare them in detail from all aspects. Therefore, we will compare Audible and Storytel in terms of subscription, library, features, and compatibility. You can have a clear understanding of them.
1. Storytel vs Audible: Review
Storytel Review:
Storytel is one of the world's largest audiobook and eBook services. It offers over 500,000 titles for listening and reading worldwide. It is headquartered in Stockholm, Sweden. And it offers services in 25 countries. Its English audiobooks service Audiobooks.com is available in more than 150 countries.
Storytel's streaming business is carried out under the Storytel and Mofibo brands. Storytel's publishing business area is conducted through StorySide and well-known Nordic publishers such as Norstedts and Gummerus.
Audible Review:
Audible is the biggest audiobook producer and retailer in America. It is an audiobook and podcast service that allows users to purchase and play audiobooks and other forms of spoken content. You can purchase audiobooks individually or under a subscription type. If you subscribe to Audible, you will receive "credits". You can redeem them for content on a monthly basis and receive a curated library of on-demand content. The service is owned by Audible, a wholly owned subsidiary of Newark, N.J.-based Amazon.com, Inc.
2. Audible vs Storytel: Free Trial
You can try Storytel and Audible for free for a limited time. In this way, you can form your own impressions of the features and offers of the application. After the free period ends, you can choose to pay to continue your subscription. Or, you can choose to end your subscription early. Here are the relevant free periods.
Storytel - free for 3 days
Audible - free for 30 days
3. Storytel vs Audible: Subscription
As we said above, when the free trial ends, you need to pay for your subscription. So, we will compare Audible vs Storytel subscriptions in detail.
Storytel Subscription:
Storytel offers unlimited listening for a fixed monthly fee. If you cancel your Storytel subscription, you may not keep the audiobooks you download in the app. You only pay for the option to access Storytel. Below are the three subscription types on Storytel: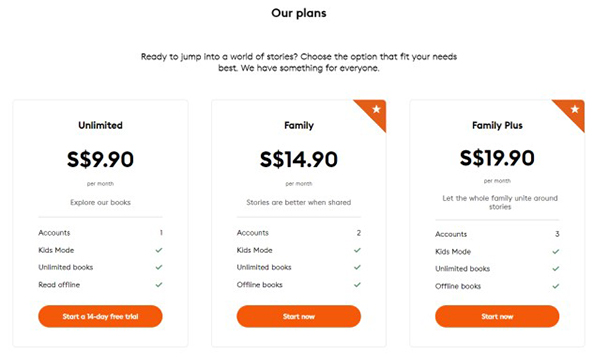 (1) Storytel Unlimited
This is the standard subscription. This subscription will automatically renew once your free trial period is over. The cost is S$12.98 per month. This type can be used by one adult and one child up to and including 12 years old. You will also receive a discount if you choose to subscribe for a one-time period of 6 or 12 months.
(2) Storytel Family
The cost is S$14.9 per month. This type can be used by two adults and two children up to and including 12 years of age.
(3) Storytel Family Plus
The cost is S$19.9 per month. This is the membership type with the most features. You can have three adults and three children under the age of 12 using a Storytel Family Plus account.
Audible Subscription:
Audible works differently. You get credit each month that you can redeem for audiobooks. If you stop paying for Audible, you can keep the audiobooks in Audible's digital library. You can get more credit each month with a higher monthly price. This is a good option if you listen to more than one audiobook per month.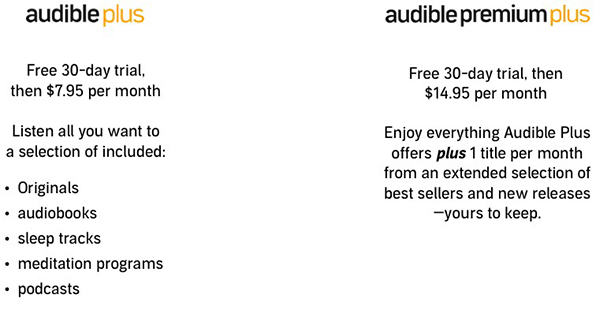 (1) Audible Plus
$7.99 per month. This lets you listen to thousands of Audible original shows, podcasts, sleep tracks, and meditation programs as you wish.
(2) Audible Premium Plus
$14.99 per month. This includes access to the premium catalog, as well as one title per month of your choice that you can keep in your library forever, even if you cancel.
(3) Audible Premium Plus (2 credits)
$22.95 per month. Same as regular Premium Plus, but you get two audiobooks per month that you can keep in your library forever.
(4) Audible Premium Plus Annual (12 Credits)
$149.50 per year. This option is the same as Premium Plus, only cheaper because you are paying for a year at a time. In this plan, each credit is approximately $12.50.
(5) Audible Premium Plus Annual (24 credits)
$229.50 per year. Same as the annual plan above, but you get 24 credits in a year instead of just 12. This plan is cheaper because each audiobook costs about $9.56.
All options include a 30-day free trial. If you get Premium Plus, that means you get a free audiobook and can also listen to all those Audible originals and more. If you have an Amazon Prime subscription, you can even get two premium titles as part of the Premium Plus free trial.
4. Audible vs Storytel: Library
There is a big difference between the audiobooks offered by Audible and Storytel. Storytel has the best selection of Norwegian audiobooks, while Audible has a very small selection of Norwegian-language literature. Audible has the advantage that the app has a large selection of international audiobooks, mainly in English.
Storytel Library:
Storytel contains a huge library of over 350,000 titles. There are many genres to choose from: original series, e-books, children's, fiction, classics, romance, erotica, and so on. This makes the app suitable for young and old alike. More importantly, there are many original stories exclusive to Storytel. You can choose any book you currently want to listen to. And if you don't like it, you can switch to another book at no additional cost.
Audible Library:
Audible contains a library of over 200,000 audiobooks, many of which are classics or bestsellers. One of the best things is that you can listen to top authors narrate their books. In other cases, professional actors narrate popular books and classic works.
5. Storytel vs Audible: Additional Features
Both Storytel and Audible have some wonderful features that enlighten you. In this part, we will introduce Audible vs Storytel additional features to you.
Storytel Additional Features: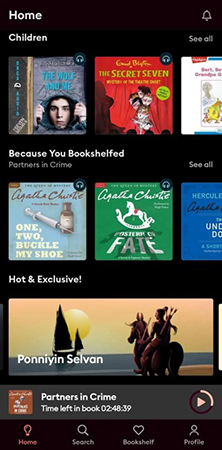 (1) Track your reading. Storytel can keep track of the books you've listened to. And it shows you a selection of books you might like based on your reading preferences. More often than not, these selections are very appropriate. You can also track new releases and popular books of the day through the home page. If you're not interested in personalized recommendations, you can turn it off by going to your "profile", clicking "Settings", "Privacy", and then turning off "Notifications".
(2) Different native languages to choose from. Storytel offers titles in more than a dozen regional languages, including Tamil, Telugu, Kannada, Malayalam, Hindi, Odia, Gujarati, Marathi, Assamese, Bengali, and Urdu.
(3) Offline listening. You don't need to worry about the internet connection or lack of it. You can simply download the titles and listen to them when you are offline.
Audible Additional Features: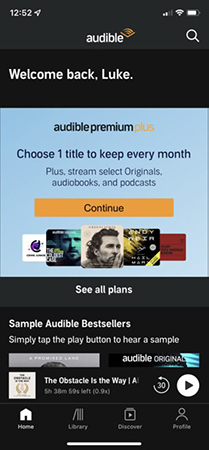 (1) Wonderful discovery. When you press the "home" icon, you can get different sections to show lots of good audiobooks for you. In "Sampling Audible Bestsellers", you can listen to snippets of recent bestsellers to see if you like them. The "From Your Wish List" shows the books you've added to your wish list, starting with the most recently added.
(2) View your library by desire. You can select different options to view your library. These options include All, Not Started, Started, Downloaded, and Completed. You can also see alternative ways to view your content or find new listeners. You can sort by All, Audiobooks or Podcasts, Wishlist, Bookmark, Author, and Type.
(3) Audible Collections. With this section, you can create your own audiobook groups. This makes it very easy to keep track and listen to what you want to listen to at the right time. It makes finding books a lot easier and sharing some of your favorites with others.
6. Audible vs Storytel: Compatibility
Audible and Storytel are good and available on many devices. Now we will show their compatibility.
Storytel Compatibility:
(1) If your vehicle is compatible with Android Auto, you can connect your phone to the car display. If you have downloaded the Storytel app on your phone, you will be able to listen to audiobooks directly through Android Auto.
(2) You can cast Storytel directly to your TV via Google Chromecast.
(3) You can install Storytel on your Apple Watch. (The minimum requirements for the Storytel app in Apple Watch are Apple Watch Series 3 and Watch OS 7 or later.)
Audible Compatibility:
Audible is compatible with several different devices, including: iOS and Android devices, Alexa devices, Windows Phone, Flame Tablets, Kindle Paperwhite (10th Gen), Kindle (8th Gen), Kindle Touch, and more.
Part 2. Comparison Table
Below is the summary table of Audible vs Storytel. You can get a quick comparison between them.
| | Storytel | Audible |
| --- | --- | --- |
| Free Trial | 3-day free trial | 30-day free trial |
| Subscription | Family(S$14.9/month), Family Plus(S$19.9/month) | Plus($7.99/month), Premium Plus($14.99/month) |
| Library | 350,000 titles | 200,000 audiobooks |
| Additional Features | Track reading, offline listening, multiple language | Wonderful discovery, view library by desires, Audible Collections |
| Compatibility | Android, iOS, Android Auto, Google Chromecast, Apple Watch | Android, iOS, Alexa devices, Flame Tablets, Kindle, Kindle Touch |
Part 3. Conclusion and Suggestion
Audible vs Storytel, which is better? It depends on which aspect you value. If you mainly want to listen to Norwegian audiobooks, you should go with Storytel. If you are looking for English audiobooks and want a large selection of international audiobooks, Audible is the best choice.
However, no matter which service you choose, there is one thing you need to remember. That is that after your subscription expires, you can no longer listen to the audiobooks you downloaded. So here we offer you a professional tool called DRmare Audible Downloader. It enables you to download Audible audiobooks to your local drive. By this way, you can listen to Audible audiobooks even if your subscription has expired. You can keep the Audible books you downloaded forever.
DRmare Audio Converter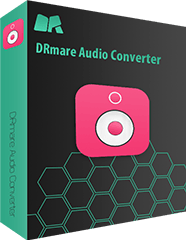 Download Audible books for offline listening forever
Listen to Audible audiobooks after the subscription expires
Convert Audible books to MP3, FLAC, AAC, and others
Split Audible books by chapters, keep original sound quality
How to Download Audible Books for Listening Forever
Here you will learn how to download Audible audiobooks to common files via DRmare Audio Converter. To begin with, you need to download the DRmare Audio Converter via the "Download" button above.
Step 1

Import downloaded Audible audiobooks to DRmare

To add the downloaded Audible audiobooks for downloading, please press on the 'add files' button at the bottom left. And then you can batch add your desired Audible books to DRmare Audible Downloader.
Step 2

Select audio format for Audible books

DRmare Audible Downloader allows you to choose the output format. For example, you can convert Audible to MP3 by selecting the MP3 output format. Moreover, you can reset the codec, channel, sample rate, and bit rate. Click on 'OK' to save your settings.
Step 3

Download Audible audiobooks to local

Finally, click on the 'Convert' button. And the program will start downloading and converting your added Audible books. They will be saved on your local drive. You can find them by clicking the 'converted' icon. Now you can listen to them even if you have canceled your subscription. You can also keep them forever if you want.