"Can you download Audible books?" Audiobooks offer an easier and more convenient way for users to get knowledge from books. The best way to listen to AAX files could be to get an Audible AAX download. After that, users can play audiobooks on devices anywhere even offline.
For downloading Audible audiobooks, the process on different devices is different. If you are the Audible newbie, you may wonder how to download Audible books on devices. But please don't worry! Here, you can find out a complete tutorial to download AAX from Audible no matter which device you are using is. And then, you will see how to play AAX files on iPhone/Android/PC/Mac as well. Let's move on to the detailed guide below.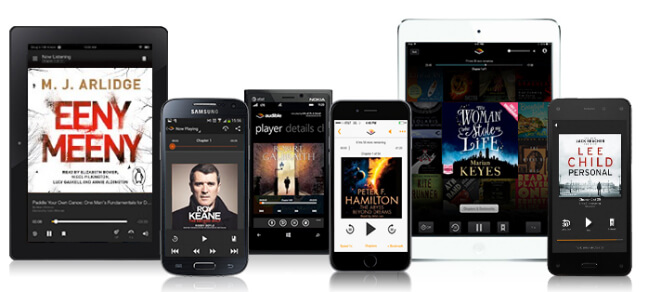 Part 1. How to Purchase Audible Audiobooks before Downloading
Audible, also called Audible Store, is one of the largest selections of audiobooks. It is the largest producer and retailer of downloadable audiobooks in the US. It provides a 30-day trial period for all users to explore its features. Without a monthly subscription, users have the ability to buy a title from Audible. They can also be downloaded to hundreds of devices for offline playback at any time.
But before downloading Audible books, you need to buy the books in advance. To make it, there are some ways for you. Here we will introduce two ways for you to purchase Audible audiobooks. Just find the steps below.
Way 1. Purchase Audible Books via Audible Website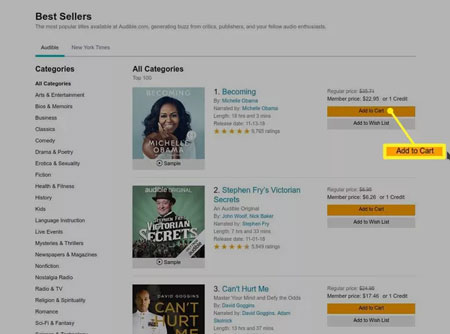 Go to the Audible website via the web browser on your computer. Then sign in with your Amazon account.
Search the audiobooks that you want to buy. Once found, choose it and click 'Add to Cart' button to add it to the Audible shopping cart.
Click on the 'cart' icon at the top bar to head to the Audible shopping cart. Then hit the 'Next Step' to open the order page.
Enter your credit card and press on 'Complete Purchase' to buy the audiobook.
Way 2. Buy Audible Books by Audible App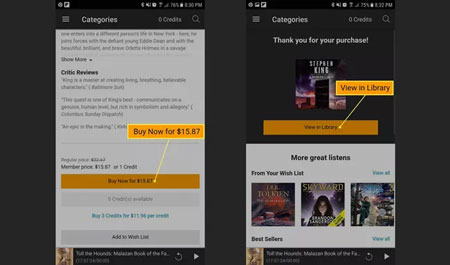 Open the Audible app on your device.
Choose a book you want. Then click on the 'Buy Now for $[price]' button.
Select 'Confirm Purchase' from the pop-up screen. Once done, you can see a confirmation screen.
On the Audible iOS and Android app, click on the 'View in Library' option to check the book in your library.
Part 2. How to Download Audible Books to PC
From above, we learned how to buy Audible audiobooks. Here in this part, we will talk about the steps on how to download Audible books to PC in advance. Then you can see how to play AAX files on PC as well.
To download Audible files on a Windows computer, you have to download an extra assistant. It's namely Audible Download Manager. It can help you download and import Audible files to iTunes, WMP, or AudibleManager players on PC. After that, let's see how to get Audible AAX download on PC below.
Method 1. Download Audible Books to PC via Audible Download Manager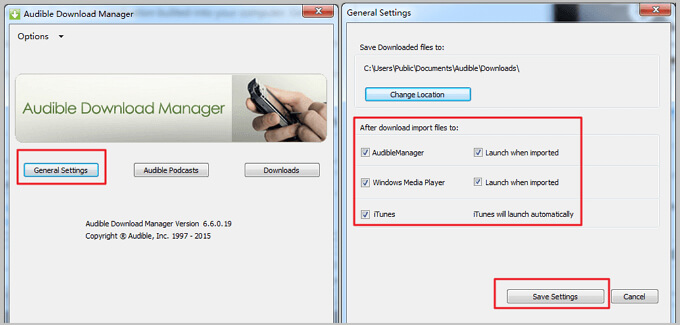 Step 1. Please check whether you have downloaded Audible Download Manager on PC. If not, please install this stunning software on your Windows computer.
Step 2. Double click to launch it, and then you can touch the General Settings icon to open a new window. In the pop-up window, you can change the location to save the downloaded audiobook files. AudibleManager, iTunes, and Windows Media Player are available in the selectable options. Please check the mark next to the target media player you want.
Step 3. Open the web browser and enter into the Audible's Library Page. Please log in with your personal Audible account and password. Now, you can find out favorite audiobooks from My Books.
Step 4. Hit on the Download button. And then Audible Download Manager will open and download from Audible to PC. You can find them in the destination media player you chose to import these files to.
Now, you can start to play AAX files on Windows computer through the media player.
Note: If you'd like to download Audible books to iTunes, it will pop up a window. You need to authorize your Audible account to play on iTunes. You can locate all Downloaded Audible audiobooks in iTunes by clicking the Book > My audiobooks icon.
Method 2. Download Audible Books to PC via Audible App
The Audible app is available for users who are using Windows 10. It comes with all features you can find in iTunes but also other amazing features you can't find in iTunes. For example, Audible Channels, sharing audio clips, Send this Book, and so on.

If your computer is running Windows 10, it's recommended to use an Audible app to download an audiobook. It's easy to download books to an Audible app. Just need to open this app and find the audiobooks. And then, please hit on the audiobook cover to download them.
Part 3. How to Download Audiobooks from Audible to Mac
To download Audible books to computer running Mac OS, that could be easier than syncing audiobooks to a PC. Let's see the complete guide below.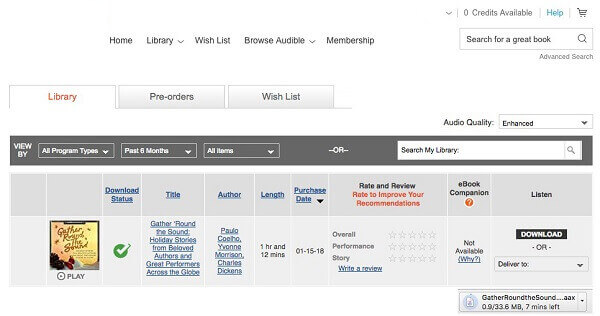 Step 1. Enter into the official website of Audible on your Mac. Please authorize your account on this computer by signing in your Audible details.
Step 2. Go to the Library Page -> My Books menu. All audiobooks you bought before are listed on the Audible library.
Step 3. Every book item has a Download button you can choose to download. Once you found the favorite books you want to download, please click the Download icon. It will begin to get Audible AAX download to computer.
Part 4. How to Download and Play AAX Files on iPhone
Up to now, it's clear how to download Audible books to computer. Audible is also compatible with mobile devices, like iPhone. So, how to download Audible books on iPhone?
Actually, there are some different approaches to get and play AAX files on iPhone. Here, we will introduce one simple way on how to listen to AAX files on iPhone and other iOS devices.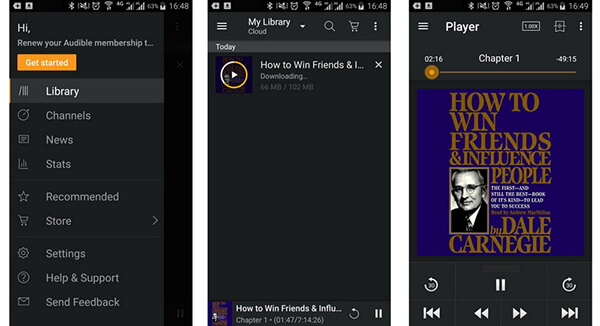 Step 1. Download and install Audible for iOS app via the iTunes Store or using a desktop computer.
Step 2. Open this Audible app on iOS device. Then sign in to the Audible account that you used to buy audiobooks.
Step 3. Touch My Library at the bottom of the main screen. And you will see there are two options, Cloud and Device. Please simply click the Cloud icon.
Step 4. There is a list of your purchased audiobooks from the Audible Store. You can choose your favorite audio files. Then tap the Download icon at the bottom-right corner of each cover art of the audiobooks.
Now, you can play .aax files on iOS devices even without an Internet network connection.
Part 5. How to Download Audible Audiobooks to Android
The steps to download and play AAX files on Android are similar to iOS devices. The big difference is that you need to download the Audible app from different stores. As a result, here, we will share you with a simple guide on how to play AAX files on Android devices.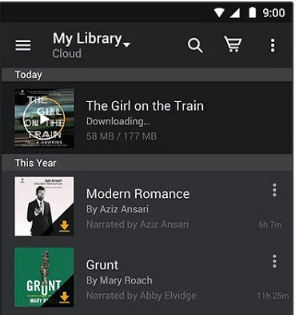 Step 1. Download your Audible app from the Play Store and launch it on your Android device. Besides, please make sure your device is under the WiFi network.
Step 2. Navigate to the 'Library' page > 'Title' followed by 'All' to select the title that you'd like to download.
Step 3. Now, you can tap on the audiobook under the 'Downloaded' section to listen to AAX files on Android.
Tips: To find where do Audible books download to on Android, you can check as below. You can find it on your Android via Internal storage\Android\data\com.audible.application\files
Extra Tips: How to Download Audible Books to MP3 for Use on Any Device
Audible audiobook files are compatible with a wide variety of devices. But not any device support Audible AAX files. Put it another way, you can't listen to Audible audiobooks on all devices. Because many devices can't recognize the AAX audiobooks. You have to use specific media players, like iTunes to download and play Audible books.
To play audiobooks from Audible anywhere, what you should do is to do format conversion. MP3 is the ideal audio format. It is compatible with almost all devices and players. Only if you download Audible books to MP3, you can listen to audiobooks without any limit.
Here, we can meet the DRmare Audible Audiobook Converter. It is a top-leading Audible converter. It can convert AA/AAX to MP3 and other audio formats, like FLAC, WAV, M4A. It also can split audiobooks by chapters and customize ID3 tags. You can change the audiobook playback, like speed, volume, and more as you want. With this smart tool, you can play Audible audiobooks on any device and media player.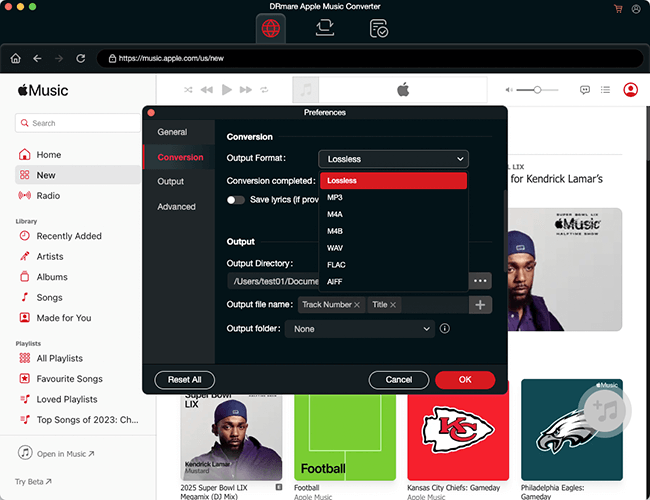 How to Download Audible Books for Use Anywhere
Step 1. Download audiobooks from Audible on your computer and authorize Audible account in iTunes.
Step 2. Install and open the DRmare Audible Audiobook Converter. Then click the '+' icon to select audiobooks that you'd like to convert to MP3.
Step 3. Click the 'audio' icon to launch the setting window. Then you can choose to convert Audible to MP3 or else. You can also click the 'edit' icon to split audiobooks or customize ID3 tags.
Step 4. Press the big 'Convert' button to start the conversion process. This professional tool will run at 30X faster speed to download audio from Audible. All the audio files are original audio files you purchased from the Audible Store.
After the conversion, you can transfer the Audible MP3 files to other devices for offline playback.