Audiobooks has many advantages. It is more interesting as some audiobooks are so beautifully read. And you can listen to a book while doing other tasks anywhere and anytime. Such as doing house work at home, working in the office, drving in the car or walking outside. It is a good idea to listen to audiobook on iOS devices like iPhone 6/7/8/8 Plus/X/XS. That is portable yet the audio quality is crystal clear. But what are the best methods to do that?
Depending on what audiobooks you have or where you get them, you can use different iphone audiobook apps. Here I will show you how to play iTunes, Audible and DRM free audiobooks on iPhone.
View also: How to Download Spotify Music on iPhone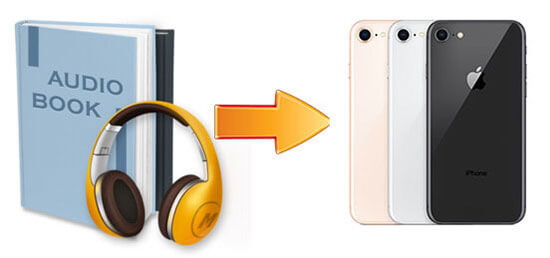 Part 1. iBooks
iTunes audiobooks are best for Apple fans. They have best compatibility with iBooks. Unlike other audiobook platforms which use subscription model, iTunes lets you to buy and download the audiobooks without recurring payment. The average price is a little more expensive compared to other sources. But if you are not an heavy user who dovours dozens of books every month, it won't be a problem.
Before the iOS 8.4 was released, all iTunes M4B audiobooks are played on iTunes on iOS directly. After that, Apple have changed strategy to shunt the audiobooks to iBooks app. If you buy and download audiobooks directly from your iPhone, you should find them on iBooks. Else if you buy and download your audiobooks on your computer, you can follow this tips to sync them from iTunes to iBooks.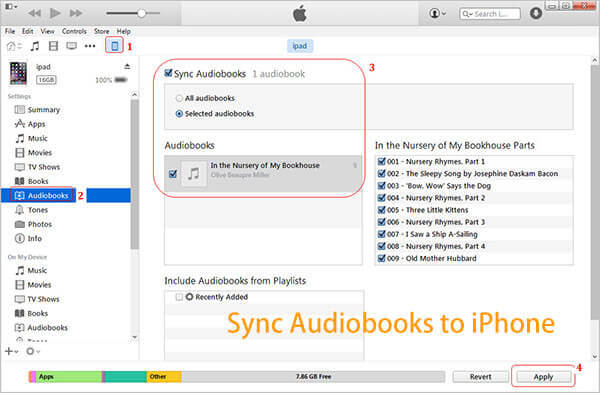 Step 1. Connect your iPhone to the computer USB port via the USB lighting cable.
Step 2. You can see a device iPhone on the top of the iTunes page. Please click it. It will show all the items which can be synced to your iPhone. Such as books, audiobooks, TV shows, movies, music, apps.
Step 3. Click "Audiobook", select the option "Selected audiobooks" and pick up the iTunes M4B files you want.
Step 4. Finally you can click "Apply" to sync. It takes a few seconds to a few minutes to add the M4B files on iBooks.
To play the M4B audiobooks on iBooks, just tap the file. iBooks has many fantastic features to enhance your listening experience. You can adjust the playback speed, skip ahead or back 15 seconds, and set a timer. Besides, you can access to the chapters. Navigating from one chapter to another has never been easier.
Part 2. Music App
If you have DRM free MP3 audiobooks, the best way to play them is to use the Music app of iPhone. You can rip MP3 audiobooks from your own audiobooks CD. Or you can get the MP3 audiobooks by some sources. Such as DownPour which offer the option to buy and download DRM free audiobooks.
The option to sync DRM free audiobooks to Music app is pretty much the same as iBooks. Just follow the part 1 transferring tips which we have just mentioned above. The difference is that you need to make sure the audiobooks are in MP3 format instead of M4B.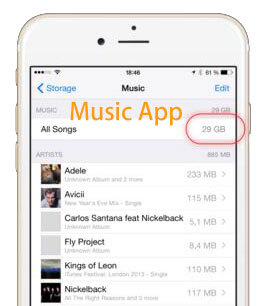 One the Music app, all the audiobooks will be detected as songs. There is no chapters as MP3 format doesn't support it. During playback, you can skip the audiobook, forward or backward.
View also: Listen to Apple Music on iPhone
Part 3. Audible
Audible is the largest audiobook seller in the world. It has a largest number of audiobooks. If you can't find the book you like from Audible, it is likely that you can't find it elsewhere. By subscribing to Audible membership, you will now get 2 credits every month. With the 2 credits, you can get 2 audiobooks for free. The membership costs $14.95. If you are a new user, you will get 30-day free trial as well.
Although you can authorize the Audible audiobooks on iTunes and sync to your iPhone, the best way to listen to Audible audibooks is by using its special app. Following is the instruction: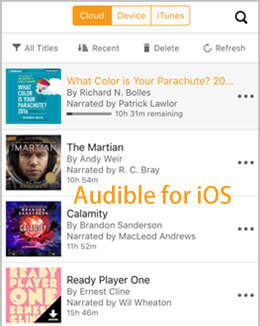 Step 1. You can simply install Audible app from the Apple app store.
Step 2. Then log in it with the Audible account and password. You will see many menus "My Library", "Discover", "Channels".
Step 3. Click "My Library", you will see a list of audiobooks you have bought. Just click the covers to start downloading them.
Step 4. Start streaming audiobooks from cloud on your iPhone immediately. Or wait for it to download completely before playing.
Audible app is also a comprehensive player. Likewise, you can adjust the audio playback speed, navigate by chapters, change the playback mode, set a sleep timer, share Audible audiobooks.
Part 4. Listen to Audiobooks on More Players
If you don't like the players we mentioned above, here are the alternatives.
Bookmobile is an all mighty audiobook players. It supports to play both DRM protected and DRM free audiobooks. iTunes and DRM audiobooks are supported. But it only access the DRM audiobooks from iTunes on your iPhone. This means you have to transfered all the DRM audiobooks from computerto iPhone via iTunes first.
Other than that, there is no other players supports iTunes and Audible audiobooks on iPhone due to the DRM protection.
Still want to use it on other players? No worry. You can also use DRmare DRM Audio Converter to help you get rid of DRM scheme within a few clicks. By doing this, you can get rid of any limitations. And you don't need to worry about any playback issue any more. It offer free trial versions for both Windows and Mac. So would you like to try it out by yourself?
Want to enjoy both iTunes and Audible audiobooks on any players on iPhone? You can simply follow this quick video tutorial.