One of the largest advantage of audiobooks over traditional books is that you can listen to audiobooks while doing other tasks such as running, doing house chores, driving. It will save your time to acquire info in a comfortable way. But what player do you want to use for playing audiobooks?
Hifi speakers, mobile phones, MP3 players or whatsoever? Personally I'd prefer MP3 players because they are usually with low price, easy to take anywhere. Take the SanDisk Sansa which is one of the best MP3 players for example, it is much more lightweight than any mobile devices and it cost only a few dollars. It would be a good idea to play Audible audiobooks on SanDisk Clip Sport when you are doing exercise outside. If you are interested in this topic, you can continue to read on to find the best methods to do that.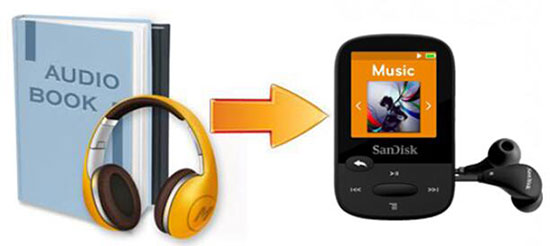 Part 1. How to Sync DRM Audible to Sandisk Sansa
Most people may wonder if SanDisk Clip Sport is compatible with Audible or not as such devices don't come with an Audible App. Actually you don't need to worry about that. Audible is supported by many devices including SanDisk, Kindle Fire, Creative MP3 Player, Garmin, Tom Tom GPS and so on.
But since the Audible AA/AAX files are different from the common audiobooks which you download from DRM free websites, you can't copy them directly. Instead you have to activate your device and sync the audiobooks by using the Audible Manager for Windows. How?
Step 1. Download and install the Audible Manager for Windows. Note: It works works on Windows PC, not Mac computer.
Step 2. Plug in your SanDisk Sansa Player into your computer via USB cable, your computer should detect it.
Step 3. Launch Audible Manager > Click "Device" menu > "Add New Device" > You can select your device from the popup list.
Step 4. Click "OK" button, it will start to install the related plugin to activate your SanDisk Clip Sport. It may take a while so please wait patiently.
Step 5. When your player is activated, you can right click on the Audible audiobook you want and click "Add to Device" to sync the audiobooks to SanDisk Sansa player.
Part 2. How to Convert Audible Audiobooks for Sandisk MP3 Player
"I have sync my downloaded Audible books to SanDisk player. But when I try to open the files, it always freeze. Any ideas why?"
"I am a totally Mac guy without Windows computers. I found the Audible Manager is only available on Windows. Does that mean I can't transfer my audiobooks? Please help."
With the DRM protection, it is normal that sometimes unexpected problems like freezing may happened. This is mostly caused by that the DRM Server can't verify if you are an authorized user or not. One possible reason is to delete the files and start over to sync them again.
If you are tired of doing that or you just don't have a Windows computer to do that, you can also try this ultimate solution to unlock DRM protection from Audible by using DRmare Audible Converter for Mac/Windows.
This software can batch turn your DRM protected files to common DRM free files easily like never before. You just need to drag & drop to throw in your files and click "Convert", then DRmare software will do the rest for you. You don't even need to input the account name and password of your Audible files.
Sounds like too good to be true? Why not download it to evaluate by yourself to convert Audible audiobooks for your SanDisk MP3 player. The trial version is 100% free, you won't lose anything.
Best DRM Audiobook Converter You Shouldn't Miss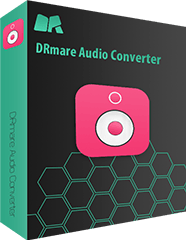 Strip DRM from not only Audible audiobooks but also other contents like Apple Music
Convert Audible AA/AAX to MP3, M4A, M4B, FLAC for different devices and players
You can choose to keep the chapters of your audiobooks or split them to small parts
It has unparallel features like 30X faster speed, lossless output quality
Are you ready to convert your audiobooks? Although the software is easy enough to use, these tips will make it more compatible for the first-time users.
Step 1

Import Audible audiobooks

No matter where you got the Audible audiobooks from, sent by a friend, downloaded online or so, you can simply drag & drop them to the DRmare Audible audiobook converter. This is totally different from other rival products which requires you to input the Audible account name and password. Without doubt, it is the most productive tool.
Step 2

Adjust the output audiobooks (optional)

Since the software is set as MP3 by default, usually you can keep the default settings to change your AA/AAX audiobooks to standard MP3 audio files. But if you want to customize the audiobooks to fix your SanDisk Sansa better, you can also do that in a breeze by clicking the format icon or the editing icon beside the audiobooks you imported.
Step 3

Remove DRM from Audible Audiobooks

When everything is set as you want, you can click the "Convert" button. Your audiobooks will be unlocked and converted simultaneously. With 30X speed, your files will be converted like a flash.
Step 4

Copy converted files to your Sandisk

After removing DRM, it will be easiest ever to copy the converted files anywhere. And you don't need the Audible Manager anymore. For the SanDisk Clip Sport, you just need to open the MP3 player, then copy and paste the converted audiobook files.
Part 3. Sum Up
If you have a SanDisk MP3 player such as SanDisk Clip Sport, Clip Jam, Clip Sport Go, both two ways will help you sync Audible audiobooks well.
Usually, you don't have to use any other Audible Converter if you just sync a few audiobook files because Audible has already supported to sync audiobooks to SanDisk by Audible Manager. But if you listen to a lot of audiobooks, the process to sync files with Audible Manager can be tedious and annoying. Also, sometimes some technical issue such as freezing may happen.
To avoid such errors, you can also try the Audible Converter to get rid of the DRM protection. This tool can turn the AA/AAX files into common MP3 files quickly.
You can choose the right way according to your requirement.
That is it. Do you still have any other questions? Please do not hesitate leave them below the comment section. We will do our best to help you.