"How to put Audible books on iPod Shuffle? I have purchased and downloaded some audiobooks from Audible.com for listening on iPod Shuffle. But to my surprise, the Audible books failed to play and there was an error message said that the files are incompatible. What have I missed? Is it possible to get Audible on iPod for playing?"
For Audible and iPod users, you might meet the same situation when putting Audible audiobooks on iPod. But please don't worry. In this article, I will explain the key reason why Audible not compatible with iPod and show you the effective ways making Audible on iPod including iPod Touch, iPod Shuffle, iPod Nano, etc. Now, please check out the post and see how to do that.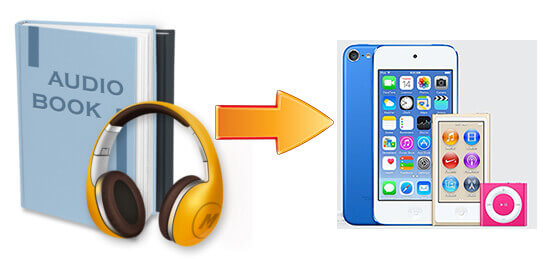 Part 1. Why Audible Not Compatible with iPod
As for the iPod, we should note that it is a line of portable media players, including iPod Classic, Mini, Nano, Shuffle as well as Touch. Apart from being external data storage devices, the iPod also can be considered as one of the most popular digital music players, which can play a wide variety of audio files, like podcasts, music and audiobooks.
However, why sometimes users can't sync Audible audiobook to iPod successfully? It is because different iPod models and generations are compatible with different Audible book formats. As a result, before transferring audiobooks from Audible to iPod, we need to have a full knowledge of the right format for each of iPod model and generation.
For iPod Touch: Users can directly download Audible audio files to iPod Touch, because it can play all kinds of Audible book formats, also including AA and AAX files on iPod Touch, even without using iTunes.
For iPod Shuffle and Nano: Generally speaking, the Shuffle can handle Audible format 2 and 3 if file size allows, while Audible format 2, 3 and 4 can work well on the Nano. Please make sure that you have downloaded the right format from Audible for the specific iPod device. Besides, you need to download and split Audible audiobooks that are longer than 20+ hours into small segments before adding them to iPod Nano and Shuffle.
Part 2. How to Play Audiobooks from Audible on iPod Touch
As Audible app is available on iOS devices like iPhone, iPad and iPod Touch, you can enjoy all formats of Audible books like AA and AAX without using iTunes. Here let's check the steps below to see how to get Audible audio books for iPod Touch.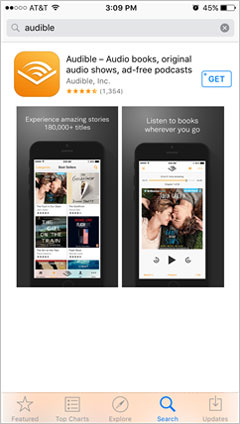 Step 1. Download and install the Audible app for iPod Touch from the Apple App Store.
Step 2. Log in the Audible app with your account info.
Step 3. Click the 'Library' tab to find the audiobooks you purchased and choose one you want to listen to.
Step 4. Tap the 'Download' button to download Audible AA/AAX audiobooks and listen to them offline if you want.
Part 3. How to Play Audible on iPod Nano/Shuffle
As there is no official app of Audible for iPod Shuffle and Nano, we can use the iTunes software to sync Audible audiobook to iPod for listening. Besides, please select and download the right formats with right file size of iPod Shuffle and Nano. After then, you could follow the detailed steps as below to start.
Preparations You Should Note:
For Mac Users: You will found out all Audible files are saved in iTunes library.
For Windows Users: You need to import audiobooks from Audible to iTunes first by using Audible Download Manager or iTunes itself. Just go to the 'Audiobooks' section in iTunes to create an Audible playlist by selecting 'Add to Playlists' -> 'New Playlist' option. Please add all favorite Audible files to this new playlist.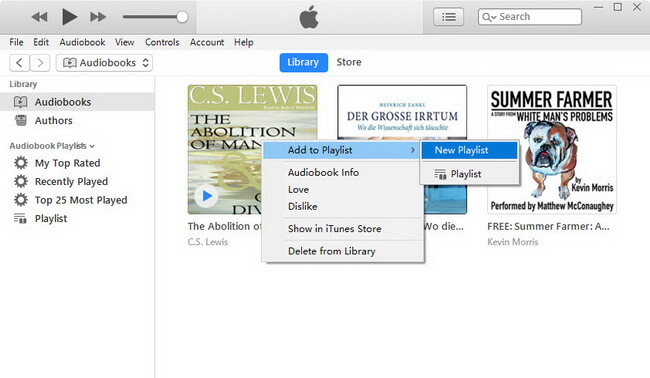 How to Put Audible Books on iPod Shuffle/iPod Nano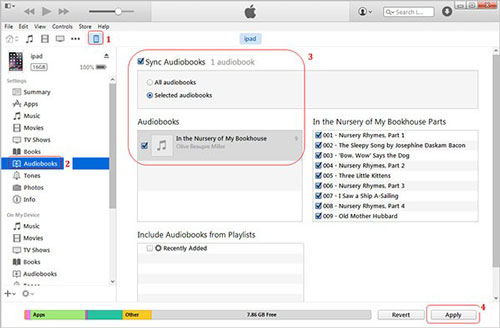 Step 1. Connect your iPod Shuffle/Nano with your computer including downloaded Audible audiobooks via USB cable.
Step 2. Launch iTunes and click 'File' -> 'Devices' icon to select your iPod.
Step 3. Click on 'Audiobooks' option from the left-side menu list and hit on 'Sync Audiobooks' button and then select either 'All Audiobooks' or 'Selected Audiobooks' to choose the new playlist you created before. And then please touch 'Apply' button, then all Audible books will be streamed to iPod automatically.
Note:
1. If you select 'All Audiobooks', then iTunes will add your files automatically once you plug your iPod to your computer.
2. If you choose 'Selected Audiobooks', then you can manually transfer the audiobooks to your iPod by dragging and dropping them from your iTunes Library to your iPod.
Part 4. How to Get Audible Audio Books for iPod without Limit
With the tutorial above, you are able to transfer and put audiobooks from Audible on iPod successfully, such as iPod Touch, iPod Nano and iPod Shuffle. But if you have an older iPod Classic, the above ways won't work anymore.
Thus, here I will introduce an alternative solution for you to get Audible to iPod for playing without any limitation. That is to use DRmare Audiobook Converter for Mac/Windows to help you. It can convert AA/AAX audiobooks to plain MP3 files supported by iPod devices and split large audio book into small segments.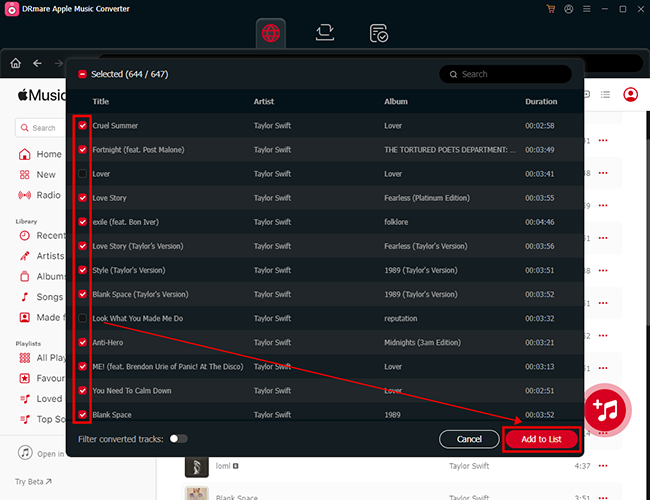 Step 1. Download and install DRmare DRM Audio Converter on your Mac or PC. DRmare Studio offers the free trial version for you to test its performance.
Step 2. Open DRmare Audio Converter and import Audible audiobooks to it via 'Add Files' button or drag &drop action.
Step 3. Once all favorite audio books are uploaded well, click the 'Format' button to choose to convert Audible to MP3 for iPod. In this step, you can allow to split added books according to your needs.
Step 4. Touch the 'Convert' icon at the bottom-right corner of the main interface to start the conversion process.
When the converting process finishes, you can locate converted Audible files on destination folder and put audio books on any iPod device you own for listening freely.