iPod is regarded as one of the best portable media players. It was famous for its artistic design, portability, multiple functionality since its debut in 2001. Until now, there are many generations of different models developed. All of the iPod devices can be used to buy and transfer music from iTunes.
Here you may want to know does iPod work with Spotify? Here in this post, we will guide you on how to get Spotify iPod to work. You will learn how to download and transfer music from Spotify to iPod in detail.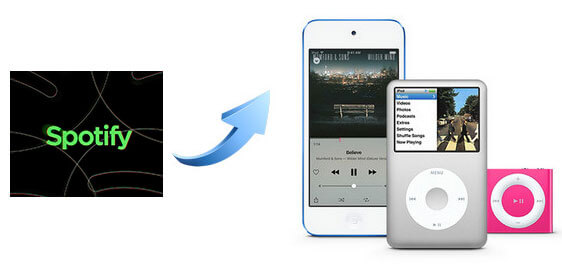 Part 1. Can You Play Spotify Music on iPod?
"Can you transfer music from Spotify to iPod?" If you search for the answer from Google, you may see different ones. Some people say that is so easy while others say no. This is really confusing. Which is right? Well, they are all right in terms of the different time periods.
Before, Spotify is compatible with all kinds of iPod players including iPod Shuffle/Nano/Classic/Touch. iPod Shuffle is targeted as a small, compact audio player without display. Nano is similar to Shuffle with a touchscreen. Classic is well-known for its large capacity player. iPod Touch is the most expensive device with powerful features. You could connect an iPod. And then follow the similar instruction to sync Spotify to Android many years ago.
Yet, due to the popularity of mobile devices, Apple discontinued most models of iPod. But iPod Touch is still working. As a result, Spotify app also ditched the support of iPod Nano/Shuffle/Classic. The only way you can still play Spotify songs on iPod Touch now is by installing the Spotify mobile version app. But to use Spotify iPod other models, below you can get the best way. Let's check the tips below and learn more.
Part 2. Download Spotify to iPod Shuffle/Nano/Classic - Best Tool
Though these iPod devices are discontinued, they still play an important role for music lovers. That is because those iPod devices have their pure audio experience. So is there any way to get Spotify iPod work for iPod Shuffle/Nano/Classic users?
Sure. You can convert and download Spotify songs as local files for iPod. Then you can transfer music from Spotify to iPod for playing. Here to make it, we will use the DRmare Spotify Music Converter.
It can help download music from Spotify for iPod and other devices. You can convert music either from the Spotify free or premium account. With it, you can convert Spotify music to MP3, M4A and more audio formats with lossless quality. Also, you can customize the output quality as you want for Spotify iPod. And you can set the sample rate, channel and more for Spotify music.
With DRmare Spotify Music Converter, you can get Spotify songs in a few clicks. Then you will save Spotify songs to computer. And then you can move Spotify music to other platforms and devices for use without any limit.
DRmare Spotify Converter for Windows/Mac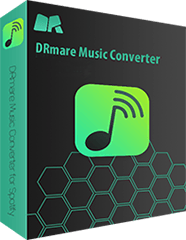 Block Ads from Spotify free account and enhance the bit rate to 320Kbps
Batch download Spotify songs at a 5X speed while keeping full metadata
Convert Spotify songs to MP3, AAC, WAV, FLAC, M4A, M4B for any portable devices
Auto-archive the output music files and shut down the computer when it is done
Part 3. How to Convert and Download Spotify to iPod - Full Steps
DRmare Spotify Music Converter works well on both Windows and Mac computers. You can choose the right version for your computer. Then download and install it on your computer. After that, then let's move on and see how to download Spotify to iPod Shuffle/Nano/Classic.
Step 1

Import Spotify music to DRmare

Launch DRmare software. And then, the Spotify app will be launched automatically. Discover the songs from Spotify you like. Then drag and drop them to the main screen of DRmare music downloader. You can drag a song, a playlist, an album and more. Or, you can put the link of the Spotify tracks to DRmare search box. Then hit the '+' icon. To get the URL of Spotify songs, click on the '...' icon next to the title of the song. Then choose 'Share' and then you can copy the link address.
Step 2

Set output format for Spotify iPod

The best audio formats compatible with iPod are M4A, AAC, M4B, MP3, WAV. So, you can select the format you want from the preferences window of DRmare Spotify Music Converter. For a free Spotify account, the original tracks are with a 160Kbps bit rate. So, please adjust the "Bit Rate" and "Sample Rate" to higher values to enhance the audio quality. You can also select the output folder to save Spotify music on your computer.
Step 3

Download music from Spotifyto iPod offline

Now, one-click the 'Convert' button. DRmare program will download and save the Spotify files to the folder which you have just selected. Once it is done, you can find all the audio files which are ready to be transferred to iPod.
Part 4. How to Put Spotify Music on iPod Shuffle/Nano/Classic
Now, you can go to transfer music from Spotify to iPod. Below are the steps for you to sync Spotify with iPod. Just check it out.
Put Spotify Songs on iPod via iTunes (For PC/macOS Mojave or earlier)
For users who use Windows PC or macOS Mojave or earlier, you can sync Spotify to iPod Nano/Shuffle/Touch/Classic by iTunes.

Step 1. Open iTunes from your computer.
Step 2. Click 'File' > 'Add File to Library' to move converted Spotify music to iTunes library.
Step 3. Connect your iPod to your computer via the USB cable. When it is done, you will see an 'iPod' icon from the top on iTunes main screen.
Step 4. Click the icon, you should see the iPod show up on the sidebar and the digital media contents which are on iTunes.
Step 5. Hit on 'Settings' from the left side on iTunes. Go to 'Music'. Then choose 'Selected playlists, artists, albums, and genres' next to 'Sync Music'.
Step 6. Check 'Recently Added' under the 'Playlist'. Select all the converted Spotify songs you like. Then click "Apply" to transfer Spotify playlist to iPod Shuffle/Nano/Classic.
Transfer Music from Spotify to iPod by Finder (For macOS Catalina)
With macOS Catalina, you can use Finder to put Spotify songs on iPod. Let's check how to do that.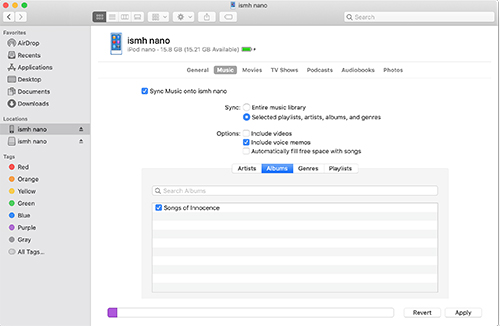 Step 1. Link your iPod device to your computer by a USB cable.
Step 2. Open the Finder window from your computer. Then hit on the 'iPod' icon.
Step 3. Hit on the 'Music' and choose the checkbox next to 'Sync music onto your iPod'. Then select 'Selected artists, albums, genres, and playlists'.
Step 4. Find the converted Spotify files from your computer and choose the songs you like.
Step 5. Touch the 'Apply' button to sync Spotify to iPod.
How to Put Spotify Playlist on iPod with Apple Music
For users who subscribe to Apple Music, you can use Sync Library to download Spotify music from Apple Music to your iPod.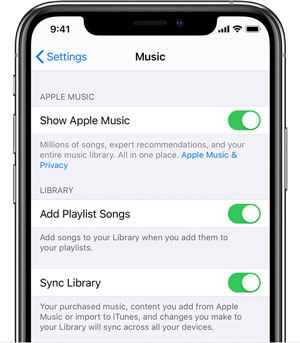 Step 1. Launch Apple Music from your Mac.
Step 2. Select 'Music' 'Preferences' on your Mac.
Step 3. Head to 'General' option and choose 'Sync Library'.
Step 4. Move Spotify songs to Apple Music to let Spotify audio files sync to all your devices.
Step 5. Go to 'Settings' > 'Music' on your iPod. Then turn on 'Sync Library.
Now, you can download Spotify to iPod from Apple Music.
Part 5. How to Download Spotify on iPod Touch with Premium
From above, we know that iPod Touch is still working with Spotify. But only iPod Touch 5th generation or above can do that. Besides, you have to have a Spotify premium account. Now, let's see how to download music from Spotify to iPod Touch for use offline.
Note: Before starting, please ensure that you have installed the Spotify app on your iPod Touch. Also, make sure that your Spotify premium is still valid.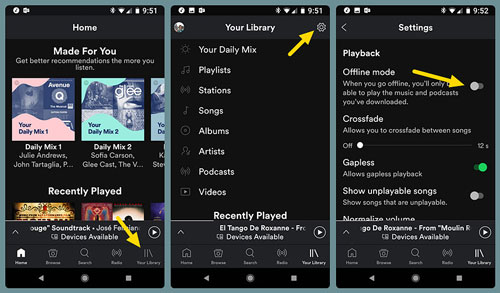 Step 1. Set up the Spotify app from your iPod Touch.
Step 2. Discover the audio tracks that you want to download and play offline.
Step 3. Enable the 'Download' icon on any track. Then it will download Spotify music for offline use.
Step 4. Head to 'Your Library' > 'Settings' to enable Spotify Offline Mode.
Step 5. On 'Settings', click on 'Playback' and turn on 'Offline'.
After that, you can listen to Spotify on iPod Touch offline without any limit.
Part 6. Why Do You Use an iPod to Enjoy Music?
Do you know why iPod is so popular? If not, don't worry. At last, we will show why you need an iPod to listen to music.
1. iPod is a professional music player. iPod has a better audio experience than iPhone. You can enjoy music without being interrupted by other apps.
2. iPod is a great choice to store your favorite music.
3. iPod is portable and small. It is easy to carry while doing exercising. Also, you can use Bluetooth or a USB cable to connect the iPod to other devices.