Audiobooks make it easy for you to listen to your favorite books. While you can get audiobooks everywhere now, Audible is still one of the most popular choices. It is an Amazon-based service. So, it's easy to find your favorite audiobooks. However, to enjoy these books, you need to pay for them.
You can buy books with the credits you get from subscribing to Audible, or you can buy them directly with your credit card. You can also buy Audible audiobooks as gifts for friends. In this post, you'll learn how to buy Audible books on any device and some tips to better enjoy the service.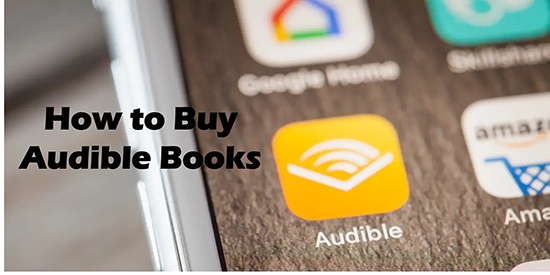 Part 1. How to Buy Audible Books on iPhone/Android
There are two ways you can buy an Audible book on your iOS/Android device. One is to purchase Audible books from the Audible mobile app. The other is to buy a book on Audible from Audible's website.
Way 1. Purchase Books on Audible with the Audible App
Step 1. Open the Audible app on your iOS or Android device.
Step 2. Tap on the 'Search' icon at the top right.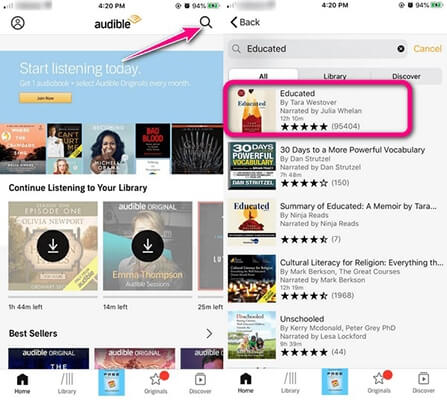 Step 3. Search for the book you want to buy or browse the categories.
Step 4. Tap on the title of the audiobook and then scroll down to choose 'Add to Library (1 Credit)'. Then tap 'Confirm' to complete the purchase.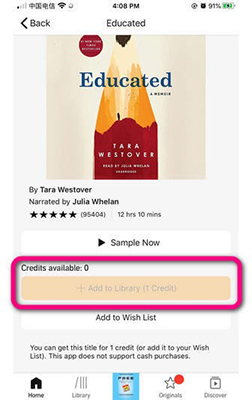 Note: The Audible app doesn't support cash purchases.
Way 2. Buy Books on Audible from Audible's Website
Step 1. Launch any web browser on your phone and go to Audible's website.
Step 2. Tap on the 'Menu' icon and then the 'Sign in' button to enter your Audible account information.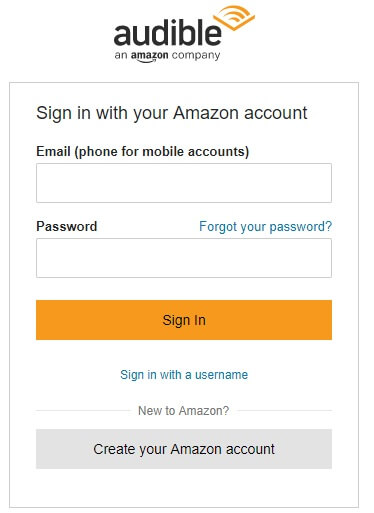 Step 3. Type the title of the audiobook or author on the search bar and click on 'Search'.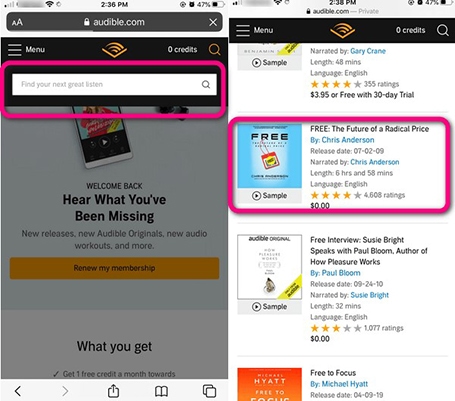 Step 4. Tap on the title of your desired book and then scroll down to choose 'Buy Now for $XX'. Then tap on the 'Confirm Purchase' button.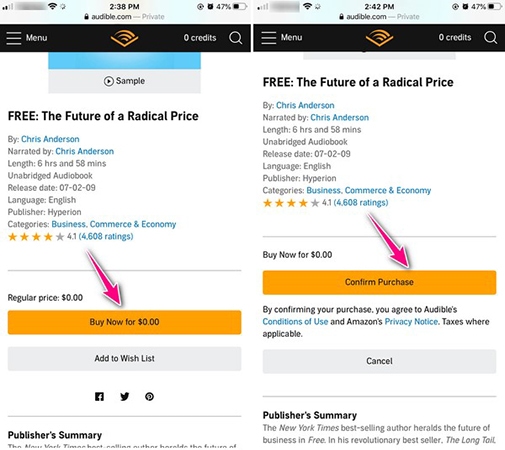 Part 2. How to Purchase Audible Books on Windows/Mac/Chromebook
If you are using a Windows or Mac computer, or a Chromebook, you can buy Audible books via web browsers. Below is how to purchase books on Audible on Mac/Windows/Chromebook.
Step 1. Open your web browser and go to Audible's website.
Step 2. Sign in with your Amazon account.
Step 3. Browse for the book that you want to purchase.
Step 4. Tap on the title of the Audible book and click on the 'Add to cart' button.

Step 5. Go to your shopping cart and then tap on the book you want to purchase. Then click on 'Proceed to Checkout'.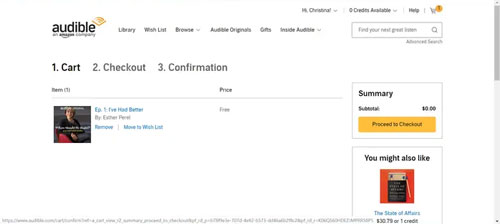 Step 6. Choose any payment method and tap on 'Complete Purchase'.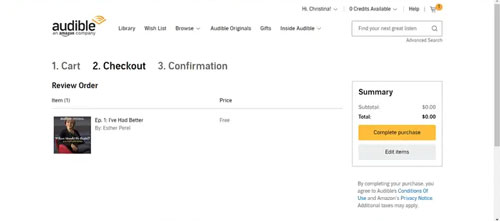 Part 3. How to Buy Audible Book for Someone Else
"How do I buy an Audible book for someone else?" Yes, you can purchase a book on Audible to gift an Audible audiobook to your friends. And the best part is that the person you gift the book to doesn't need to be an Audible member. Follow the steps below on how to buy someone a book on Audible.
Step 1. Navigate to Audible's website and sign in to your Audible account.
Step 2. Find the book that you want to gift to others.
Step 3. Click on the audiobook to go to the details page. Then click on 'Give as a gift' underneath the 'Add to Wish List'.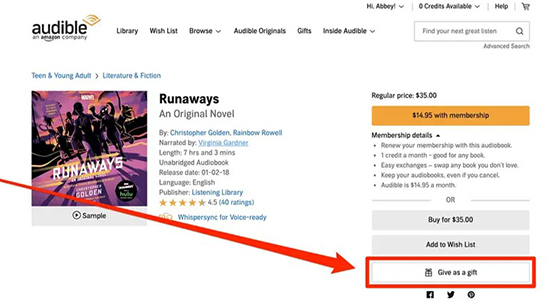 Step 4. Choose to email the book to someone or print out a code and deliver the gift in person.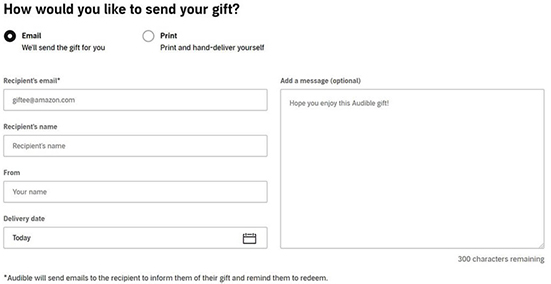 Step 5. Then fill in the required information to send the gift.
Step 6. Click 'Buy for $XX' or 'Buy for XX credits' to confirm the purchase.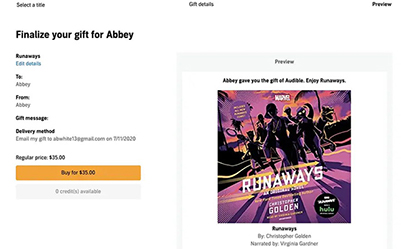 Part 4. How to Buy an Audible Book from Amazon
Can you buy Audible books without a membership? Yes. Audible is a proprietary service of Amazon so you can purchase Audible books on Amazon without a subscription to Audible. This can be done via the desktop or mobile website of Amazon. Below is how to buy a book on Audible from Amazon.
Step 1. Go to Amazon and navigate to the Audible section.
Step 2. Browse for the Audible book or search for the book you want to purchase.
Step 3. If you are new to Audible, you can choose 'Audiobook for $0.00'. You will not be charged and get this audiobook for free. You can also choose other payment methods as you want.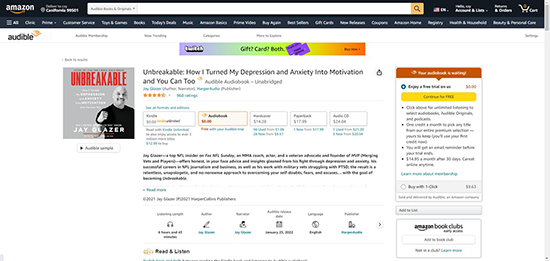 Part 5. How to Download Audible Books for Use and Backup
After purchasing books from Audible, you can download them for offline listening. You may also want to back them up for keep forever. So, we are here to provide you with a way.
You can use DRmare Audio Converter to download and convert Audible audiobooks to MP3. Because MP3 is compatible with most devices and music players. You can then back up the converted Audible books to a USB drive or on your computer for keeping forever.
DRmare Audible Converter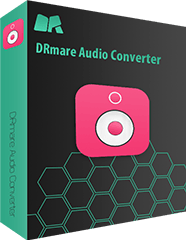 Download Audible books for backup and keeping forever
Convert Audible audiobooks to MP3, FLAC, and more popular formats
Preserve lossless sound quality and all the metadata information
Work at a 30X faster speed, support splitting Audible audiobooks
How to Backup Audible Books for Keep Forever
Step 1

Add Audible books to DRmare Audio Converter

First, click on the 'Download' button above to Install and then open the DRmare Audio Converter. Then click on the first 'Add Files' button to import your downloaded Audible books for conversion.
Step 2

Choose Audible books output format

You can choose the Audible output format as MP3 which is the most popular audio format. To do that, click on the 'format' icon at the bottom of the DRmare Audible Converter. Here you can also alter other audio formats including the sample rate, codec, and so on.
Step 3

Convert Audible AA/AAX books to MP3

Finally, simply click on the 'Convert' icon at the bottom right of the main screen. Then this software will download and convert your Audible books with lossless audio quality. Once converted, you can listen to Audible audiobooks offline on your computer. You can also backup Audible books on your computer or on a USB drive.
Part 6. FAQs about Purchasing Audible Books
Q1: How Do I Buy Books on Audible without Being a Member?
A: Non-members can buy Audible audiobooks using a credit card or an Audible coupon.
Q2: When You Buy an Audible Book Do You Own It?
A: Yes. The books you purchase from Audible are yours. However, they can only be listened to within the Audible app. To play Audible audiobooks with other music players or on other devices, you can use DRmare Audible Converter.
Q3: How Do I Buy an Audible eBook?
A: Visit the Kindle eBooks with Audio Companions page. From there, you can buy a Kindle Book and a matching Audible book in one bundle.
Q3: Where Can I Buy Audible Books?
A: You can buy books on Audible from the Audible app, website, or Amazon website.
Q4: Why Can't I Buy a Book on Audible on My iPhone?
A: Because all digital products purchased via applications for iOS must be charged through the Apple Store which includes a 30% fee to Apple. It will cost more to buy an Audible book via the Audible app for iOS. So, using the mobile browser to purchase Audible audiobooks is a better option.
Q5: Can I Return My Audible Books If I Don't Like Them?
A: Yes. Audible allows users to return Audible audiobooks within 365 days of purchase.
Still have other questions about Audible? Please feel free to leave a comment and we will help you as soon as possible.