Nowadays it is common to find some movies with 'iTunes Extras' badge on the introduction page on iTunes. This badge means the video is unabridged and usually contains much more details which originally are only available in DVD or Blueray version videos. The Extras info includes photo galleries, deleted scenes, exclusive interviews, or behind-the-scenes footage etc. Many people find it extremely excited to enjoy the Extras just like having the privilege to access some secrects.
Are you familiar with iTunes Extras well? If not, you can follow me here to learn more about iTunes Extras.
View also: Top 3 DRM Removal Freeware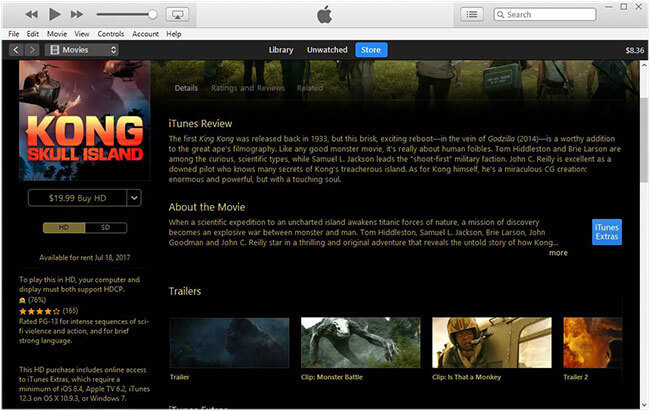 Part 1. iTunes Extras History Introduction
iTunes Extras are the ITE files integrated in iTunes movies and it was first debuted in September 2009, which was available to download on Mac and PC and the early Apple TV based on OSX. The early version was not supported by IOS devices. Then in July of 2014, Apple updated the iTunes again and made it possible to access iTunes Extras on computers with iTunes 11.3 and Apple TV with IOS based TV software 6.2 and IOS 8 or above mobile devices. Tough it seems most Apple devices can access the iTunes Extras now, please note iTunes Extras are not available in all the countries due to the copyright law and policy in different countries. So please don't be surprised if you can't find videos with iTunes Extras in the country which is not on the Apple iTunes Extras support list.
After this update, if you want to continue to download the videos with Extras which you bought before July 10, 2014, you need to make sure you have the 12.0.1 iTunes or above. The videos with Extras bought after July 10, 2014 can be accessed easily through multiple devices including computers, IOS and Apple TV.
Part 2. How to Watch iTunes Extras
From what we have mentioned above, iTunes Extras can be watched in most Apple devices and PC with iTunes. Following is the quick tutorial on how to watch iTunes Extras. Please make sure you have a good internet connection, else the iTunes Extras menu may not show up.
IOS devices
If you have an iPhone, iPad or iPod touch, you can watch iTunes Extras in the Video app which is built in IOS. Then you can tap Video app > Choose a movie with iTunes Extras to play > You will see the Extras menu at the bottom of the screen > Finally click it to start to play.
Computers
On a Mac or PC, you can open iTunes and go to the movie section > Double click a movie to play > The Extras menu will show > Then click the Extras menu to play easily.
Apple TV
If you enjoy watching videos on Apple TV, you can select the video you want on an Apple TV> Go to the video introduction page > Select play menu > You will find the Extras menu if the movie comes with Extras info> In the end click the Extras menu to play.
Part 3. How to Remove DRM from iTunes Extras
Although you can watch iTunes Extras on multiple Apple devices, however, the iTunes Extras can only be watched by clicking the menu shows within the video as they are DRM protected. In addition, the menu may not show from time to time if you don't have a fast and stable internet connection. So to make it easier to enjoy the iTunes Extras, you can try to remove DRM from iTunes Extras and extract them as ITE files.
DRmare iTunes Video Converter is a most professional iTunes Video DRM removal, it can strip DRM from all kinds of iTunes videos like iTunes Extras, movies, TV shows, music videos effortlessly. Based on the latest video decryption algorithm to develop, it can unlock iTunes videos at a fastest ever speed with zero quality loss.
DRmare iTunes Extras DRM Remover
Step 1

Import iTunes movies with Extras

You can find the videos on your iTunes movie section first, then you can drag and drop to import the iTunes videos.
Step 2

Select the output format for iTunes videos

You can specify a format you want to convert your iTunes videos with Extras, usually you can select MP4 which is wildly used and is one of the most popular formats.
Step 3

Remove DRM from iTunes videos and Extras

Then you can click the conversion button at the bottom right, the videos will be converted to MP4 you specified and the iTunes Extras files will extracted as original format ITE on the same converted folder.