"I bought some children movies online for my daughter. They came in M4V format. I can play them on my iPad, iPod Touch and my home Windows PC. But they won't play on my Mac. Have tried both QuickTime and iTunes. Why?" - From Apple community.
"My family shared iTunes M4V movies they bought with me. When I tried to import the M4V to iTunes, it constantly asks me for the account and password which I don't have. How can I can solve the problem? I don't want to repeat the purchase again." - From Quora.
Although M4V is a proprietary format created by Apple, it is possible that you can't play M4V on Mac due to different factors. Now let's explore the reasons and easy solutions here together.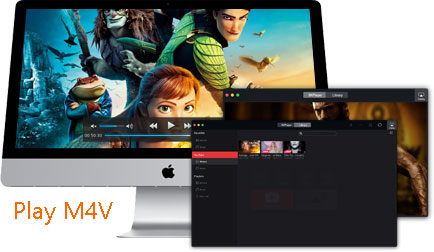 Part 1. What Are the Videos Formats that Are Compatible with Mac?
In modern society, we tend to spend more time on computers than TVs. If you are an Apple fan, watching videos on Mac will be a good idea. Mac computers are built-in with powerful QuickTime and iTunes Media Player and with wide screen compared to the mobile devices.You can import the following supported videos on Mac.
Apple Intermediate codec
Apple ProRes
Apple Animation codec
AVCHD/AVC-ULTRA/DV
H.264(AVC)/H.265(HEVC)/HDV/MPEG/3GP/AVI/MOV/MP4/MTS/M2TS/MXF/M4V
Part 2. Why Some M4V Is Not Playable on Mac Computer?
From the video support list, we can see M4V is readily supported by Mac. So why we still encounter such playback problems? Generally, there are two main reasons.
Codec
Mac supports the formats M4V, MP4, MOV, MPEG, but it is not necessary to mean videos with such formats are playable. That is because some of them don't have standard codecs. Some video editors or converters may not be set with standard output parameters. For example, to meet the criteria of Apple, the video must be encoded as 540 Kbit/s (minimum) MPEG-4 video with a minimum 128Kbit/s AAC audio track.
DRM Protection
To protect movies from illegal distribution, many giant companies have their own DRM protection such as Apple FairPlay, Google Widevine Modular and Microsoft PlayReady.
Take iTunes movies for example, the M4V files are with FairPlay DRM. Under such limitation, you are required to authorize your device before you can play the files. Also, you can do that on up to 5 devices in total.
Part 3. Is There Any Powerful Free M4V Players for Mac?
If your M4V is not playable before of the codec, one of the quick solution you can try is to rename the extension of M4V format to MP4 directly. Both M4V and MP4 has the same codec. This works sometimes. If not, you can try other third party powerful free M4V players for Mac/Windows.
VLC Media Player
VLC is an open-source video player that supports different platforms and multimedia file formats including M4V. Honestly if it can't play your M4V, then there is no other tools can do.
Besides Mac, you can use it on Android, Tizen, Windows 10 systems.
Elmedia Player
Elmedia is versatile free media player for Mac. It plays pretty any formats of files MP4, MOV, AVI, FLV, MP3, MKV, SWF, MMV and so on. It is one of the best video players of 2019 you shouldn't miss.
Wondershare Player
Wondershare has been a well-known video solution provider for over 10 years. Its free Wondershare Player offers a seamless playback and flawless performance for all your movies and music.
Part 4. How to Play DRM M4V Movies on Mac Freely?
If your M4V is FairPlay DRM protected, you'd better authorize them with the Apple ID and password so that you can play it on iTunes or QuickTime.
Don't have the account and password?
Hate iTunes and QuickTime but just want other third-party M4V players?
No problem. Why not remove the iTunes DRM protection?
Due to the deep encryption of Apple DRM, many free iTunes DRM removal tools and some commercial software don't work anymore. Fortunately, DRmare, the exclusive DRM solution leader still offer the best software out there.
DRmare M4V Converter for Mac/Windows enables you to remove DRM from iTunes M4V files and convert the M4V to MP4, MOV, AVI, MPEG quickly. It uses the true DRM crack technology instead of recording technology. In this case it guarantees 100% lossless new video quality. Few rivals can do this as we know. You can download the trial version to compare the quality.
DRmare Lossless M4V Video Converter
Besides there are a lot of helpful features I can't list here. If you are interested, you can download the free trial version to try it out. Now follow me the journey to play M4V on Mac freely.
Step 1

Add M4V movies to DRmare

If you have purchased and downloaded iTunes movies on Mac iTunes library, you can drag & drop the M4V files from iTunes to DRmare screen.
Step 2

Choose a new format

You can keep the default lossless MP4 format. This format is universally supports and the video quality is best. Also, you can click the "Edit" icon to cut/trim/merge/crop your M4V if you want. These options are optional. But if you want to make the output videos meet your requirements better, it is totally worth some time to try them.
Step 3

One click to convert M4V

After that, just click "Convert" button slightly and wait a little while to export the new videos. By removing DRM protection, you can share the iTunes M4V files with your family members and friends. Note: DRmare software is for personal use only, any commercial use is not allowed.