Do you like to watch video podcasts? Have you ever created your own podcast station? If the answer is yes, you may have already downloaded iTunes Store and enjoyed its podcasts, because it is the best choice for you to play and share podcasts. There are hundreds of thousands of free podcasts in iTunes Store, so you can find and play the podcasts you like on any Apple devices easily. If you don't know how to find and play iTunes video podcast, you could head on and you will get the guidance.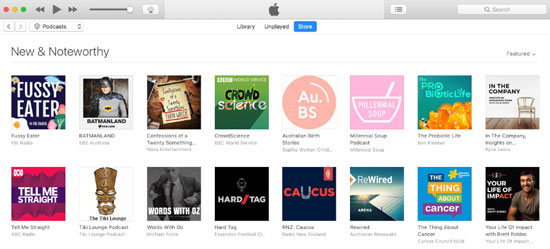 Part 1. About Podcast
A podcast or generically netcast is an episodic series of digital audio or video files. The word "podcast" is a portmanteau word, which is formed by "iPod" and "broadcast". Podcast is similar to Internet radio, but it often is able to be streamed or downloaded on demand.
As podcast is episodes of digital audio or video files, it not only includes original audio or video recordings, but also recorded broadcasts of a TV or radio program, a lecture or others. Actually, the update of podcast is not provided by Apple Inc., it is by those particular podcast producers. When you subscribe to a podcast, you are subscribing to the podcast update by the podcast producer. And with iCloud, you can sync your podcast subscriptions across all Apple devices.
Part 2. How to Find and Play iTunes Video Podcast
Among all kinds video podcasts, which kind of video podcast do you like best? How to find the video podcasts you want to play in iTunes? And how to play and subscribe podcast in iTunes? With these questions, we would like to guide you step-by-step, please follow us as below.
How to Find iTunes Video Podcasts?
Step 1: Launch the iTunes program on your computer, iPhone or other Apple devices and then login with your account.
Step 2: Select "Podcast" option from the pop menu at the top left, then click "Store" option.
Step 3: Enter the word into the search box on the upper-right corner to find iTunes podcasts as you like.

How to Play iTunes Video Podcasts?
First, if you don't want to be interrupted while watching the podcast episode, you need to set the video window to remain on top of other iTunes windows that might pop up.
Step 1: Click on "iTunes" >> "Preferences..." >> "Advanced".
Step 2: In the pop-up window, select the box next to "Keep movie window on top of all other windows". Then click on "OK" button to save the setting.
Step 3: Once you finish setting, you can get started to find and play iTunes. Choose "Podcast" option from the list at the top left.
Step 4: Click on "Video Podcast" that you want to play and then double click on the episode that you want to watch. If you want to watch the video in full screen, then you can click on "full screen" button.
Step 5: If you want to subscribe to the video podcast you watch, you can click "subscribe" button. The episode will be deleted in 24 hours after playing, but you can also cancel subscription by clicking the three-dot button or "unsubscribe" button.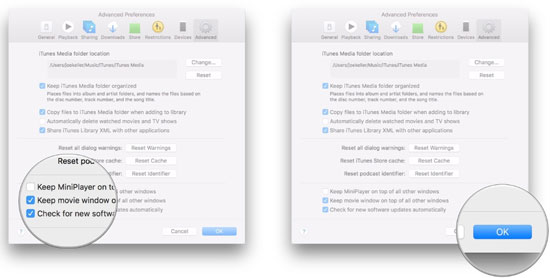 More Tips: Best Tool to Convert iTunes Videos
Now, you could find and play some podcasts that you like in iTunes, or if you can't find the podcast that fits your preference, then you can create your own podcasts station and share with others. In fact, except podcast, iTunes also provides movies, music videos and TV shows. But if you want to make iTunes videos playable, what you need is a professional program which can help you remove DRM protection from iTunes and then you can play iTunes videos on other devices.
Here we highly recommend DRmare iTunes Video Converter for Mac to you. It is the most powerful iTunes DRM removal program, which enables you to convert iTunes videos to other common formats, such as MP4, MOV and more. With it, then you can enjoy iTunes videos freely and stream the converted iTunes videos to other devices for offline playback.
DRmare iTunes M4V Video Converter