"Is Spotify coming to Fitbit soon? I am a loyal user of Spotify. I bought Fitbit Ionic for playing music when doing exercise outside. But I didn't know that Fitbit is not compatible with Spotify previously. That is a shame. Any remedy solutions? I hope it is not a waste of money." - Question from the Fitbit community.
Though Spotify supports many wearable devices including 6 Samsung smartwatches Gear S2/S3, Gear Sport, Gear Fit 2/Fit 2 Pro, Garmin Smartwatches Forerunner, Apple Watch 4, however, Fitbit is not on the list, which is considered the third largest wearable company in shipments just behind Xiaomi and Apple. There is no Spotify HR version for Fitbit either.
That is why many Fitbit users are seeking the solution online.
If you are still in such a process, now you are definitely in the right place. Just look no further and follow this post to learn more about Fitbit and convert Spotify to MP3 songs for using in your smartwatch when doing exercise outside.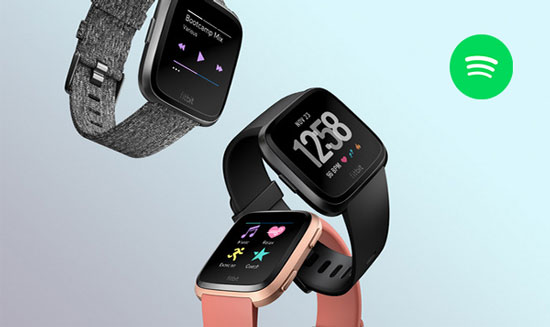 Part 1. Everything You Need to Know about Fitbit Smartwatches
What Products Does Fitbit Offer?
As a wearable company, Fitbit offers kinds of trackers and smart watches for monitoring your health status.
They are with one or more of the features Steps, Floors, Heart rate, Sleep, Sleep stages, Clock, Swim, GPS, Fitbit Pay, Water resistance.
Clip-on trackers: Fitbit Zip
Wristband trackers: Fitbit Flex 2/Alta/Alta HR/Ace/Charge 3
Smartwatches: Fitbit Ionic/Versa/Inspir//Versa Lite Edition
What Music Is Supported by Fitbit
Currently only two most powerful devices Fitbit Ionic and Fitbit Versa support to play music and podcasts.
Fitbit Ionic was released in 2017 with 3 versions lite, standard, and special models. Versa was released in 2018 which offers standard and Adida Edition models.
The main difference between them is that you need to have a nearby phone to use the GPS feature in Fitbit Versa. As a result, the Fitbit Versa is cheaper and lighter than the Fitbit Ionic.
They have almost the same features. For example, both have 2.5G space and can store up to 300 songs.
Besides, both supports streaming music online too. If you have subscribed to the Deezer or Pandora premium membership, you can stream music and podcasts online directly.
Part 2. Best Tool to to Import Spotify Music to Fitbit Ionic/Versa
If you have bought a Fitbit smartch and subscribe to Spotify, that would be a dilemma for you because Fitbit is not a fitness watch with Spotify.
And obviously you don't want to give up Spotify or Fitbit.
So what is the trick here?
As we have mentioned, the Fitbit Versa/Ionic both support to play local songs. Isn't it a good idea to download Spotify music to MP3 offline?
Many users think it would be hard to do that since Spotify music is encrypted and DRM protected. But actually it has become so easy with the appearance of the DRmare Spotify Playlist Converter for Mac/Windows which is one of the best Spotify to MP3 converters in the world.
Unlike other live streaming recorder which takes real time to record music to remove DRM from Spotify, DRmare software uses an advanced technology to download and convert Spotify songs with an accelerated 5X speed.
What is most important is that the quality of the songs are kept 100%. If you compare the software in the market. You will find that few software can do so well in the world.
DRmare Music Converter for Spotify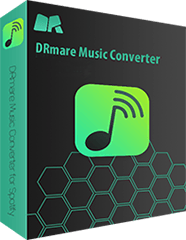 Intuitive screen, making it a breeze to use the software for everyone
Supports all Spotify music files including music, podcasts, audiobooks, radio
Keep original quality, ID3 tags, metadata, album cover, artist info
Save your money, ensure you to keep listening to Spotify after unsubscribing
Before you can play Spotify on Fitbit Versa/Ionic, just convert your Spotify songs. Let me walk you through this process.
Step 1

Load Spotify playlists

No matter what music you like such as Taylor Swift songs, Drake Music, you can just drag & drop to import them from Spotify to DRmare software. Another way to add the songs is to copy & paste the Spotify link and press the "+" button. It supports to add up to 200 songs at a time.
Step 2

Set MP3 output format for Fitbit Ionic

Spotify songs from the server are with 320Kbps. So it is not necessary to use the the lossless format FLAC or WAV format which supports up to 1411Kpbs format. Fitbit watch supports different formats of files. Here I'd suggest you choose MP3 which works perfectly with Fitbit Ionic/Versa.

MP3 files
MP4 files with AAC audio
WMA files
Step 3

Save Spotify music as local songs

With the batch converting technology, you just need to click "Convert" once, then all the songs will be downloaded automatically. With the reliable feature, DRmare runs really fast compared to any other tools. What makes it better is that you can continue to do other things on your computer without interfering the software from running. This will in turn to save you a lot of precious time when getting music for you Fitbit smartwatches.
Part 3. How to Upload Local Music to Fitbit Wearable
Congratulations, you are almost done. Now you can transfer the music to your Fitbit for enjoying now. That is so easy too.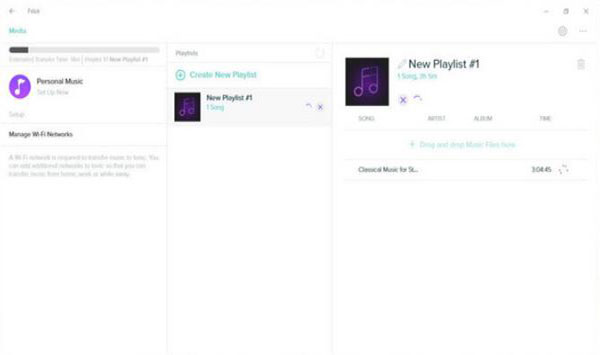 Step 1. Import the converted files to iTunes
You can open iTunes, click "File" menu > choose "Add Files to library" to import the Spotify music files to iTunes.
Step 2. Download and install Fitbit App.
For Windows 10 PC, you can download Fitbit App.
For Mac or Windows 7/8, please download the Fitbit Connect app
Step 3. Connect Fitbit Ionic/Versa and your PC to the same Wifi network.
By connecting to the same Wifi network, you can sign into your Fitbit app to locate the songs from iTunes.
Step 4. Add Spotify Playlist to Fitbit Watch
Now on your Fitbit App, tap "Media" > "Personal Music" to find your songs and playlist and one click on "Transfer" to sync the playlist. It may take a little while, so please wait patiently.