Everybody knows about Spotify and the fantastic range of songs it has. No matter which music genre you prefer, we bet you will quickly find that genre here on Spotify. However, as we all know Spotify Premium account allows us to download the songs within the Spotify app for offline listening. But the songs can't be transferred to other devices even if you pay a premium. That's their feature, and it is understandable because Spotify wants more and more users to use this platform to listen to the songs.
But what about non-premium members? Unfortunately, offline listening within the app is not possible for non-premium listeners. That's why we have Spotify recorders or downloaders, such as CodePlex Spotify Recorder. If you didn't know already, CodePlex is a Spotify recorder that allows you to record Spotify songs even if you don't have a premium account. So, we have prepared this post where we will review the CodePlex Spotify Recorder and share a few alternatives.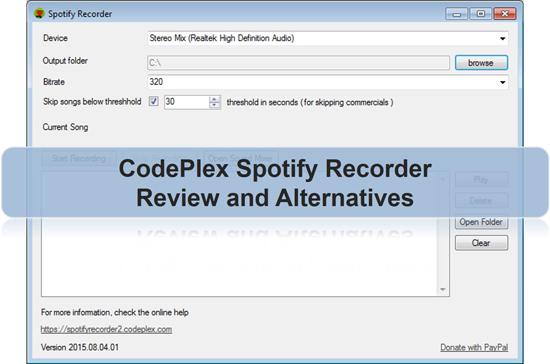 Part 1. Know More About CodePlex Spotify Recorder
What Is CodePlex Spotify Recorder?
CodePlex Spotify Recorder is essentially a Spotify recorder, and it's open-source, meaning it is free to use. Unlike Spotify converters and downloaders, it only lets you record music from Spotify. All the songs that get recorded are stored in MP3 formats. Since the songs are recorded, you can transfer them from one device to another without any hassle.
Moreover, CodePlex Spotify Recorder saves the artists' names automatically. To start using CodePlex Spotify Recorder, one simply needs to play the Spotify songs and then click on the "Start Recording" button, and the recorder will start recording the song. CodePlex Spotify Recorder is easy to use as well.
Features of CodePlex Spotify Recorder
It is a recorder that records Spotify songs
It saves the songs in MP3 formats
It is open-source and free to use
It lets you record Spotify songs for free
Pros and Cons of Spotify Recorder CodePlex
Pros:
It is 100% free to use
The interface is easy to understand
It saves the artist's name and the song's title and preserves ID3 tags
Cons:
It works on old Windows computers and not on the latest Windows 10
The customer support is poor
The recorder is said to be closed soon
Part 2. CodePlex Spotify Recorder Alternative - The Best
As you can see, CodePlex Spotify Recorder does have some drawbacks. The possibility that this recorder will not be available in the future makes it prudent to find a CodePlex Spotify Recorder alternative that will let you download Spotify songs and listen to them wherever and whenever you want. And since we want you to find the best alternative for Spotify recorder CodePlex, we recommend using DRmare Spotify Music Converter.
DRmare Spotify Music Converter is a trusted tool for thousands of users from all across the globe. It has a clean and intuitive interface, which makes it easy to use. So, even if you are not tech-savvy, you can still use DRmare Spotify Music Converter easily.
It converts the Spotify songs to different formats, such as MP3, AAC, FLAC, M4A, etc. The downloaded Spotify songs can be transferred to any device to listen to offline. Moreover, it converts the Spotify music tracks at 5X speed, meaning the waiting time is less.
Main Features of DRmare Spotify Music Converter
How to Use DRmare Spotify Music Converter - the CodePlex Spotify Recorder Alternative
Now, you can learn how to use the CodePlex Spotify Recorder alternative to download and convert Spotify music files with high quality. Let's go on.
Step 1

Launch DRmare and add Spotify tracks to it

The first thing you need to do is visit DRmare Spotify Music Converter to download the tool. Once done, launch it. When you launch the tool, the Spotify app will be launched automatically. Browse through the Spotify app and find the songs that you want to download. Drag the songs to DRmare's main interface.
Step 2

Customize the output format for Spotify music

Now that the Spotify songs are added, then go to the "Preferences" tab. Here, you need to choose the output format for the Spotify music tracks. Along with that, you can also customize the rest of the audio parameters, such as sample rate, channel, Spotify bitrate, etc. You can also choose the speed for the conversion as well.
Step 3

Start to convert and download music from Spotify

Finally, click on the "Convert" button. The DRmare program will then start the conversion process. Once the conversion process is complete, the songs will be downloaded and saved automatically to the local folder of your computer. Go to the Converted tab to find the converted and downloaded songs on your computer.
Part 3. Other CodePlex Spotify Recorder Alternatives
There are more alternatives to CodePlex Spotify Recorder, and this section will tell you two other good alternatives that you can try. It is always better to have a couple of alternatives handy because you never know when you will require a better option other than CodePlex Spotify Recorder.
1. Audacity
If you don't want to pay for the Spotify music downloader and want similar features as CodePlex Spotify Recorder, you may want to try Audacity. It's a recorder as well and a free one. One can use Audacity on Windows, Mac, and Linux operating system computers.
Audacity doesn't only let you record Spotify songs, but you can use it to record all kinds of audio and sounds available on other media platforms. How it works is that it can record sounds from the internal speaker. So, when the Spotify songs get recorded, you don't need to worry about recording external sounds.
If you want, you can also edit the recorded Spotify songs. For example, you can cut, rearrange, and even trim Spotify songs. One feature that makes Audacity a good alternative is that it allows you to convert the recorded songs to different audio formats, such as MP3, AAC, AIFF, and WAV.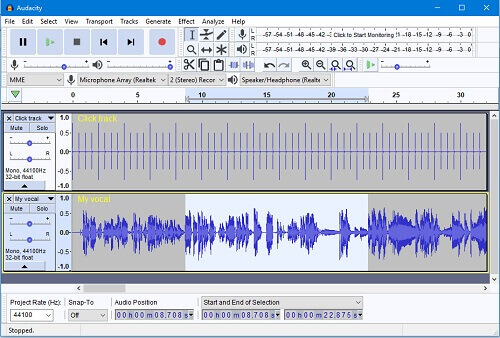 2. Dojotech Spotify Recorder
Another free Spotify recorder is Dojotech Spotify Recorder. Although this recorder is a bit outdated, it lets users record Spotify songs conveniently. If you have a Windows XP PC or a lower version, Dojotech Spotify Recorder will work without any hassle. All one needs to do is launch Dojotech Spotify Recorder and play Spotify songs.
Once done, Dojotech Spotify Recorder will start saving the tracks. Apart from recording the songs, it saves Spotify songs' artist names, album names, genres, and more. If you want, you can even change the folder of the recorded song. However, the biggest drawback is it doesn't work on later versions of Windows XP.
But if you want a recorder that can work on an old PC, then yes, Dojotech Spotify Recorder can be an ideal choice. Just make sure that the sound is on while recording Spotify songs.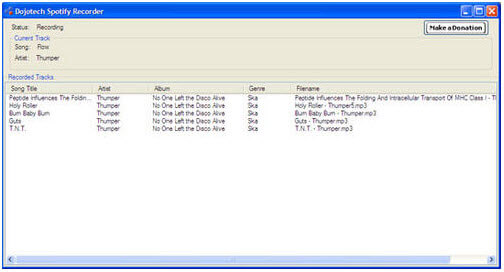 Part 4. Conclusion
So, now you know about the alternatives to Spotify web recorder CodePlex. CodePlex is definitely a good tool, but there are better alternatives that can download the songs, convert them at 5X speed, and lets you listen to them on different devices. And out of all the alternatives that we have listed here, the one that stands out the most is DRmare Spotify Music Converter. Hence, visit the website today and get it and start downloading Spotify songs.