As a popular streaming music service, Spotify offers a vast array of songs for you to enjoy. However, while you can listen to music for free, you have to bear the brunt of ads. You can only download songs for offline listening with a Premium subscription. To subscribe to Spotify Premium, you pay $10.99 per month. However, once your premium version expires, all your downloaded songs will disappear. So, to keep your favorite music, you need to always subscribe to Spotify Premium. This is also a significant expense for some users.
Thankfully, Spotify ++ lets you enjoy all Spotify Premium features for free without paying a penny. Read on and learn how to get Spotify++ on iOS, Android, Mac, and PC.
View also: How to Enjoy Spotify Premium for Free on iPhone/Android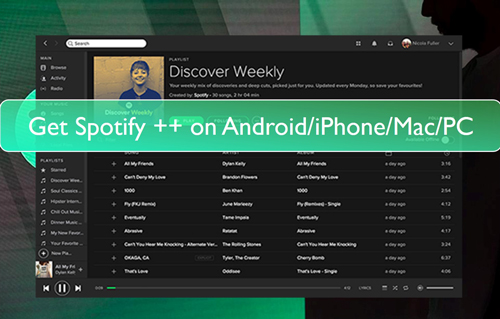 Part 1. What Is Spotify ++ & Its Pros and Cons
Spotify++, also called Spotify Plus Plus, is a tweaked application of Spotify that allows you to access Spotify's Premium features without paying a dime. It is mainly a mobile app for Android and iOS. Now let's see the main features of Spotify ++.
💥Stream High-quality Music on Spotify Online
Spotify-free users can only stream music up to 160 kbps bitrate on mobile and desktop apps. But Spotify Plus provides 320 kbps audio quality to get the highest listening experience.
View also: Download Spotify Music at 320kbps MP3
💥Listen to Spotify Music with No Ads for Free
If you are using Spotify free, you will be forced to listen to audio ads or watch video ads after a few songs, usually every few tracks or so. But Spotify Plus Plus will block ads on Spotify to offer a better listening experience for you.
💥Unlimited Skips of Playing Music
With a free Spotify account, you are limited to skipping six songs per hour on your mobile devices. But this mod application enables you to skip tracks as often as you want without any restrictions.
💥Download and Play Spotify Songs Offline
The download function is the privilege of premium users. But things could be different if you have downloaded Spotify Plus Plus on your iOS or Android phones. You are able to download Spotify songs without Premium on your devices and listen to them offline without a problem now!
In short, you can explore all Spotify Premium functions for free without having to subscribe to Premium. However, be aware that using Spotify++ is not an official app and may violate Spotify's terms of service. Therefore, this may result in account suspension or termination. Additionally, downloading and using modified applications may pose security risks.
If you want to use additional features, we recommend using the official Spotify app or using DRmare Spotify Music Converter in Part 4, which is more secure and stable.
Pros
Cons

✔ Get all Spotify Premium features for free

❌ Your account could be blocked or suspended

❌ Your device is not safe as it has some potential risks

❌ It's not stable to run

❌ No tech support and customer service

❌ Can't experience the new-released features that Spotify has immediately
Part 2. How to Download Spotify ++ iOS
You cannot download Spotify++ from the App Store or Play Store like other common apps. You need to use third-party app stores such as AppValley, TweakBox, TutuApp, TopStore, etc. to find and install the Spotify Plus Pus app. These app stores let you install mods, tweaks, and unofficial apps that you can't find on the App Store.
Also, since it is an unofficial app, you need to make specific changes in the security settings so that the app can run easily. Now, let us know the detailed steps on how to do this.
Way 1. Download Spotify++ iOS via AppValley
Step 1. Start the procedure by downloading and installing the AppValley app on your iPhone.
Step 2. Next, open the "Settings" application. Then browse to "General" and then "Device". Next, select "Profile Management" and trust the developer.
Step 3. Launch AppValley and use the search box to look for Spotify ++.
Step 4. Use the "Get" button beside the app's icon to download and install this app on the iPhone.
Step 5. Launch the Spotify Plus Plus app. As you are launching it for the first time, you will notice the "Untrusted Enterprise Developer" message. Now, tap "Settings" and "General > Device". Then, trust the app's developer under the "Profile Management".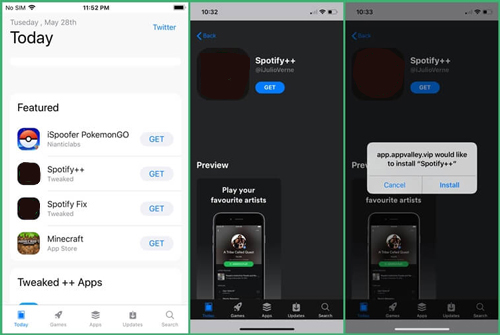 Way 2. Spotify++ Download on iOS 17/16/15 by TweakBox
Step 1. Begin by downloading and installing the TweakBox app on your iPhone. As the application is web-based, you must follow the instructions to complete the setup.
Step 2. Click the app icon to launch TweakBox and search for Spotify++ in the search box.
Step 3. Locate the app and tap it to install.
Step 4. After completing the installation, launch it and you will see the app developer is not a trusted message.
Step 5. You can head to the "Settings" app and browse to "General > Device", and open "Profile & Device Management". Now, tap the "Enterprise App", and click the Spotify Plus Plus developer.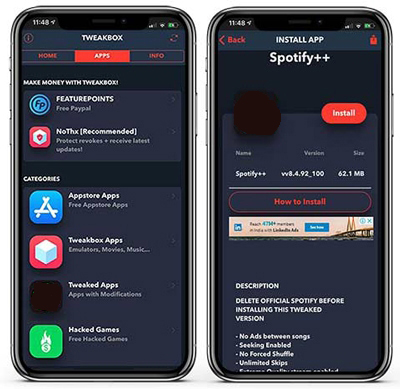 Way 3. Get Spotify ++ on iPhone/iPad via TutuApp
Step 1. Head to TutuApp official website to download and install it on your iOS device.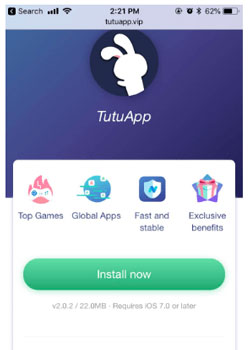 Step 2. Go to the "Settings" app on your device. Then choose "Profile Downloaded". And then click "Install" > 'Done" to install TutuApp on your phone.
Step 3. Launch the TutuApp and click on "Apps". And then locate "Spotify++" to install Spotify ++ on your iPhone or iPad device. But, to do that, you need to purchase TutuApp VIP first.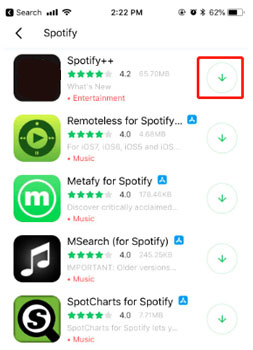 Way 4. Install Spotify Plus Plus on iOS by Cydia Impactor
Cydia Impactor is an app that allows users to install IPA files on the iOS devices via a computer running Apple's Mac OS or Microsoft Windows. But please note that you need to have a paid development account to use it. Now, we will show you how to get Spotify ++ on iOS devices with this app.
Step 1. Download and install Cydia Impactor on your Windows or Mac computer.
Step 2. Head to download the Spotify++ IPA file. You can get it via http://www.mediafire.com/file/yw7j5829pqys4xh/Spotify%252B%252B_v8.4.3_005.ipa/file
Step 3. Start the Cydia Impactor app on your computer.
Step 4. Now, use a USB cable to connect your iPhone or iPad to your computer. Then you will see your iOS device in the Cydia Impactor app.
Step 5. Then drag and drop the Spotify++ IPA file into the Cydia Impactor tool.
Step 6. You may be required to enter your Apple ID and password. After that, you will successfully install Spotify cracked version for iPhone.

Part 3. How to Download Spotify ++ Android
TutuApp is available on Android and iOS devices. So, you can install Spotify++ Android using TutuApp in the same way as in Part 2.
Additionally, Spotify Crack for Android is also available in the form of Spotify Premium APK file. It's important to remember that Android won't recognize modified apps. And it does not allow you to install such applications. However, you can download Spotify ++ Android and continue to use Spotify's premium features. The process for installing the application is as follows: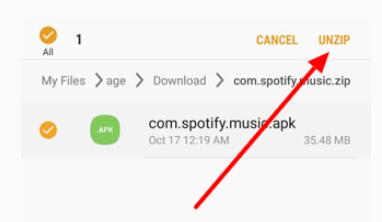 Step 1. Begin the process by downloading the Spotify Premium APK file using the web browser on your Android device.
Step 2. Now, open the "Settings" app on the phone and head to the "Security" feature.
Step 3. Under the "Device Administration" feature, enable the "Unknown sources" option.
Step 4. Now, close all the open windows, head back to the downloads folder and search for the Spotify APK file. Then, click it to continue with the installation.
Step 5. After completing the installation, launch the application and enjoy all the premium features by Spotify++ Android.
Part 4. How to Get Spotify++ PC/Mac
There is no Spotify ++ app for Windows or Mac. In addition, the mod version of Spotify has some unacceptable shortcomings, such as being easily banned, crashing frequently, etc. So, here we'll cover the best way to provide you with Spotify add-on features.
You can get support from DRmare Spotify Music Converter. Using this tool, you can download all your favorite playlists, albums, songs, etc. from Spotify without Premium. Music quality is 100% lossless, up to 320kbps. Additionally, all metadata information (such as title, album cover, year, etc.) will be preserved. Furthermore, it converts Spotify to MP3, AAC, FLAC, WAV, M4A and M4B formats without losing original quality. Once you have the files in your preferred format, you can move them to Android phones, iPhones, MP3 players, and other devices and listen offline at your convenience.
The best thing about DRmare Spotify Music Converter is its flexibility and control. You have control over the entire command and can change the parameters as per your requirement. All in all, it provides a simpler, safer and more stable way to enjoy Spotify Premium features such as unlimited skips, no ads, offline listening, etc.
Key Features of DRmare Spotify Music Converter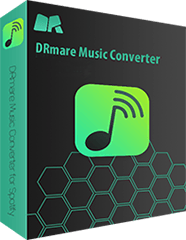 Download any content from Spotify for free without Premium
Convert Spotify to MP3, FLAC, WAV, M4A, M4B, and AAC
Lossless quality conversion while keeping metadata and ID3 tags
Keep Spotify downloads forever, play Spotify anywhere
How to Use DRmare Spotify Music Converter to Get Spotify++ Features on Mac and PC
This software needs to work with Spotify's desktop client. Please download it on PC and Mac at first. Now, let's learn how this tool works in detailed steps. After that, you will enjoy Spotify premium features on PC and Mac computers.
Step 1

Install DRmare Spotify Music Converter

Install the DRmare Music Converter software for your Windows or Mac computer. After that, open it from your computer and you will see its main screen. Also, you will get the pop-up Spotify music app.
Step 2

Add songs from Spotify to DRmare for conversion

Now, head to the shown Spotify app to search for your favorite playlists and albums. Once got, drag them to the DRmare software. Or, you can copy its URL and paste it into the search bar on the software. And then, you need to tap the '+' icon.
Step 3

Personalize output parameters for Spotify tracks

Click the menu icon from the menu bar in the DRmare software and select 'Preferences'. Then choose the output format, channel, bit rate, and conversion speed from the 'Preferences' window. Besides, you can archive the Spotify music files by artist or album. After that, click 'OK'.
Step 4

Download music and get Spotify Plus Plus free

Click the 'Convert' button to allow DRmare Spotify Music Converter to download and convert the selected Spotify songs. Then click the folder icon after the conversion is complete to locate the downloaded Spotify songs. Now, you get Spotify++ for Mac and Windows and you are ready to listen to Spotify music offline anytime and on any device.
Part 5. FAQs about Spotify++
Q1: What Is the Difference Between Spotify and Spotify++?
A: Spotify is an official, legal music streaming service available on a variety of platforms, including mobile devices, desktops, and web browsers. It offers both free and Premium subscription services. Spotify++ is a modified version of the Spotify application developed by third-party developers. It offers Spotify Premium's features for free without paying a Spotify Premium subscription. But it may violate Spotify's terms of service, and some security issues may arise.
Q2: Is It Safe and Legal to Use Spotify ++?
A: It is a third-party mod application. Modified apps may have security vulnerabilities, and downloading from unofficial sources may put your device at security risk. Additionally, using Spotify++ violates Spotify's terms of service and may result in account suspension.
Q3: Why I Can't Find and Download Spotify Plus Plus from the App Store?
A: We learned that Spotify ++ is just a mod version of the Spotify app. So, you can't get it from the App Store. But you can download and install it from AppValley, TweakBox or other third-party app stores or websites.
Q4: Why Won't Spotify++ Download?
A: There may be a problem with the third-party app store you are using, or it may be incompatible with your device. Also, check if your device has enough storage space. Additionally, there is a good chance that Spotify++ has stopped being available on the app store you are using. You can try other app stores.
Q5: Can I Get Spotify Plus Plus App on PC or Mac Computer?
A: No, you can't because there is no such application on your computer. However, you can use DRmare Spotify Music Converter to help get Spotify++ PC/Mac and enjoy Spotify premium features. It is better than Spotify's mod version in terms of security, stable functions, and listening to Spotify anytime and anywhere.
Part 6. In Conclusion
Today we mainly talked about Spotify ++. It's great for users who don't want to subscribe to Spotify Premium, but it also has some disadvantages that cannot be solved by customers, such as being easily blocked and encountering security issues. Also, many times it crashes or you need to update the app to use it again.
Therefore, we actually recommend you use DRmare Spotify Music Converter. It is 100% safe and stable and provides all the features of Spotify premium version. Even better, it goes beyond Spotify premium version, you can skip Spotify download limits and enjoy Spotify music offline forever on any device you want.