How to Get Spotify Premium for Free on PC/iPhone/Android
Are you eager to get Spotify Premium free so that it's able to enjoy millings of tunes offline? If yes, congratulations, you come to the right place. Today, I will share with you effective ways on how to get Spotify Premium for free on PC, iPhone, and Android.
They are 100% working guaranteed and completely legal. You can find a way to have free Spotify Premium without paying a dime no matter which device you are using. The Spotify playback could be easier and better even without a regular subscription.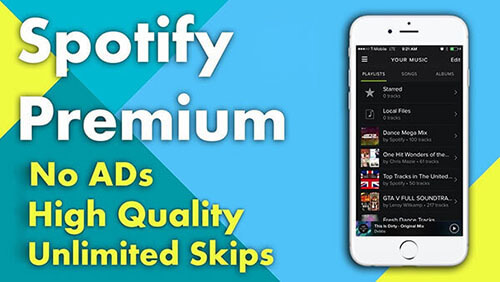 Part 1. What Is Spotify
Spotify is one of the most welcomed streaming music services around the world. It provides more than 50 million songs and 700,000 podcast titles for users to access. According to the official notification, in general, Spotify will add 40,000 new songs to its platform every day.
As a cross-platform service, Spotify is compatible with Mac, PC, iPhone, Android devices, smart TVs, and so forth. Users can listen to music from Spotify via the desktop client app, mobile app, or Spotify Web Player. With a Spotify account, it's able to find, play, stream, and download favorite playlists. It also supports making a collaborative playlist based on your tastes.

Part 2. Is Spotify Free
Spotify offers two subscriptions to explore music, including Spotify Free and Premium. Thus, there is a Spotify free subscription. Put it another way, the answer is positive to the question 'Is Spotify free?'.
But it's worth mentioning that a free Spotify subscription comes with some limitations. The free tier service lets you stream all music with ads from any category online. Fortunately, it allows users to share playlists with friends via the track links.
Is Spotify free forever? The answer is yes if you can accept the above disadvantage. Sign up for a free Spotify account, and then you can get Spotify for free and play Spotify music online forever.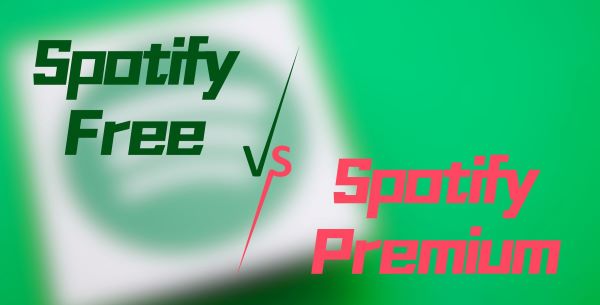 Part 3. Why You Need Spotify Premium
There are three plans for users to subscribe to Spotify Premium. They are Premium for Individual at $9.99 per month, Spotify Premium Family at $14.99 per month, as well as Premium for Students at $4.99. Spotify also rolls out a new option, called Spotify Premium Duo. It costs $12.99 per month. It has 2 separate Premium accounts for two persons who share at home.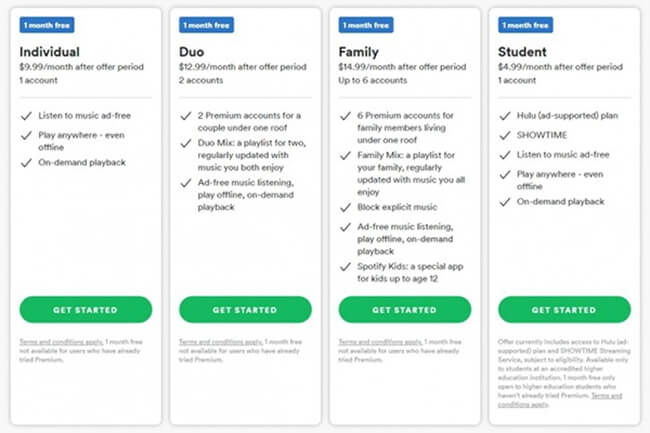 Although its monthly fee is not very high, continuous payment is not a small expense. So why you still do a Spotify Premium account? With the Spotify Premium membership, you can enjoy more wonderful and stunning features.
You can download Spotify offline, enjoy ad-free extreme-quality songs, skip unlimited tracks. The songs have higher quality (320 kbps) when you are using a Spotify Premium subscription. There are many exclusive features to improve the listening experience for Premium users.

From what we talked about, getting a free Spotify Premium account is the icing on the cake. Now, let's check the best ways to get Spotify Premium free out below.
Part 4. How to Get Spotify Premium Free on iPhone Forever
You can update to Spotify Premium free trial to get Spotify Premium for free on iPhone no jailbreak. For the detailed tutorial, you can visit Part 6. The shortcoming is that it's only a 1-month free trial. Too short, isn't it?
So how to get Spotify Premium on iPhone for free? The best way to get free Spotify Premium on iOS is to download a modified Spotify app, called Spotify++. You can get help from TweakApp, AppValley, or Cydia Impactor, etc. no jailbreaking. Here, we will take TweakApp as an example to show you how to do it.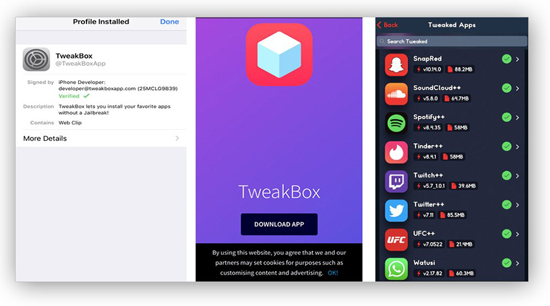 How to Get Free Spotify Premium Account for iPhone
Step 1. Launch the Safari web browser to navigate to TweakBox official website. The TweakBox app will show up. Please click the 'Install Now' button to install it on your iPhone.
Step 2. Open the TweakBox app from the home screen. Please select the Apps tab and scroll down to the Tweaked apps option.
Step 3. Type the Spotify++ on the search box of the TweakBox app. Find it, choose it, and tap the 'Install' button to download the free Spotify Premium version.
Step 4. When the installation finishes, please launch it. It will pop up a warning message, please choose the 'Cancel' it. It's better to go to the 'Settings' > 'General' > 'Profiles' to trust the developers.
Step 5. Congratulations! You can open the Spotify app, log in to your free Spotify account details to enjoy the Spotify Premium features. You get Spotify Premium free on iPhone forever successfully.
Part 5. How to Get Spotify Premium for Free on Android
Can you get Spotify Premium for free on Android? In fact, it's like the way on the iPhone. Yet, there is a more straightforward method for Android devices. You can directly download the Spotify Premium free APK file on it to have Spotify Premium free.
Obviously, there is no way to download this modified Spotify app from Google Play Store. Here, we will walk you through the tutorial on how to keep Spotify Premium for free on Android. To do this, please make sure you have uninstalled the official Spotify app in advance.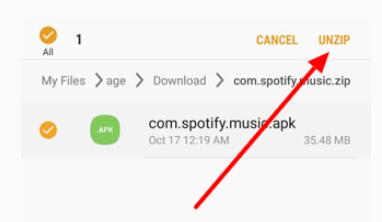 How to Get Spotify Premium Free Forever on Android
Step 1. Open a web browser you often use to download the Spotify Premium free APK file on Android.
Step 2. Navigate to the 'Settings' option on your Android. Please allow you to install a modified or hacked APK file under the 'Unknown sources' section.
Step 3. Unzip it and open the com.spotify.music.apk file to install it.
Step 4. After installation, please open the Spotify app and sign in with your free account on Spotify. You can enjoy almost all the premium features. It seems that you are using a free Spotify Premium account.
It's worth mentioning that a modified Spotify version is not legal to some extent. Based on this, it's not a recommended way to get Spotify Premium free on iPhone and Android.
It's highly recommended to follow the way in Part 8 to download Spotify playlists on PC and Mac. You can transfer Spotify music downloads to your mobile devices from computers. After that, it's also able to have Spotify Premium without paying.
Part 6. Get a 3-month Spotify Premium Free Trial On PC/Mac
Spotify offers many promotion activities to attract new users. It includes 30/60 days/3 month free trial or 3-month use for only $0.99 Spotify deals.
These packages vary from time to time. You can pay attention to the Spotify official web page. In this case, you can pick up the best deal you want to get Spotify Premium without paying.
Here I take the 3-month free trial as an example to get free premium Spotify. Let's see how to create Spotify Premium account for free on your PC/Mac.

How to Get Spotify Premium for Free on PC/Mac
Step 1. Open your web browser and then go to the Spotify home page.
Step 2. Click the button "Upgrade", it will navigate to the premium page. There is a banner showing the free-trial offer.
Step 3. Tap "Get Premium", it will prompt you to input your payment info to complete the subscription. You can pay with either a credit card or PayPal.
Step 4. After subscribing, you can enjoy premium for 3 months for free. When it expires, if you don't cancel it, it will charge you $9.99/month.
This way to get free Spotify Premium always comes with a big disadvantage. It will need you to pay $9.99 per month once it expired.
Exquisite Tips
Spotify gift card also works well to extend your Spotify Premium trial period. If you have one from your friends, families, you can input the free Spotify Premium code to do it.
Part 7. How to Get Spotify Premium for Free via Family Account
Spotify Premium for Family is one of the premium plans. Although it costs more than other subscriptions, it allows six members living under one roof to get Spotify Premium features.
Under this circumstance, you can join a family account to get Spotify Premium for free. If you know your friend or relative who has a Spotify Premium for Family subscription, you can ake her/him to invite you. Or, you can find five people who are using Spotify and ask if they would be happy to upgrade to a family account. This method can save everyone money.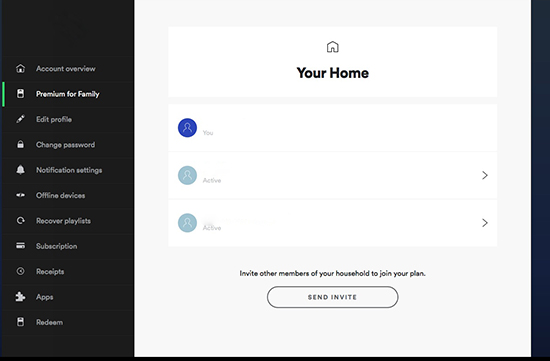 Part 8. How to Get Spotify Premium Free Forever
What can you do if the free trial expired on computers? Can you still keep Spotify Premium benefits? We have learned how to get Spotify Premium free on Android and iPhone forever. Is there any other workaround to do that on computers?
You might ask your home or friends to share a Premium account. Or try another credit card info to start a new trial. But, this is not perfect because you still can't enjoy Spotify Premium features all the time. It's better to download Spotify offline and get Spotify Premium for free forever.
DRmare Spotify Downloader is a dedicated solution for Spotify. It allows you to download and manage your Spotify songs offline without recording.
It will help you download all the original Spotify tracks with up to 320Kbps. The output formats include MP3, M4A, AAC, M4B, FLAC, WAV, and so on. Besides, the ID3 tags, metadata such as year, title, artist, author, album cover are 100% kept. After that, you can get Spotify Premium free forever on PC and Mac.
Notes: Please don't use ways recommended by others to crack Spotify Premium PC version. It's not safe and might damage your computer.
Why DRmare Spotify Downloader Is Best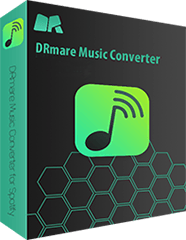 Full the Spotify music category support, download any playlist, track for free
Convert Spotify music to MP3, FLAC, WAV, AAC, etc.
Batch convert your songs and save your effort greatly
Powerful features to enhance your audio converting experience
The converted files can be played on unlimited Android/iOS mobile devices, etc.
How to Get Spotify Premium Free Forever on PC / Mac
The following tutorial will show you how to download Spotify songs as local files. After that, you can control them in the same way that you do with Spotify Premium before.
If you haven't downloaded the software to your PC/Mac yet, you can go ahead to click the "Download" button. The DRmare software trial version is totally free. Let's see how to get free Spotify Premium forever.
Step 1

Import the Spotify songs

Launch DRmare software, the Spotify app will be launched on your computer. In case you haven't log in with your premium account, please go ahead to input the account name and password. After that, you can drag and drop any song or playlist from the Spotify app to the DRmare application.
Step 2

Customize output Spotify files

To get Spotify songs for free to play on more devices and players, the MP3 format is highly recommended. It can not only keep the high quality but also has the best compatibility. Spotify MP3 files can be playable on desktop, Android phone, iPhone, web, or app. Besides, you can change the channel, sample rate, bit rate. Finally, you can pick up the output folder. And you can choose to archive the playlist by artist/album for easier management.
Step 3

Download Spotify music offline

After pressing the "Convert" button, it will start to convert Spotify music to MP3. Generally, it takes a few minutes to convert a small playlist. But if you have a long list, please wait a little bit longer patiently.
After that, the high-quality Spotify songs will save to your local computer forever. You can play them offline without irritating ads and you can skip any songs. And it works forever. No need to subscribe to Spotify Premium but you can still enjoy the same privilege anytime. To be honest, this is the best way to get Spotify Premium lifetime free.
Video Tutorial

For your convenience, you can visit this video demp to learn how to get premium Spotify free forever.
Part 9. Get Free Spotify Premium After Buying a Samsung Galaxy 10
Spotify has cooperated with many companies to provide Spotify free giveaways. Samsung is one of them. If you buy a Samsung Galaxy smartphone, you may be eligible for a 6-months free Spotify Premium on PC, Mac, etc.
The luck devices include Samsung Galaxy S10, Samsung Galaxy S10+, and Samsung Galaxy S10e.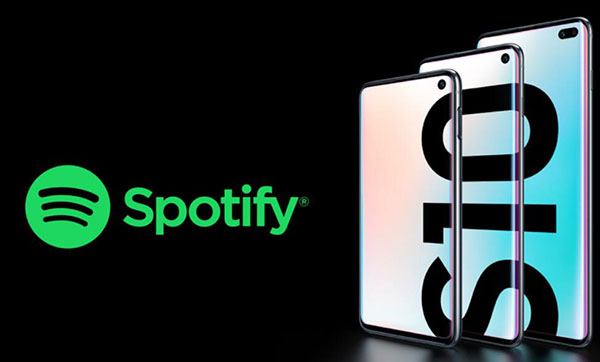 How to Get Free Spotify Premium
Step 1. Install and open the Spotify app on your Galaxy S10.
Step 2. This offer is available for users who haven't tried Spotify Premium before. So please create a free Spotify account.
Step 3. Log in to your account and tap the 'Premium' tab on the bottom of your screen. It will show you how you could get your first six months of Spotify free Premium.
With this Spotify Premium account, you can play Spotify songs offline. You can also listen to on-demand music without ads.
Part 10. FAQs of Getting Spotify Premium for Free
Q1: Can I still use Spotify after the Spotify Premium free trial expired?
Yes, but you will lose the privilege of enjoying Premium features. When your Spotify Premium expired and you don't renew it, your account will be a free one. You can still access the Spotify music library and listen to Spotify songs. But they are online with ads.
Q2: Is it safe and illegal to Get Spotify Premium free?
If you choose to hack Spotify Premium via doing some cracked apps, it could be not safe for your mobile devices. Besides, please download them from some reliable sites. If you get Spotify Premium free via sign up for a free trial and using DRmare Spotify Downloader, it's safe. Just play Spotify files for personal use, all ways will be legal.
Q3: Which is the best way to get Spotify Premium for free forever?
We'd like to recommend you combine two legal ways for perfect Spotify music playback. You can update to Spotify Premium free trial mode. And then, it's better to use DRmare Spotify Downloader to get Spotify Premium lifetime.
This way also allows you to convert Spotify to MP3 or other plain audio files. And then, you can transfer Spotify playlists to USB or any other device and music player. You can get Spotify lifetime Premium.
Part 11. Use Free Spotify Premium Account to Enjoy Music
Some users may not care about spending on the monthly subscription fee. As a most-used streaming service, Spotify has many advantages to attract others to pay. But if you are not very rich, it is always advisable to get Spotify Premium free.
No matter which methods above you choose, you can have unforgettable Spotify music entertainment. And it will save a lot of money considering how much does Spotify premium cost you in the long run.
To sum up, that is awesome to get free Spotify Premium, isn't it? Let's know your thoughts on how to get Spotify Premium for free below.