How to Listen to Spotify Music with Rainmeter Skin
"As a geek, I enjoy fresh and personalized things. I used to customize my Spotify player for Windows with the Rainmeter which brings with much better listening experience. But it doesn't seem to work anymore due to a new update of Spotify. Do you know any magic to make it work again?"
Spotify is praised for its full category of music and powerful features, but it is also well known for discontinuing good functions and plugins. Many great plugin such as Rainmeter that work perfectly before may not work anymore whenever a new version of Spotify is released. That is why many users complained it and looked for solution from Reddit, Spotify Community.
Now look no further and just check the alternative solution to use Rainmeter skin for Spotify.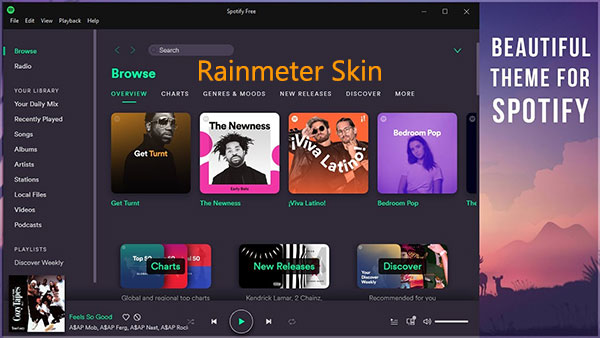 Part 1. How to Enhance Spotify Listening Experience with Rainmeter Skin
Rainmeter is a free an open source computer customization tool for Windows. By default, it come with a few skins for clock, disk, network, system and so on. Users can easily load the skin they want from the "Manager Rainmeter" window.
Rainmeter allows developers to create skins and users can find more skins from many resources websites such as DeviantArt, Reddit, Rainmeter Forums, Lifehacker.
To use Rainmeter for Spotify usually the only thing required is to find the related skins for Spotify and load it from the "Manager Rainmeter" window. But it doesn't work on the new Spotify app anymore.
Use Rainmeter Player for Spotify
Currently the best way is to play Spotify music on other Rainmeter compatible music players such as iTunes, Windows Media Player which are supported perfectly by Rainmeter.
But how? Since Spoitfy songs are DRM protected, means it is not available on any other third-party software. In this case, you can use the DRmare Spotify Music Converter for Windows/Mac to save Spotify songs to MP3 offline within 1 click first. The reason why I recommend it rather than other software is that it has no bells and rings and the performance is best in the market.
DRmare Spotify Song Downloader
Part 2. How to Download Spotify Songs for Other Players Compatible with Rainmeter
Nowadays most third-party players support the common audio formats like MP3, M4A, WMA, AAC, etc. except encrypted digital files. Now let's go ahead to turn the Spotify encrypted OGG to common music files.
Step 1

Add Spotify songs

You can launch DRmare Spotify Music Converter and then drag & drop the songs, playlists, albums from the Spotify desktop app to import the music you want to convert. You can import up 100 songs at a time.
Step 2

Customize the music for iTunes or WMP

All the players iTunes and Windows Media Player which are compatible with Rainmeter visualizer can play MP3 perfectly. Here you'd better keep the default MP3 format.
Step 3

Start converting

After that, you just need to select an output folder and click "Convert", DRmare software will do the remaining job for you. Within a short time, you will get the MP3 songs offline on your local computer.
Part 3. How to Use Rainmeter Skin for iTunes/Windows Media Player
Now you can load the Rainmeter skin to your iTunes or Windows Media Players.
Step 1. Find and download the Rainmeter skin for WMP/iTunes online from DeviantArt etc.
Step 2. Right-click on the the Rainmeter icon which looks like a blue-white drop of water from your computer to open the management window.
Step 3. From the opened window, you can load the skin for your player.
Next, you can use the player you want to play Spotify songs with Rainmeter visualizer directly.
For iTunes
Step 1. Run iTunes and select "Music" category.
Step 2. You can click "File" > "Add File to Library" to import the converted Spotify songs to iTunes Music library.
Step 3. Now you can play the songs or playlist within 1 click.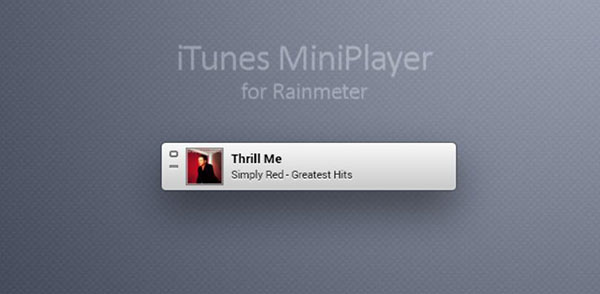 For WMP
Step 1. Launch the Windows Media Player, you will see the main screen of it.
Step 2. Click "Organize" > "Manage libraries" > "Music" and then add your Spotify music.
Step 3. Click the songs to enjoy with Rainmeter skin.
That is all it is to get Rainmeter player working for your Spotify music. Do you like this tips? If yes, please click the share button from the right-side to share it with your friends.