"How to connect Rainmeter player to Spotify?" When we listen to music online, we can see the skin of each song. Yet, some skins are not satisfied by you. So, you may wonder if there is any way to change or create a cover. You could get and use the Rainmeter Spotify plugin to do that before. But, it doesn't work anymore since the new update of Spotify.
But no worries. Here are still other ways to help you. In this post, we will introduce some tips to help you get Spotify Rainmeter skin. Now, let's take a deep study in this post.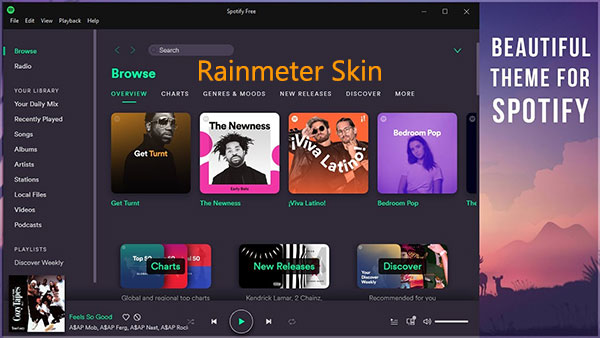 Part 1. Rainmeter Spotify: Everything You Need to Know
Rainmeter is a free and open-source computer customization tool for Windows. By default, it comes with a few skins for the clock, disk, network, system and so on. Users can load the skin they want from the "Manager Rainmeter" window. Besides, Rainmeter allows developers to create skins. And users can find more skins from many resources websites such as DeviantArt, and more.
To use Rainmeter player Spotify, the only thing is to find the related skins for Spotify. And then load it from the "Manager Rainmeter" window. But the Rainmeter Spotify plugin shut down in 2018. So, it doesn't work on the new Spotify app anymore.
Yet, there are some Rainmeter skins that support to play music via iTunes, Windows Media Player and more. So, here we can add Spotify music to iTunes or Windows Media Player in advance. In this case, we can fix the Rainmeter Spotify not working issue.
Part 2. How to Connect Spotify to Rainmeter - Best Way
From above, we know the way to use Spotify Rainmeter skin. Yet, as Spotify music files are protected, they can't be used on other devices. And they are in special audio formats. In this case, you can use the DRmare Spotify Music Converter.
This tool can help save Spotify songs to MP3, AAC, and more offline within 1 click. Besides, it can convert Spotify music files to other plain audio formats. So, you can use Spotify music on other platforms and devices without any limit. Also, this tool supports you to reset the output audio parameters as you want. You can change the audio channel, bit rate and more within it.
What's more, it can save the lossless sound quality of Spotify songs. And it can store full ID3 tags from Spotify. Then you can manage your Spotify music files on your computer easier. After converting, you can save Spotify songs to your computer. And then you can move Spotify music to any device for offline play.
With it, you can then move the converted Spotify music to iTunes or Windows Media Player. Then you can get Rainmeter Spotify to run via these two tools.
DRmare Spotify Song Downloader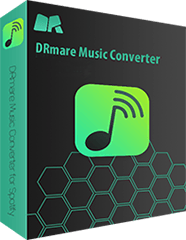 Convert Spotify OGG to MP3, M4A, AAC, M4B and other audio formats
Up to 5X converting speed and lossless audio quality
Easy to operate, even new users can handle it at first sight
Support to use Rainmeter skin Spotify without any limit
Part 3. How to Download Music from Spotify for Rainmeter Player
Here we will move on to see how to convert Spotify music for Spotify player Rainmeter. We will show the detailed steps for you on how to use DRmare Spotify Music Converter. Now let's head to turn the Spotify songs into common music files below.
Note: Please check whether you had installed the official Spotify app on your computer. If not, please install it before using DRmare Spotify Music Converter.
Step 1

Add Spotify songs to DRmare

Download the DRmare Spotify Music Converter via the 'Download' button at the last part. Or you can go to DRmare official website to make it. Then head to install the DRmare program on your computer. Once done, open it. You can see the installed Spotify app launched as well. Next, go to the Spotify app to find the songs you want to use on Rainmeter Spotify player.
Once got, drag the song to the DRmare main screen. Or click on the '...' icon next to the song title. Then choose 'Share' to get the link to the song. Next, put the link to the search box on DRmare. And you need to hit on the '+' button. After that, you can see the songs are added into DRmare's main interface.
Step 2

Customize music output format for Spotify Rainmeter

iTunes and Windows Media Player which are compatible with Rainmeter Spotify visualizer and can play MP3. Here you'd better keep the default MP3 output audio format. Also, you can change the bit rate, audio channel, and more according to your needs. You can do that by finding the Preferences window in the DRmare program.
Step 3

Start converting Spotify for Rainmeter

After that, select an output folder and click "Convert". Then DRmare software will start to convert music from Spotify for Rainmeter visualizer Spotify. Within a short time, you will get the MP3 songs offline on your local computer. You can find them in the 'history' tab.
Part 4. How to Get Rainmeter Spotify Skin
How to use Spotify Rainmeter skin? Before that, you need to load the Rainmeter skin to your iTunes, Windows Media Players or Foobar2000 first. Please follow the steps below to learn how to get it.
Get Rainmeter Skin for Your Music Player
Step 1. Find and download the Rainmeter skin for WMP/iTunes online from DeviantArt, and others.
Step 2. Unzip the 'RAR files'. Then copy and paste them to 'Documents' > 'Rainmeter' > 'Skins'.
Step 3. Open the Rainmeter program on your computer. Then check whether the files are loaded to the Skins files.
Step 3. Select a visualizer and click on the 'Load' button. Then play a song to check if the Rainmeter visualizer work.
Next, you can use the player you want to play Spotify songs with Rainmeter Spotify visualizer. Then you can get the Rainmeter Spotify now playing feature.
Method 1. Get Spotify Rainmeter Skin via iTunes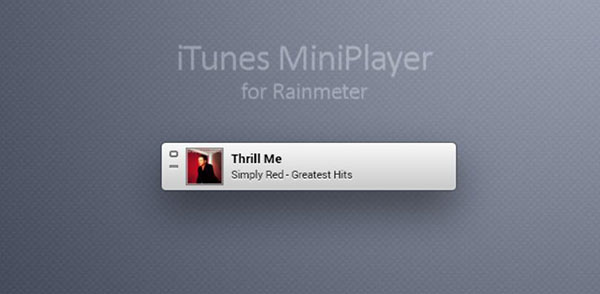 Step 1. Run iTunes and select the "Music" category.
Step 2. You can click "File" > "Add File to Library". Then import the converted Spotify songs to iTunes library.
Step 3. Now you can play the songs or playlist within 1 click. And you will see Spotify skin Rainmeter.
Method 2. Get Rainmeter Spotify Skin by WMP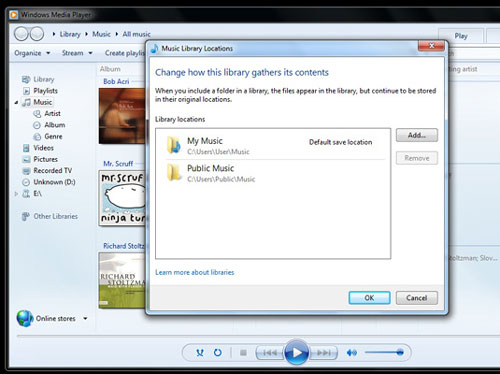 Step 1. Launch the Windows Media Player, you will see its main screen.
Step 2. Click "Organize" > "Manage libraries" > "Music".
Step 3. Hit "Add" in the "Music Library Locations" to select the songs you want.
Step 4. Touch on the "Include folder". Then hit "OK" to add your Spotify music to WMP.
Step 5. Click the songs to enjoy with Spotify Rainmeter skin.
Method 3. Enjoy Spotify Widget Rainmeter on Foobar2000 Player
Step 1. Open the Foobar2000 player on your computer.
Step 2. Head to "File" > " Add folder...".
Step 3. Find the converted Spotify music and add Spotify songs into Foobar2000.
Step 4. Choose the song to play and enjoy Rainmeter Spotify skin.
With the steps above, you can get Rainmeter now playing Spotify feature. And you can get the Spotify Rainmeter skin now.
Part 5. How to Fix Rainmeter Spotify Not Working Issue - Spicetify
Any other way how to add Spotify to Rainmeter or fix Spotify Rainmeter not working issue? In this part, we will introduce a Rainmeter Spotify plugin to help you. It is named Spicetify.
This tool is a command-line tool. It can help play Spotify songs with Rainmeter skin. And it can change the color and theme of Spotify UI. It can work on Windows, MacOS and Linux. Now, let's see how to use it.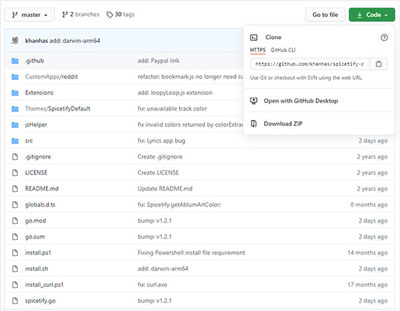 Step 1. Enter https://github.com/khanhas/spicetify-cli/ from your computer browser.
Step 2. Hit on "Code" > "Download ZIP" to download Spicetify.
Step 3. Unzip the ZIP files to your local folder. Then set up it from Powershell or CMD.
Step 4. Use the command 'spicetify backup apply enable-devtool' to back up the default settings. Then wait until it says 'Ready'.
Step 5. On the 'Extensions' tab, hit on the right arrow to go ahead to the next page.
Step 6. Find and touch on the 'WebNowPlaying' extension. Then click on the circle icon to make it work. And then hit on 'Apply'.
Step 7. Choose any theme or skin you want that supports the WebNowPlaying extension. Then you can enjoy Spotify skin with ease.
Extra Tips: How to Use Rainmeter
In this part, we will show you how to use Rainmeter. We know that Rainmeter is a tool that can help create and find skins. Besides, some Rainmeter wallpapers can play music. Let's check how to use it now.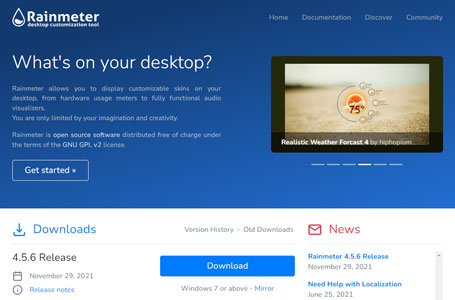 Step 1. Go to Rainmeter.net from your computer browser.
Step 2. Download and install Rainmeter onto your computer.
Step 3. Open the program. Then hit on 'Finding Skins' inside the black pop-up window.
Step 4. If you want to upload skins, you can right-click the Rainmeter icon. Then choose and upload the skins.
Step 5. To manage skins, you can also right-click the icon of Rainmeter. Then head to the 'Manage Skin' option. And then choose 'Manage Skins'.
FAQs about Spotify Rainmeter
In this part, let's take a look at some frequently asked questions of Rainmeter Spotify.
Q1: Does Rainmeter Work with Spotify?
A: Rainmeter is a tool that can work with some music players like iTunes, Spotify and more. Yet, since 2018, the Spotify Rainmeter plugin was shut down. In this case, users can't use Rainmeter player Spotify directly. But you can get the tips above to make them work again.
Q2: How to Play Music in Rainmeter Skins?
A: Right-click on the Rainmeter icon on your computer. Then click on the 'Config' option and locate the Rainmeter player skin you like to load. Next, open iTunes and play a song.
Q3: Are Rainmeter Skins Free?
A: Rainmeter is a free-of-charge desktop customization program. You can find and get skins for your songs in it to transform the way your desktop looks.
In Conclusion
In this post, you knew what is Rainmeter. And you knew how to fix Rainmeter Spotify not working issue. To make it, we introduced two tools to you. They are DRmare Spotify Music Converter and Spicetify.
DRmare Spotify Music Converter should be a great choice for you. It is professional and supports to use Spotify offline on any device. While Spicetify, it is a Rainmeter Spotify plugin. Yet, it can't work sometimes. If there is any error when trying it, you can use the way in Part 2. In this way, you can enjoy Spotify Rainmeter skin without any limit.