Music enthusiasts eagerly anticipate when they can share their Spotify listening habits with the world. To make their dreams come true, a new and exciting application has emerged to keep us entertained. Introducing Spotify Instafest, a remarkable online tool that brings your most-played artists to life, transforming them into the lineup of a personalized music festival.
The lineup is carefully crafted, presenting your most-played acts as headliners, creating an experience that truly resonates with your unique taste in music. This article will highlight the real meaning of Instafest and the detailed steps to get it. We will also tell you about how you can customize the lineup easily.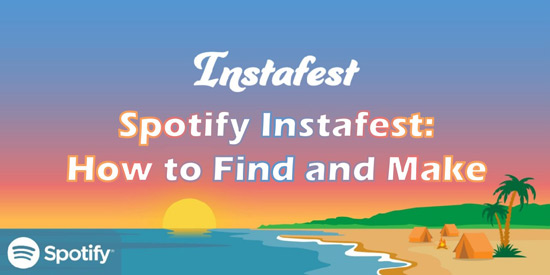 Part 1. What Is Spotify Instafest
Developed by Anshay Saboo, Spotify Instafest is a free web app that generates personalized music festival posters, considering a user's Spotify listening habits. The app offers a seamless experience by allowing users to sign in with their Spotify account, which enables it to analyze the artists they have listened to the most. Based on this analysis, the app creates a festival lineup poster tailored to the user.
To determine the uniqueness of a user's music taste, the app calculates a Basic Score. This score provides insights into how distinctive the user's listening habits are compared to others. It adds an element of individuality to the festival poster, making it truly reflective of the user's musical preferences.
Part 2. How to Get Instafest Spotify
Everyone wants to take their Spotify experience to the next level. Here we will discuss the steps in detail to get the Instafest app Spotify. Follow the steps below and transform your music streaming into a vibrant and personalized journey.
Step 1: Open a web browser on your device and go to Instafest's official site. Press "Enter" on your keyboard to navigate to the website. Once the website opens, tap the "Sign in with Spotify" button, which is prominently on the homepage.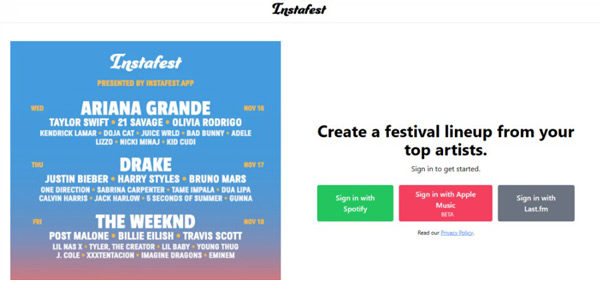 Step 2: You will be redirected to the Spotify accounts page. Enter your Spotify username or email address and type in your corresponding password. Make sure to input the correct information to ensure successful login. Once you have entered your login credentials, click the "Log In" button to proceed.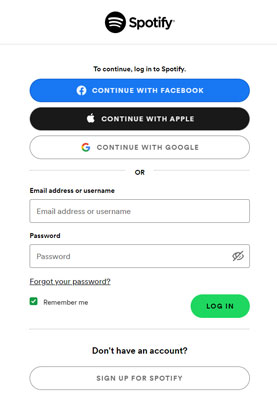 Step 3: After logging in, a privacy information window may appear on the screen. This window provides details about how the Instafest app handles your data and privacy. Carefully read, and if you agree to the terms and conditions, locate and click on the "Agree" button at the end to confirm the login.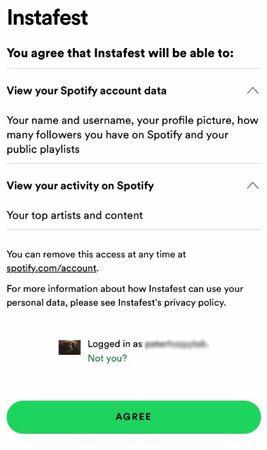 Part 3. How to Customize Spotify Instafest Lineup
After following the previous steps, a successful login will take you back to the Instafest official site. You can now navigate the customization options to tailor your Spotify music festival Instafest app experience. To make the most effective customization, go through the detailed steps outlined below.
Step 1: Once you are redirected to the Instafest page, you can begin customizing the lineup according to your requirements. Under the "Include top artists from" section, you can choose from the 3 options "Last 4 Weeks", "Last 6 Months", or "All-Time" to compile the list of that particular timeframe.
Step 2: Moving forward, "Malibu Sunrise", "LA Twilight", and "Mojave Dusk" are the 3 styles that you can set for your Instafest lineup. Each style gives different vibes that you can set based on your mood or the environment around you.
Step 3: The best thing is that you also type a customized name under the "Name Your Festival" section. As you may notice, there will be 2 check boxes named "Hide my username" and "Show basic score". You can check these boxes if you want to enable any option.
Note: Instafest will grant you a Basic Score based on the popularity of the artists in your festival. This score ranges from low to high, depending on the popularity of the artists you have selected.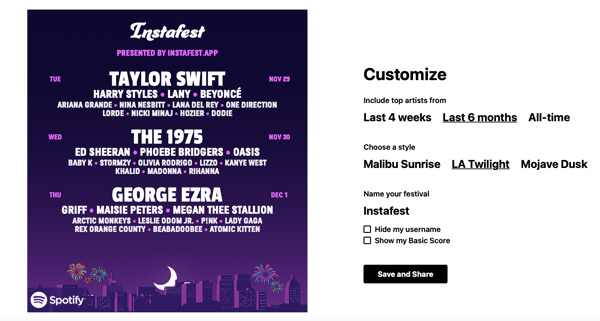 Part 4. How to Download and Share Spotify Instafest Lineup
From the above, you know how to make Instafest on Spotify. And then you may want to download and share it with your friends. It is simple. Downloading and sharing Spotify Instafest lineup has become easier with DRmare Music Converter. It is an exceptional conversion tool designed to enhance your Spotify music experience. With this powerful software, you can now download and convert millions songs, playlists, albums, podcasts and more from Spotify into various formats such as MP3, FLAC, WAV, AAC, and so on.
In addition, it can achieve speeds up to 5 times faster than other tools, all while maintaining the original music's pristine quality. Moreover, the software seamlessly preserves all the essential ID3 tag information and metadata from the Spotify files it converts. You can modify the bit rate, sample rate, and channel of your Spotify music files, tailoring them to your specific requirements.
DRmare Spotify Music Converter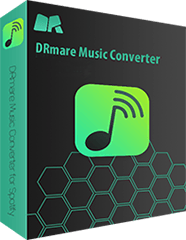 Removes protection from Spotify songs and enables unrestricted enjoyment of music
Supports batch conversion for efficient processing of multiple audio files
Preserves 100% original quality Spotify tracks during conversion
Allows to customize output audio for personalized listening experiences
How to Download Music from Spotify Instafest
Now, you can follow the steps below to download music from the Spotify festival lineup Instafest without a hitch.
Step 1

Copy Spotify song links or drag songs into DRmare

Begin by opening DRmare Spotify Music Converter on your computer. If Spotify is not open, the converter will automatically launch it for you. Find the songs, playlists, or albums you want to convert from Spotify Instafest lineup. Then drag and drop them into the main window of the DRmare Music Converter. Alternatively, you can copy and paste the URL of the Spotify tracks into the converter's search box.
Step 2

Customize output settings for better downloading

Once the tracks are loaded in DRmare Music Converter, click on the menu bar at the top right corner and select "Preferences". Now, in the Preferences window, choose the output format such as MP3, WAV, AAC, M4A, FLAC, or M4B. You can also customize audio parameters like bit rate, frame rate, and channel. Moreover, it is recommended to set the conversion speed to 1X if you have a slow internet connection.
Step 3

Download and convert music from Spotify Instafest

After configuring the settings, click the "Convert" button. The process of downloading and converting Instafest Spotify songs will begin. Once the conversion is complete, you can find the converted Spotify songs in the destination folder. In addition, you can transfer or share them to any device for offline playback whenever you want.
Part 5. FAQs about Instafest Spotify
Q1: Does Instafest Work with Apple Music?
A: Yes, it does work with Apple Music, but that option is only available for the BETA version. Once you are on the Instafest official site, you can see the "Sign in with Apple Music" button.
Q2: Is Instafest the Same as Spotify Wrapped?
A: Based on their functionality, Instafest and Spotify Wrapped are different, but they serve a similar purpose of providing users with an overview of their listening history on Spotify.
Part 6. The Verdict
Spotify Instafest app is an innovative online application allowing music enthusiasts to transform their most-played artists into a personalized music festival lineup. The tool offers a unique and entertaining experience by presenting the user's favorite acts as headliners.
Moreover, users can enhance their experience by seamlessly installing DRmare Music Converter and downloading songs from Spotify to share them on various platforms or enjoy them offline.